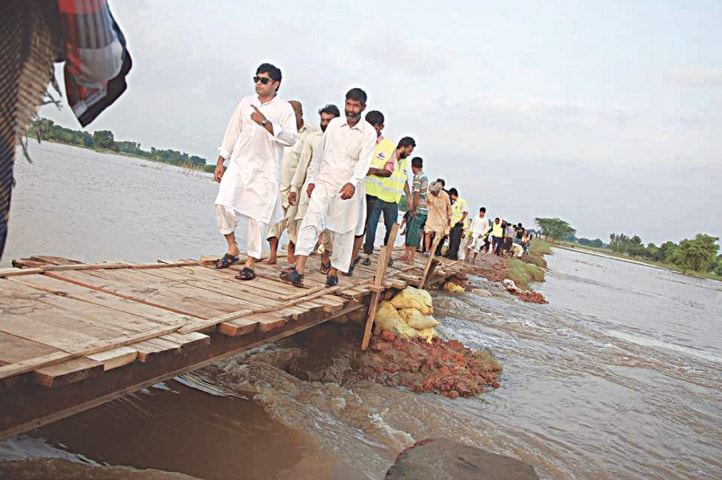 "Ae meri zameen afsos nahin/ Jo teray leeyay sau dard sahay [Oh my land, I have no regrets/ For you I will suffer a hundred sorrows]," sang Wahab Bugti, a child in his lap and many others around him. The Baloch singer, who shot to fame with Coke Studio (CS) season 14's breakthrough hit Kana Yaari earlier this year, sang the anthem while speaking to a television reporter who had managed to reach him after traversing the floodwaters that had engulfed his village, including his home and studio.
The video was heartbreaking. This man, only recently seen on Coke Studio's revamped, multicoloured stage, was struggling to survive, and yet, still singing for his country. Filtering out on social media, the video created a small furore.
What was Coke Studio doing to help this folk artist who had delivered one of the season's most popular hits? Shouldn't the corporate now be supporting him, having earned millions through him? Xulfi, Coke Studio's curator and producer, dissipated rising tensions when he tweeted, "We are and will continue to be with Wahab Bugti and his loved ones to help overcome the difficult situation. Rest assured, he is being given all possible support on ground. #cokestudiofamily."
Bugti, though, is one of millions who has been displaced due to the floods that have devastated almost a third of Pakistan. Homes, livestock and crops have been obliterated, hundreds have died and millions more are at risk from hunger and disease. Even while rescue teams set off to flood-ravaged locations, there are many other small clusters of villages that are yet to be accessed, marooned by the vast expanse of floodwaters that have engulfed them from all sides.
The correlation between celebrity status and humanitarianism is easy to see. Stars are idolised by many and masses often feel a personal connection of trust with their favourite stars. Some of them have been using that to focus attention towards much-needed relief efforts
As days go by, water-borne diseases in the flooded regions are on the rise. Pregnant and lactating mothers are unable to get sufficient nutrition. Trucks, packed with food and non-food items for flood victims, are sometimes unable to reach their destinations because the roads that they have to travel through are submerged in deep water. Other trucks have gotten looted en route.
The havoc wreaked by natural factors, such as fast-melting glaciers and unprecedented heavy monsoon rains — "a monsoon on steroids" according to UN Chief Antonio Gutteres — is countered by human obstacles that are just as destructive: poverty and illiteracy in the flood-affected locations. This just isn't a natural disaster that will get resolved in a matter of days.
Singer Shehzad Roy, who has long been deeply involved with social work, outlines, "At this point, we can't even accurately assess the level of destruction. Many of the regions struck by floods weren't well developed to start with. The homes and schools that have collapsed were in a bad state as it is. It will take a long time to provide relief and then rehabilitate these regions."
The non-government charitable organisation established by Shehzad, Zindagi Trust, specialises in resurrecting educational institutes. At this point, he says that he is simply directing people who approach him towards charities that he feels are reliable. "Relief work of this extent can only be carried out through the state," he says. "NGOs need to work hand-in-hand with the government in order to ensure that the flood victims get all the help that they need.
"Right now, everyone is excited and wants to help out," he adds. "The fervour tends to die out after a few weeks. That's when the real work of rehabilitating the regions will begin. Then, my Trust plans to get actively involved in the rebuilding of schools that have fallen apart, among other tasks."
The impact made by any NGO, including Zindagi Trust, depends on the amount of donations that it is able to receive. Does Shehzad think that his star-power has helped him in gaining people's trust? "Of course, it helps," he says. "People know what you are doing because you are in the limelight anyway. They trust you to utilise their donations in the best possible way."
The correlation between celebrity status and humanitarianism is easy to see. Stars are idolised by many. The masses often feel a personal connection with their favourite stars — the men and women that they have been seeing on TV, cinema screens and stage for years. This connection helps in building trust when a celebrity decides to step out for social work. People feel that they can count on them to deliver their donations to the needy. This trust is particularly precious in countries with volatile political climates — such as Pakistan — where even fundraising while in the midst of a national calamity can become a battleground for political chicanery with accusations of corruption discouraging potential donors.
Beyond collecting donations, there is much more that the artist community can do to help out in the tragedy. Singer Rahat Fateh Ali Khan was recently seen performing at a fundraising concert in London. Actress Meera put up a video of herself dancing in New York in order to collect donations.
Singer Abrar-ul-Haq, speaking from his 24-odd years of experience as the founder and chairman of the Sahara for Life Trust, observes that the masses don't always get smitten easily by star power. "People want to make sure that the charitable organisation that they donate to is free from corruption," says Abrar. "They will assess the work being done by the organisation. They won't just get dazzled because a star is telling them to donate.
"When I started Sahara, I donated as much as I could into the construction of a 600-bed hospital which is now functioning in Narowal. It's a relatively remote region and there was no proper hospital there earlier. I invested time into making the hospital operational. I think that this helped me win over people's trust."
Recounting his experiences in relief work during natural disasters, Abrar says, "Following the earthquake in 2005, we packed off trucks to the affected region but the main concern was that the goods needed to reach the right people. We couldn't risk simply sending off the trucks and letting the goods fall into the hands of people who would hoard them and later sell them to the earthquake victims. Our volunteers travelled to the affected area, even walking for two hours on foot, in order to access the victims and give them coupons which they could then use to get the food and non-food items that had been allotted to them.
"Later, we took on the responsibility of constructing 5,000 homes for the people who had nowhere to go. We opted for construction material that was resilient enough to withstand the severe weather conditions in the area and then we utilised helicopters for the transport of this material."
Now, faced with the devastation wreaked by this year's floods, the Trust has already managed to set up eight plants of clean drinking water in the affected areas. Up till a few days ago, Abrar was also working as Chairman of the Pakistan Red Crescent Society. Having been removed from the post — due to 'political reasons,' he says — his efforts towards the flood victims continue with the Sahara Trust.
Singer Hadiqa Kiani is also at the forefront, collecting donations for the flood-affected areas in the province of Balochistan through her campaign Vaseela-e-Raah. She plans to visit the region herself soon. There are multiple videos and photographs uploaded on her social media platforms, charting the many steps taken towards collecting goods for the victims: the packaging of relief packages, the boxes getting carried out of Hadiqa's home, Hadiqa meeting donors in outdoor tents set in particular locations, the loading of the packs on to trucks and on to a train.
"I felt that it was important to record all that we were doing and broadcast it through social media," says Hadiqa. "We livestreamed through Instagram, letting people into private residences, my salon, the Punjab Rangers headquarters where we were collecting items. I stood inside the train's bogey which was going to be carrying the packages to Balochistan. All this helps build people's trust and awakens them again and again to how direly their help is needed right now.
"We loaded 14 trucks but this is just the beginning," she continues. "Just 14 trucks can hardly be enough. We are currently sending goods to Dera Murad Jamali, which has been less affected by the floods and people displaced from their homes have taken shelter there. I will continue collecting donations for the victims and, then, I have asked the army to pinpoint one particular location as my responsibility and I will rebuild homes there, as I did during the floods in 2010."
Recalling her experiences from the wide-scale destruction in 2010, Hadiqa described how, assisted by the army, she managed to build 255 homes in the Khyber Pakhtunkhwa province. "For 10 months, I would regularly visit the village that I was helping reconstruct," she says. "Now, with the help of the Ministry of Punjab and Punjab Rangers, I want to reach out to parts of Balochistan that have become more or less out of bounds because they are surrounded by water. Those areas need my help."
Hadiqa only recently made a spectacular acting debut and has been busy with long TV schedules. With Vaseela-e-Raah taking up all her time now, isn't she relieved that she hadn't signed on to a new project at this point in time, considering how time-consuming acting can be?
"Yes, luckily I hadn't. If I had, it would have been the director and producer's loss. I wouldn't have been able to do anything other than be here, putting in all my efforts towards helping as much as I could during this calamity."
There are many others across Pakistan, including individuals from the entertainment industry, who are helping out with the collection of funds, food and non-food items for the deluged areas. The Hum TV Network, with its syndicate of channels that are aired to audiences within Pakistan as well as abroad, recently organised a telethon, gathering a large number of popular, mainstream actors who talked to donors who would be calling in live.
"Our ancestral homes in Ranipur, Sindh, are completely submerged in water," describes Hum TV Network President Sultana Siddiqui. "So many of the people we know there are now left without homes. We are donating as much as we can, even our employees have been setting aside their salaries for one or two days for the flood victims.
"With this telethon, the channel stood alongside TV artists, encouraging people to donate. The Sindh Institute of Urology and Transportation (SIUT) partnered with us for North America. The trucks packed with goods are being sent to flood-affected regions with complete security. We have to make sure that there isn't any theft and the donations reach the victims."
Beyond collecting donations, there is much more that the artist community can do to help out in the tragedy. Singer Rahat Fateh Ali Khan was recently seen performing at a fundraising concert in London. Actress Meera put up a video of herself dancing in New York in order to collect donations.
"I found a poster dating back to 1973 in which Rangeela and Sultan Rahi took part in a yadgaar kushti [memorable wrestling match] in order to raise funds for flood victims," says Shaan Shahid. "That was then. We have many more resources available to us now such as digital media. There are overseas Pakistanis who are eager to donate.
"In my capacity as a Pakistani artist, I am willing to dedicate my time, effort and star power to this cause and to take part in shows, pro-bono, with the ticket sales dedicated to the flood-affected regions. Rahat Fateh Ali Khan, when he goes on a world tour, earns so much through his concerts. Imagine how much revenue could be brought in if he, and other Pakistani celebrities, went on tour for the government of Pakistan. This could be a long-term plan for raising consistent funds for the resurrection of the villages and towns that have been affected."
Shaan adds: "I have mentioned this idea to several organisations as well as my fellow artists but, so far, there has been no response. Aside from direct monetary help, there is so much that we can give to our country, should the state be willing to collaborate with us, should artists be open to helping out."
"As celebrities, we have a global outreach of millions and there are fans who believe in us, trust in us," says veteran actress Atiqa Odho. "When we stand by a cause, it is imperative that we are sincere to it. We need to ensure that we are supporting organisations that we believe are credible."
She continues, "My husband Samar Khan is Chairman of Pakistan Red Crescent Sindh and, right now, I have been urging people to donate, by participating in a live telethon and also in my personal capacity. I believe that sending funds to official accounts is far more reliable than opting to donate to personal accounts.
"In 2005, when Balakot was struck by an earthquake, there was talk of how many of the afflicted were unable to get access to the goods that had been sent to them. There was corruption afoot, with certain individuals in the area hiding away the goods and then selling them. We need to make sure that this doesn't happen again."
Pakistan hasn't just been drowned by a cataclysmic natural calamity, it also flounders in the face of continuous corruption, political aggrandisement and mistrust. Then again, there are others who are genuinely striving to help, setting aside their daily lives and plunging into the gargantuan task of resurrecting a vast territory covered by water, and rehabilitating those who are battling disease, with no homes to go to and no food to eat.
"Working with the Sahara for Life Trust, trying to improve the lives of those who had less than me, rehabilitating areas that had been destroyed, it has become a passion for me," says Abrar-ul-Haq.
Beyond material desires or, in the case of an artist, the joy of creating, performing, winning an award, getting applauded by fans, there are many more passions that can be pursued. And what better satisfaction could there be than that which comes from helping others?
Published in Dawn, ICON, September 11th, 2022