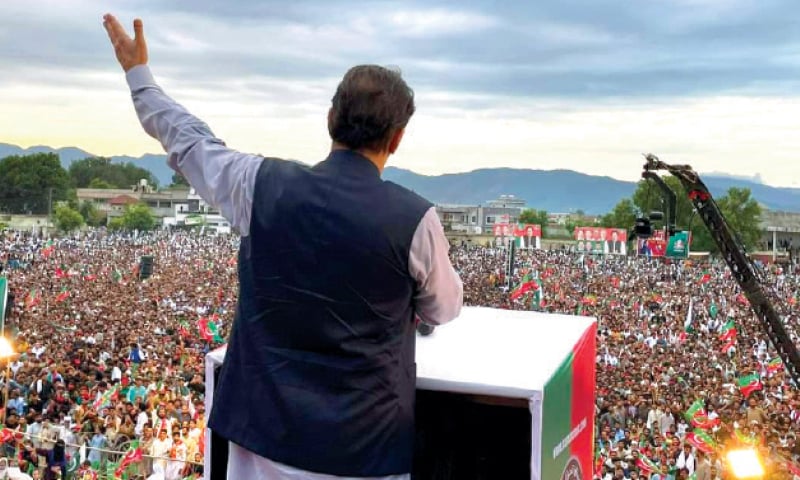 HARIPUR: Pakistan Tehreek-i-Insaf chairman and former prime minister Imran Khan on Wednesday warned that if the federal government failed to announce early elections in a free and fair manner, he would give the 'final call' for street protests to oust it.
He, however, said he hoped that the election announcement would be made before he unveiled plans for the final march on Islamabad.
"The nation is ready, so I am giving time to the imported government to announce general elections. My call [for its ouster] will be the final this time around. When the nation and PTI's Tigers will march on Islamabad from all corners of the country, neither [Prime Minister] Shehbaz Sharif, whose government is limited to Islamabad, nor [his coalition partners] Asif Zardari and Fazlur Rehman will be able to resist it," Mr Imran told a public meeting at the Curtis Ground here.
The PTI chief insisted that his party wanted to see the country stable both economically and politically and that was possible only if free and fair polls were held.
Threatens 'final' march on Islamabad, flays 'imported' govt over inflation
Mr Imran said neither the nation nor international community trusted the federal government.
He slammed the Shehbaz administration over high inflation and said the politicians and media opposed to his government were silent on the rising prices of essential goods, dwindling exports and shrinking foreign remittances. He said the growers were struggling to pay tubewell power bills leaving agricultural outputs vulnerable.
"Price hike was a mere pretext to oust me," he said.
The PTI chief said despite the use of government machinery and rigging, the ruling coalition suffered defeat in the recent by-elections as the nation had awakened and was not ready to tolerate any hurdle to 'real freedom'.
He said the PDM government had decided to get him disqualified for public offices by registering a terror case but such move won't stop his movement for the nation's 'real freedom'.
Mr Imran said as the prime minister, he went to Moscow to buy fuel at 'affordable' rates but his government was sent packing to install an imported government comprising 'notorious dacoits'.
Without naming names, he said they were afraid of him and dislodged his government through a conspiracy.
About the registration of a case of terrorism against him, the PTI chief said when a foreign university's faculty member (his aide Shahbaz Gill) was 'kidnapped for uttering a single sentence' against the Pakistan Army on a TV show, he was stripped, tortured and sexually abused.
He wondered under which law a political worker was tortured for two days as revealed by his medical examination.
"Subjecting an assistant professor [Gill] to degrading and inhuman attitude and torture during detention and charging him with terrorism for raising questions brought the country a bad name globally. Had he uttered anything against the army, he should have been dealt with under the law.
Mr Imran appreciated his social media team for good performance but asked it for 'constructive' criticism of the acts of state institutions.
"Remember institutions are our own, so we should not cause them any harm. Any criticism directed towards them should be constructive," he said.
The PTI chief said he or his party leaders had never insulted institutions the way leaders of ruling coalition Nawaz Sharif, Asif Zardari, Fazlur Rehman and Khawaja Asif did in the past.
"Our criticism has always been constructive but the 'people' dealt with us all alike," he said.
The prime minister asked Chief Minister Mahmood Khan and PTI provincial president Pervez Khattak to re-organise the party in the province to prepare for elections in the country.
Noted among participants were CM Mahmood Khan, former federal ministers Asad Umar, Azam Swati, Omar Ayub and Pervez Khattak, acting provincial Governor Mushtaq Ahmad Ghani and members of the provincial assembly.
Published in Dawn, August 25th, 2022