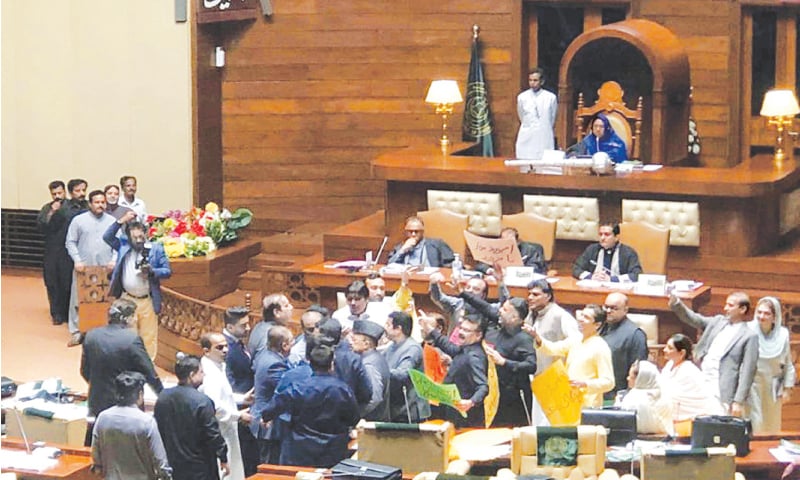 KARACHI: While Sindh Chief Minister Murad Ali Shah has claimed to have earmarked Rs118 billion for "Karachi-based" projects in the Rs1.714 trillion provincial budget for financial year 2022-23, new schemes for infrastructure development of the country's business capital appear to have attracted a little attention as the provincial government has allocated just Rs3.1bn in the head of six new "mega schemes for Karachi".
According to the budget documents, the total amount allocated in the head of six new and 18 ongoing "mega schemes for Karachi" stands at Rs15.37 billion compared to Rs8bn allocated in the outgoing budget for 2021-22 for 19 infrastructure development schemes in Karachi.
The amount in the next fiscal year's budget is almost double than what the government allocated during the previous financial year.
In his budget speech in the Sindh Assembly, CM Shah said that his government had given high priority to the urban development especially in Karachi City.
Rs9.42bn earmarked for resettlement of Gujjar, Mehmoodabad and Orangi Nullahs' affectees
He stated: "Development projects in six major sectors which include water supply, sewerage treatment, storm water drains, solid waste management, internal roads and mass transit are under way in Karachi".
Rs3.1bn for new mega schemes
Budget documents show that the biggest allocation of Rs1 billion the provincial government has made is for a new mega scheme titled repair / rehabilitation of storm-water drains in Karachi.
The second biggest allocation of Rs600 million is for the construction of a sport complex at Bakhtiari Youth Centre in district Central.
A sum of Rs500m has been allocated for rehabilitation of Nehar-i-Khayam in district South; Rs450m allocated for construction of dual carriageway road from Nasir Brohi Hotel to Mubarak Village in district Keamari; Rs300m for construction / rehabilitation of main road / streets paver block in Sachal Goth in district East and an amount of Rs250m has been allocated for repair/ rehabilitation of existing drain / sewerage system in Manzoor Colony, district East.
Rs12.27bn for 18 ongoing mega schemes
The provincial government has allocated a total of Rs12.27bn for 18 ongoing mega schemes in Karachi.
A sum of Rs1.7bn has been allocated in the next fiscal year's budget for construction of a flyover and underpass at Johar Chowrangi.
The work to reconstruct and rehabilitate various roads in the SITE area is under way and in the next fiscal year the provincial government has sanctioned Rs1.3bn for the mega scheme.
A total of Rs977m has been allocated for the rehabilitation / reconstruction of Shahrah-i-Noor Jehan while Rs580.89m and Rs516m allocated for rehabilitation of all major storm-water drains in the metropolis and improvement / rehabilitation of Shaheed-i-Millat Expressway from KPT Flyover to Manzoor Colony Fire Station, respectively.
Other ongoing mega schemes include construction of U-Turn at Natha Khan Bridge; reconstruction of Road from Shershah Chowk to Mirza Adam Khan Road intersection; rehabilitation / reconstruction of Road from Café Piyala near Gulberg Chowrangi to Rashid Minhas Road near UBL Sports Complex; reconstruction of Rafiqui Shaheed Road and Kalapul Road from Sharea Faisal to main Korangi Road; improvement / rehabilitation of internal roads/ streets in surrounding areas of the Dr Ruth Pfau Civil Hospital Karachi; construction of Allama Iqbal park in Federal B Area.
Allocations other than mega schemes
CM Shah said in his budget speech that the total allocation for Karachi-based schemes for next financial year is Rs118bn, which includes Rs72bn under 11 provincial Annual Development Programme (ADP), Rs5bn under district ADP and Rs41bn under foreign-funded projects.
The projects already under way in Karachi include Karachi Sustainable Bus Rapid Transit Project (BRT Red Line), Karachi Neighbourhood Improvement Project, World Bank-funded Karachi Urban Mobility Project (Yellow BRT Corridor), Karachi Water & Sewerage Service Improvement Project (KWSSIP), Competitive and Livable City of Karachi Project (CLICK), Solid Waste Emergency and Efficiency Project, Karachi Water and Sewerage Improvement Project Phase-2, Greater Karachi Sewerage Project (S-III) and Greater Karachi Water Supply Project (K-IV), etc.
An amount of Rs9.42bn has been allocated for the resettlement of affectees of Gujjar, Mehmoodabad and Orangi Nullahs.
Published in Dawn, June 15th, 2022