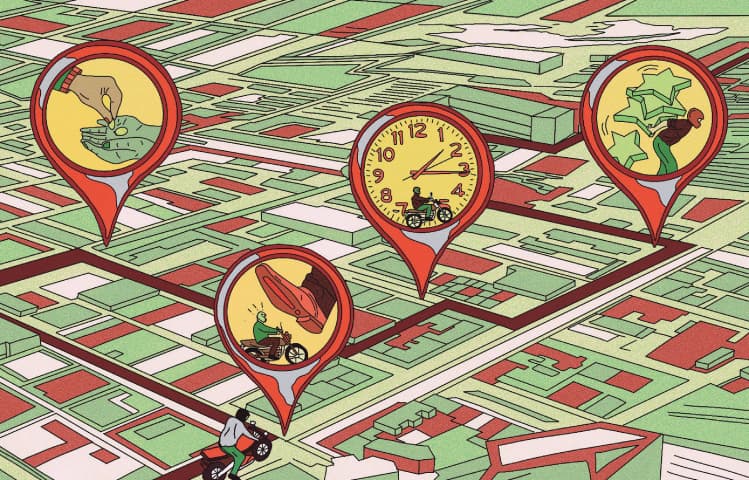 The 'gig economy' has taken off in Pakistan in a big way. But while tech start-ups continue to make news for securing millions of dollars in investment, the riders — the cogs turning the wheels of these companies' ambitious visions — are not seeing the benefits of this growth. As this sector continues to become a pivotal part of the economy, creating even more job opportunities, how can the riders be protected?
Rubia Nadeem always dreamt of learning how to ride a bike. Her childhood wish was finally granted a couple of years ago when her husband taught her how to ride. Being in the driver's seat — or rather rider's seat — changed her life. She could pick her children from their schools and colleges. Run errands. Do so many things that she would previously have to rely on her husband to do.
Her husband had been struggling with tuberculosis and their bills were piling up. Their kids had grown older — their oldest daughter was pursuing a bachelor's degree, while their other children were in grades 12, 10, five and four — and their expenses were increasing.
So, in September last year, Rubia decided things had to change. Her ability to ride a bike and her fearless attitude made her the perfect candidate to join a bike-based ride hailing and parcel delivery service. She is now one of the few women in the trade, riding on the streets of Lahore.
Rubia's has become a success story. The company got her a bike. She has gotten media attention. She has worn a pink shalwar qameez and a mask with a skull on it, and spoken to an online publication. And, most importantly, she has been able to support her family financially.
The odd jobs that she would previously do translated to the meagre pay of 4,000 rupees a month. "Teaching jobs would also pay about that much," she tells Eos. Today, Rubia makes about five times that. Driving 4-5 hours a day through the streets of Lahore, she is now able to earn around 500 rupees daily, after accounting for fuel expenses and commissions. There were many ride hailing apps that she could choose from. Of course, after doing her research, she chose the one with the biggest payday.
Being a female rider comes with additional challenges. Rubia tries to work only during the day and sometimes male customers cancel their trips because they do not want to sit behind a woman. "There have also been instances when a customer asked to ride the bike himself and I had to sit behind," she shares.
However, for female ride-hailing customers — who are much fewer in numbers — Rubia's presence provides a sense of security and comfort.
This identifies the need for expanding cheaper means of commuting to women who often have to rely on the much more expensive car-hailing services because of cultural or safety reasons.
Both Careem and Bykea have previously announced programmes, in partnership with Women on Wheels, to train female riders. The former even introduced an in-app button for women customers to book a female captain. However, not much seems to have come out of these initiatives, as evidenced by the negligible number of female riders.
Rubia wants to see more women such as herself enter this line of work. She knows there is a demand for women riders. "Khawateen clients tau hain [There are women clients]," she says. One woman Rubia dropped even asked her for her number to arrange for a pick and drop. "They would obviously prefer women riders," she says.
Rubia's is the kind of success story Pakistani technology companies would like you to read. The kind of stories that have helped them produce pitches featuring faces of those they have empowered. The kind of stories that keep attracting thousands to join in. But these tales, while true, are not the full story.
***
Over the past few years, Pakistani tech companies have emerged from the shoddy towers of Karachi's Sharae Faisal, and have swiftly moved from exporting software services to becoming a daily part of an urban citizen's life. Whether you want to buy a new phone, call a cab to commute to work or order food from a restaurant, there is a start-up simplifying these tasks for you.
Look at some of the biggest household names operating in the country's tech space and what do you find? Is it their search and prediction algorithms which are driving this growth? Far from it. Their customer service? Most definitely not. Then what [or rather who] is behind this growth?
The engine of the Pakistani start-up ecosystem is the rider, equipped with a bike, a worn out smartphone and an arched back due to long working hours. These men, and some women such as Rubia, are helping the country move to the digital economy.
However, despite being the true enablers of Pakistan's transition towards this new economy, they are hardly talked about, unless some tragedy befalls one of them. Every now and then, the story of a rider struggling to make ends meet, or not even having a single moment to eat a proper meal between delivering meals to others, goes viral on social media. The social media accounts of the specific app service immediately go into damage control mode — asking for the specific rider's details, feigning surprise and ignoring larger patterns.
The posh app founders from elite schools and colleges continue to give speeches in their foreign accents, telling stories of grit at conferences and talk shows. But the people who are actually turning that vision into reality toil ride after ride for, more or less, 100 rupees apiece.
Much like the rest of the world, Pakistan has been witnessing the rise of the 'gig economy' — where temporary jobs and indepedent contractors are more common than full-time workers — which started with the success of ride-hailing services. In order to make their way into the local market, these platforms started incentivising car owners to list themselves on the app, offering take-home pay that went as high as 100,000 rupees a month. And then came bike-hailing, which took this idea to a much broader market.
A few years later, the market players have increased and the companies have opened new economic frontiers by combining a smartphone with a bike. But the incentives and take-home packages have decreased.
According to a survey by RestofWorld.org, gig workers are worse off in South Asia than in other parts of the world. In Pakistan, gig workers make around 6.64 dollars per day (or 1,156 rupees at the applicable exchange rate as of February 8). According to the same survey, 34 percent of the riders in Pakistan have a university education and 13 percent have a postgraduate education. Still, people continue to join this workforce because it is better than the alternatives.
Every now and then, the story of a rider struggling to make ends meet, or not even having a single moment to eat a proper meal between delivering meals to others, goes viral on social media. The social media accounts of the specific app service immediately go into damage control mode — asking for the specific rider's details, feigning surprise and ignoring larger patterns.
BIKING TO A BRIGHTER FUTURE?
Twenty-six-year-old Zubair Shah* worked at different general stores for shifts that lasted well over 12 hours. He would earn between 16,000 and 22,000 rupees a month. When bike-based ride-hailing and delivery apps started taking off, Zubair thought it might be time to try something new.
The young man, who had studied till his intermediate, was more than familiar with how to use a smartphone. And he knew the routes of Karachi like the palm of his hand, as any Karachiite man his age would.
Signing up for the ride-hailing app did not reduce Zubair's working hours, but they have increased his monthly take-home income, which now stands between roughly 55,000 to 60,000 rupees.
Just like that, anyone with a smartphone and a bike now has the potential to not only earn more than what a fresh graduate makes in the country, but also choose their own working hours. This is the future of work, we are told by tech entrepreneurs and investors alike.
For Muhammad Tauseef*, a former transmission officer at a news channel and now an online forex trader, it is the flexibility to work at his own hours that makes him continue on as a rider for a ride-hailing and delivery service. "I do not depend on it for income," he says. "It's just something I turn to whenever I want to get out for a ride and relax myself."
This also happens to be part of the pitch of at least one ride-hailing app — that about three quarters of their riders are part-timers and have another full-time job or business. So, for these riders, this is a side-gig, a means for supplemental earning. But even if this is true, that still leaves a significant number of riders depending solely on their earnings from riding around metropolises across Pakistan.
COMPENSATION COMPLICATIONS
The gig economy platforms work on a complex compensation structure, which can be a function of multiple factors, including the day and time among others. However, broadly speaking, Bykea's base fare ranges from 30 to 90 rupees, depending on the category, on top of which waiting and distance charges are added. On the other hand, Foodpanda has customised its rates down to the zonal level. For example, pay per delivery in Karachi's Saddar area can fall somewhere between a low of just 10 rupees and a high of 45 rupees.
But within this complexity lies an opportunity to outsmart the system, at least for those who know how. A hustler by nature, Saad Kapadia, who used to be a rider, has long been cashing in on the glitches of various apps.
He shares how, back in the day, many riders and captains of Careem used to turn on the 'Airplane mode' on their phone — which takes the phone offline — when they did not want to take a particular trip. Doing so ensured not taking the ride would not count towards their cancellations.
Similarly, Bykea had a glitch where, in case of a trip cancellation by the customer, the app used to get stuck until the rider tapped on the pop-up notification. This was commonly exploited by riders to create fake trips and subsequently cancel them. This would earn them some dormant online time and help them complete the minimum number of hours to become eligible for incentives. Saad's deep knowledge and ability to find bugs got him noticed at Bykea, who offered him a full-time job at the start-up, a role he moved on from late last year.
The higher-ups sitting at the headquarters of Pakistani app services are well aware of the ways in which riders try to outsmart the system. But while the system can be temporarily outsmarted, it cannot be beaten. And in a country such as Pakistan, where people are in a constant losing battle against unemployment and rising inflation, gig workers are unlikely to go anywhere, even if the system seems to be working against them.
The rise of delivery services along with ride-hailing services has given riders some more options. But even the increased work comes with a catch.
Zubair Shah had his share of bad luck on a December night, when he was passing by Drigh Road around 2am after completing a delivery order. Two robbers on a bike grabbed his phone, resting on the motorcycle's petrol tank, and sped away. Zubair complained to the company and sought compensation for the mobile. But he was told that, since he didn't have a permanent licence, he wasn't eligible for the company's rider insurance.
QUICK COMMERCE
While ride-hailing was the most common option available for anyone looking to earn through a motorbike, the recent growth in quick commerce has provided another avenue that many workers prefer.
Of late, a number of start-ups have emerged with the promise of delivering your grocery needs and other cravings in 30 minutes or less, through their network of dark stores. This includes not only Foodpanda's Pandamart but also Airlift, which has raised a massive 85 million dollars in Series B funding, and KraveMart with six million dollars of investor money in the kitty.
Unlike rides, which can take anywhere around 30-40 minutes to complete and span over a longer distance, deliveries take much shorter time and allow the rider to stay within a specific zone. More importantly, they usually pay better too. Where a ride on average would be worth 100 to 150 rupees, from which costs need to be netted, deliveries have a flat fee of around 50 to 60 rupees, with the potential of tips from customers as well.
This was the key motivation for Hammad to sign up for a delivery service. Despite working full time as a warehouse manager, he was unable to meet monthly expenses from one job. So he had initially taken up a side gig at a ride-hailing service.
Compared to other options such as call centres, which required sitting at an office until 2am for a package of just 15,000 rupees, gig economy platforms gave him the flexibility to choose his own hours. But a year and half back, he switched to a delivery service. "In ride-hailing you can get a trip from the city centre to near the Highway, and you would have to burn fuel by returning empty," he says.
"On the other hand, deliveries allow me to work in my own area, Saddar, which I know off the top of my head, and can quickly rush home after the end of the shift," he adds.
The prospect of parcel deliveries also appeals to rider Rubia, though her reasons are more layered. In addition to the usually higher base fare, deliveries would also make her feel safer, as there would be no man sitting behind her. However, the company she works at has categories with only some riders eligible to make high value parcel deliveries. Rubia's current status as a 'Silver rider' doesn't allow her to deliver high value parcels until she deposits a 50,000 rupee cheque as security deposit.
Not everyone is jumping at the chance to make deliveries either. Muhammad Ali*, 47, is one of the 'Platinum riders' of a bike-hailing app, a status he has earned after consistently doing over 110 rides a week. "If it were up to me, I would [only] do rides," he tells Eos. "You don't have to wait for the customers or climb up the stairs."
Amid rapid growth in Pakistan's e-commerce space, which is driven not only by the start-ups but also increasing online sales of traditional players such as textile giants, there is now an ever-greater demand for riders to meet the rising order flow.
Theoretically, that should have put upward pressures on the market rates, but this doesn't appear to be the case, so far at least. In fact, one veteran rider says that the pay is probably even lower now.
"In the early days of ride-hailing apps, companies were paying handsome incentives and guarantees to ensure a stable supply, meaning that a rider doing about 10 hours online had the potential of making 80,000 to 90,000 rupees a month. Now, even if you work for 14 hours every day, your income wouldn't be more than 60,000 rupees," he explains.
These companies seek comfort in the fact that, despite the emergence of competition in the market, there exists enough supply to meet the demand of all players. That's supported by data from the Pakistan Automotive Manufacturers Association, which shows that over 1.85 million brand new motorbikes were sold in the country in 2021 alone, compared to 1.33 million in 2020, when Covid-19 disrupted sales. Meanwhile, riders have few other employment opportunities to move on to.
PROTECTING RIDERS
Gig platforms have faced criticism globally for exploiting workers who they classify as independent contractors instead of employees, depriving them of labour protections. Meanwhile, the companies argue that their apps simply give people the freedom to choose when and whether to work, and therefore riders cannot be categorised as employees.
This debate reached its peak in California — home to some of the biggest gig economy platforms such as Uber and Doordash — during 2020, when a state legislation ruled that independent contractors had to be classified as employees. The ruling stated that, despite having the choice to pick their own hours, the riders/drivers could not choose the rates for their services and thus should be considered employees.
The decision was quickly challenged in court, which proposed a referendum widely known as Prop 22. What followed was an intense battle between the well-funded start-ups, who spent hundreds of millions of dollars in marketing and lobbying, and the government seeking to woo voters towards their stance. In the end, the tech start-ups were successful, as 59 percent of Californians voted in favour of retaining the independent contractor status of gig workers.
In Pakistan, gig workers continue to face difficult working conditions that involve shifts which run usually upwards of 10 hours every day, exposure to pollution and growing street crimes, which put their life and possessions at risk. There have been plenty of instances of mugging, while one particularly unfortunate boy was shot and wounded last year by an MPA's guards, reportedly for making the grave mistake of ringing the bell twice.
Zubair Shah had his share of bad luck on a December night, when he was passing by Drigh Road around 2am after completing a delivery order. Two robbers on a bike grabbed his phone, resting on the motorcycle's petrol tank, and sped away. Wali complained to the company and sought compensation for the mobile. But he was told that, since he didn't have a permanent licence, he wasn't eligible for the company's rider insurance.
Some services also appear to have contradictory policies. On the one hand they claim to offer life insurance, but their service agreements say that riders are responsible for arranging their own personal and vehicular insurance.
And safety is just one part of the story. Riding a motorbike for five to 10 hours a day at a stretch, through polluted roads, can be quite taxing for the human body. Hammad has felt that difference. "It's really demanding to not only ride for hours, but to also climb multiple staircases many times over. Your back almost gives up at the end of the day," he says.
Due to the dismal working conditions and pay — which may be better than odd jobs, but is still no match for rising inflation — gig workers have time and again taken to the streets to protest against the tech platforms, but their cries have fallen on deaf ears.
The job and growth opportunities the gig economy has created are undeniable. But despite the gig economy becoming a pivotal part of Pakistan's economy, there is no definitive legislation in place to protect the rights of gig workers. An estimated 100,000 are currently actively using app-based platforms to generate income. They continue to face unsafe conditions, wildly fluctuating pay scales and little to no rights, just for wanting to work in a more decentralised environment.
As the government takes notice of the millions of dollars these start-ups secure in funding, it must also take notice of the cogs in the machine, working tirelessly to keep these businesses afloat.
---
*Name changed to protect privacy.
The writer is a freelance journalist who reports on tech. He tweets @MutaherKhan
Published in Dawn, EOS, February 13th, 2022