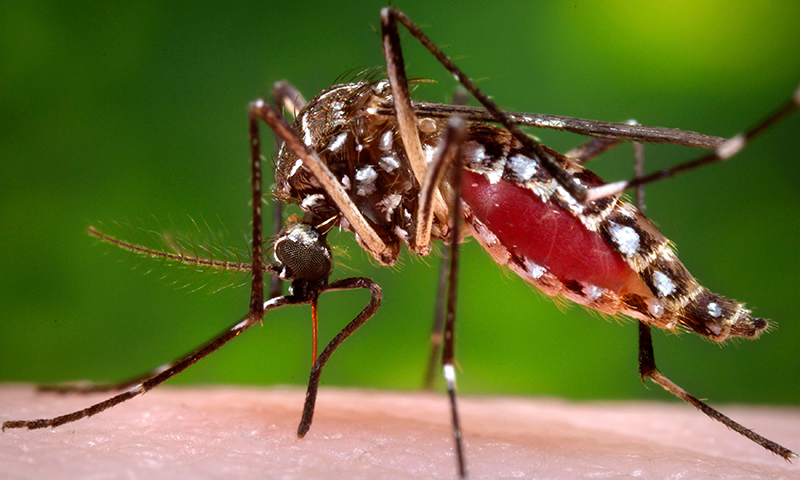 KARACHI: The health department has recently sent a sample of a suspected new variant of dengue virus to the Aga Khan University Hospital (AKUH), sources told Dawn on Thursday.
The step, they said, was taken following a sharp increase in dengue cases in Karachi and reports that the disease was emerging with more severity this year.
According to the official data, the number of dengue cases reported within a fortnight in the city shot up to 582.
"The media reports about the emergence of a new virus circulating in Karachi are false. But, there is definitely a possibility of a new variant of dengue virus [which is responsible for the spike in the mosquito-borne viral disease this year]," said an official of the health department.
A sample of the suspected dengue variant had been sent to the AKUH, he added.
According to him, reports of a new dengue virus are largely based on the statements of some doctors who believe that false negative results [of a particular dengue virus detection test] indicate presence of a new virus, which has clinical features similar to that of dengue virus.
"These are all speculations. Often, the dengue virus antigen detection test (NS1) comes out false negative. This happens because the particular test has sensitivity below 100. In such cases, the concerned staff should carry out more tests to confirm the presence of dengue."
Meanwhile, the Director General Health Services has also released a rebuttal to the media reports about emergence of a 'mysterious virus' in Karachi and stated that no such virus was circulating in any part of Sindh.
"These mysterious cases are being reported with the same complaints, that is, high grade fever, headache, myalgia, arthralgia, retro-orbital pain with low platelets count. The cases, highly suspected of dengue, are negative on diagnostic procedure NS-1 antigen because the diagnostic procedure is not 100 per cent sensitive."
The top official, however, admitted an increase in dengue cases. "A surge in confirmed dengue cases is being reported from different public hospitals as well as private ones in Karachi."
Published in Dawn, November 19th, 2021