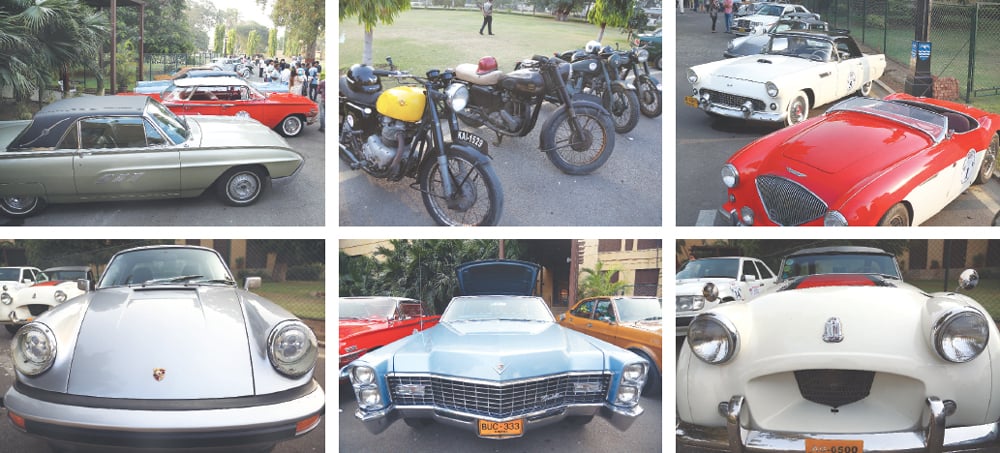 KARACHI: The 11th annual cross-country rally-2021 organised by the Vint­age and Classic Car Club of Pakistan (VCCCP) to travel from Karachi to Peshawar was flagged off by Sindh Governor Imran Ismail at Governor House on Sunday.
Speaking on the occasion, the governor said that such activities would help promote tourism and play an important role to present soft image of the country to the world.
The VCCCP was founded in 1985 by Mohsin Ikram and late Jim Agha.
This year's highlight is an all-women team led by Fozia Imad in a 1992 Mercedes 230E with her 11-year-old daughter Maryam Samad, who has been a regular participant in VCCCP rallies since she was six months old.
Another new feature of this year's rally is the participation of five vintage motorcycles, Nadeem Bashir's 1947 BSA B31, Mohammad Qaiser's 1954 Ariel 350, Salman Raza's 1961 Match­less 500, Mohammed Aslam's 1965 Matchless 650 and Malik Zia's 1967 BSA 650.
The rally cars this year also include a 1935 Chevrolet Master Deluxe, a 1954 Austin Healey 100, a 1954 Mercedes 190-SL, a 1955 Triumph TR2, a 1955 Ford Thunderbird, a 1959 MGA, a 1959 Austin Healey 3000, a 1960 Chevrolet Impala, a 1963 Chevrolet Impala, a 1967 Fiat 124 coupe, a 1968 Jaguar E-type, a 1968 Ford Mustang, a 1968 MGB, a 1972 Jaguar XJ6, 1973 Mazda 818, a 1976 Cadillac Eldorado, a 1978 Porsche 911 SC Targa, a 1977 Mercedes 200D, a 1977 Datsun 280Z and others.
The rally will find its way through Gambat, Rahimyar Khan, Lahore and Islamabad to finally conclude at the Khyber Pass in Peshawar.
Published in Dawn, November 8th, 2021