Pakistan won the T20 World Cup just once, back in 2009, when the Younis Khan-led and Shahid Afridi-inspired unit went all the way and beat Sri Lanka in the final.
Since then, the Men in Green have failed in four attempts to recapture T20 glory at global stage. To give it a fifth shot this year, a group of 15 has been handpicked.
Down below is the group mandated to bring back the T20 World Cup back to Pakistan, with brief write-ups on what they bring to the table.
The batsmen
Babar Azam (captain)
No matter which selector drafts the Pakistan squad, the first name on the list will always be that of Babar Azam. His pre-booked spot does not owe anything to him being the side's captain. The man averages a mind-boggling 46.89 in T20Is at a strike rate of 130.64, which was on the lower side early on his career but has seen an uptick in recent years. In the UAE, his average goes up even further up to 49, making him the most automatic choice on the list.
Fakhar Zaman
Until a few years ago, no Pakistan limit-overs squad would have been complete without Fakhar Zaman opening the innings. Then, his goodwill accumulated from the 2017 Champions Trophy final ran out as his critics started to think that he was merely a flat-track bully that could terrorise Zimbabwe and the likes but comes up short against the big guns. After the 2019 World Cup, he fell out of favour with the selectors but made a comeback this year. He's averaging an average 20.33 in T20Is this year so we're not sure why he is in the squad, and perhaps the same was also the original assessment of chief selector Mohammad Wasim, who had him in the reserves only, only to promote him later without him having done anything of note except a 49-run knock in the National T20 Cup. He's looked in good touch through the warm-ups though. Perhaps, the selector knows something we don't.
Asif Ali
There wasn't an eyebrow in the country that did not get arched and raised when Asif Ali was picked for this Pakistan squad despite failing horrendously in the Caribbean Premier League for the second year running. He failed to turn heads even in the recently concluded National T20 Cup but was still retained even though there was plenty of chopping and changing around him. Pakistan selectors have always been suckers for supremely inconsistent big hitters. Like a fiend, they chase that one slugger that gets hot, or lucky, every once in a blue moon. That role of the hitter-slash-heartbreaker (of own fans), in this Pakistan side, has been reserved for Asif Ali.
Haider Ali
After an impressive start to his T20I career in 2020, Haider Ali's sophomore year was rough to say the least. His average from year one to year two plummeted from 29.33 to 11.42, and so he was axed. The recently turned 21-year-old wasn't picked in the original squad but a timely display of his talent and promise in a couple of knocks in the National T20 Cup completely changed the selectors' opinion of him. He then replaced Azam Khan in the squad. He did not get to bat in either of the warm-ups, which means he is unlikely to find a place in the playing XI anytime soon.
The allrounders
Shadab Khan
Over the 15 T20Is he's played over the past two years, Shadab Khan has scored a grand total of 78 runs and picked up 12 wickets. Yet, he is not only an automatic choice whenever fit but also the team's vice captain. That said, he enhances his case with sharp fielding, confidence and a bit of history of performing at the big stage (read Champions Trophy final). He went wicketless in the two warm-ups and that should be a cause of concern for the Pakistan faithful.
Imad Wasim
Until the 2019 World Cup, and even a bit after that, Imad Wasim was an automatic starter for Pakistan. He'd often even open the bowling since you'd be guaranteed that he'd bowl wicket to wicket and lose balls will be far and few in between. But due to injuries and various other reasons unknown, his stock fell in 2021 and he is no longer seen as an indispensable member of the playing eleven – if not the squad. He's played just three T20Is in 2021 so ring rust could be an issue for the soon-to-turn 33-year-old.
Mohammad Hafeez
The man nicknamed Professor was great in T20Is in 2018 and outstanding in 2021 – so much so that he had shut nearly all his critics, including his biggest one who now occupies the biggest cricketing office in the country. But then 2021 came and we don't know if it's the effect of the World Cup year or what, his game plummeted and he looked every bit the 41-year-old he is. From averaging 83 last year to just 11.77 this year is a remarkable drop. Even then, he was an automatic choice, thanks to his ability to do literally everything possible on the cricket field. He bats, he bowls, he fields, he provides leadership and so he's in the side for one last hurrah. His 2021 form coupled with the fact that his career T20I average of 26.40 drops by more than eight runs in tournaments with 5+ teams should make Pakistan fans a bit nervy.
Shoaib Malik
There was no place and no hope of a fairytale ending for Shoaib Malik when the original World Cup squad was named on Sept 6. To be fair, he'd given no reason for selectors to pick him, as at the time he was in the midst of failing spectacularly in the Caribbean Premier League. Then, things changed, and the National T20 Cup happened, where he was consistently good for Central Punjab, if not outright brilliant. His knock of 85 not out against Sindh off just 47 balls saw his proponents get their voice back. Soon after, when the time came to trim the underperformers in the original squad and replacements were to be found, the famous name of Malik was heard the loudest and thus he was picked.
Mohammad Nawaz
Mohammad Nawaz offers a slightly different variety of allround game, which so many in this current Pakistan side possess. He's a slightly more adventurous left-arm spin option than Imad, and while his batting shows promise, it has never truly blossomed in T20Is for Pakistan. Overall, he's a useful, Jack-of-all-trades kind of cricketer who's hung around long enough to see most of his competition dip or deteriorate, which has opened doors for him. His consistent domestic performances have also contributed to him earning the nod.
Mohammad Wasim
Chief selector Mohammad Wasim must really be a huge fan of his 20-year-old namesake from North Waziristan, who made his T20I debut for Pakistan just this July. In the four matches he's played against the West Indies, he's taken two wickets and scored a solitary run. However, he's quietly and consistently done quite well in all of domestic T20 tournaments from PSL to KPL and National T20 Cup. Somewhat of an unknown quantity for this level, but the talent is apparently there. Just ask chief selector Wasim Sr.
Wicketkeepers
Mohammad Rizwan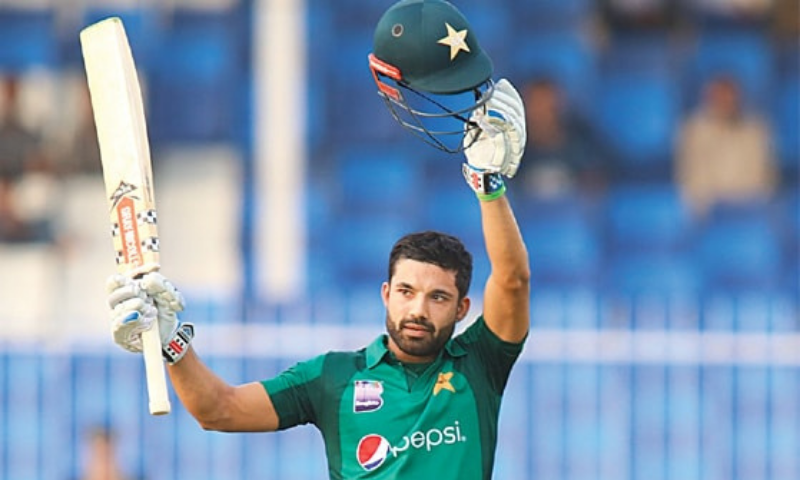 It's hard to believe that up until last year, there were heated debates if Mohammad Rizwan deserved the wicketkeeping slot in the squad ahead of Sarfaraz Ahmed. In the year since, he has completely shut his critics and made them eat their words and delete their tweets and whatnot. Rizwan averaged 44.33 in T20Is last year and an astonishing 94 in 2021. That nearly 100-run average is not a statistical anomaly that occurs due to a small sample size. The pint-sized keeper with a massive game has maintained that number over 14 innings. More astonishing is the fact that he now averages more (48.40) than even Babar Azam in T20Is. The man was not only guaranteed a seat on the UAE-bound plane, he was practically the co-pilot. Without him, the plane wouldn't have taken off.
Sarfaraz Ahmed
Former all-format captain Sarfaraz Ahmed is in this squad only because there is not even a half-decent option to serve as the understudy for Mohammad Rizwan, who is the undisputed number one and by far the best gloveman in the land. Azam Khan was originally supposed to admire Rizwan from the bench but then he did not set the world alight in the post-squad announcement National T20 Cup and was replaced by Sarfaraz. The big-boned and big-hitting Azam was never a true wicketkeeper anyway. Truth be told, when it comes to pure keeping, after Rizwan and Sarfaraz, there is a huge drop, and this is why the man from Karachi was picked after the initial snub. Had any other keeper shown even a slight bit of promise, the management would've been keen to leave Sarfaraz in Karachi. A lack of competition from those below, and Sarfaraz's decent form with the bat in domestic events earned him the nod.
The pacers
Shaheen Afridi
Billed as Pakistan's best current bowling talent and the clear spearhead of the pace unit, Shaheen Afridi's T20I bowling average since his debut year in 2018 has steadily declined. In fact, statistically speaking, 2021 was his worst year in limited overs cricket at international level (average of 41.37 in ODIs and 35.40 in T20Is). But whatever the numbers may say, Afridi is the one Babar would look for wickets and inspiration in this T20 World Cup. He is also one of the few automatic choices in this lineup.
Haris Rauf
Haris Rauf is fast and wayward, and that second trait makes a lot of people very mad at him at times. Even in year two of his international career, it seems as if he is sticking to the 'gully cricket' philosophy of just hurling the ball as fast as possible. That gets him wickets sometimes but also makes him very vulnerable to being taken apart by quality batters. Perhaps, the weakest link in Pakistan's pace unit, Rauf is also in the side for the x-factor he brings to the table.
Hasan Ali
The year 2020 does not exist on Hasan Ali's international cricket CV. The man got a nasty back injury towards the end of the 2019 World Cup and end up missing almost two years of cricket. He came back in 2021 and since then he's been a man on a mission. Easily Pakistan's best T20I bowler in 2021, Hasan's selection for the World Cup was never up for debate. His T20I bowling average for the year is 14.88 whereas since his return he's also turned into a useful batter, more than capable of scoring quick runs late in the innings.
---
The author is freelance sports writer and a die-hard fan of the Pakistan cricket team.