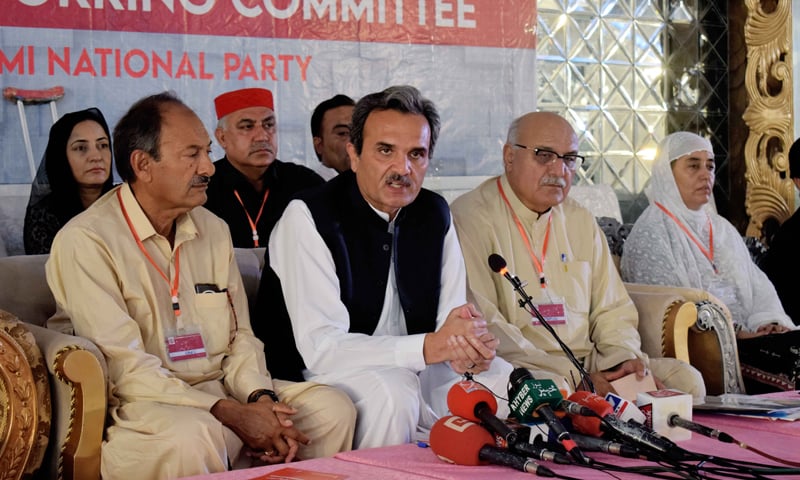 ISLAMABAD: Calling for adopting a policy of non-interference in Afghanistan, the Awami National Party (ANP) has expressed concern over "regrouping" of terrorist organisations and rise in incidents of extortion and targeted killings in the country.
Speaking at a news conference after a meeting of the party's Central Executive Committee (CEC) here on Wednesday, ANP's senior vice president and MNA from Mardan Amir Haider Hoti asked the government and the state to adopt a clear policy and make correct decisions at right time after taking parliament into confidence as the country could no more afford another phase of terrorism.
ANP's information secretary Zahid Khan and senior party leader Mian Iftikhar Hussain also accompanied Mr Hoti during the news conference.
The CEC meeting was convened to discuss the situation in Afghanistan after the Taliban takeover last month and its possible implications for Pakistan and the region, besides discussing the prevailing political situation in the country, particularly the government's act of targeting the Election Commission of Pakistan (ECP) and the proposed setting up of the controversial Pakistan Media Development Authority (PMDA).
Mr Hoti stated that once again the security institutions, police and even the general public were becoming a victim of terrorism and target killings and the people had once again started receiving telephone calls demanding extortions all over the country, particularly in Khyber Pakh­tunkhwa and Balochistan.
Mr Hoti made it clear that the ANP had no favourites in Afghanistan. He said the ANP only wanted to see peace in the nei­ghbouring war-torn country and believed that the people of Afghanistan should decide their own future. No other country had the right to make a decision about the future of the people of Afghanistan.
The ANP leader, however, said there was a need to save Afghanistan from further divisions on ethnic basis. He warned that the situation could worsen in Af­­ghanistan, if it was divided on ethnic lines.
He called for resolving the issues in Afghanistan through talks, saying war was not a solution to any problem.
Electoral reforms
About the government-proposed electoral reforms, the ANP leader said they believed that electoral reforms were needed to ensure free, fair and transparent elections in the country, but for them, the government-dictated reforms were unacceptable. He asked the government to respond to the objections raised by the ECP on electronic voting machines (EVMs). He condemned the attitude of the federal ministers towards the ECP, saying it was the right and responsibility of the commission to raise objections to the use of EVMs.
Taking the government to task for its move to establish the PMDA, the ANP leader alleged that efforts were being made to control the media in the garb of steps to check fake news.
Published in Dawn, September 16th, 2021