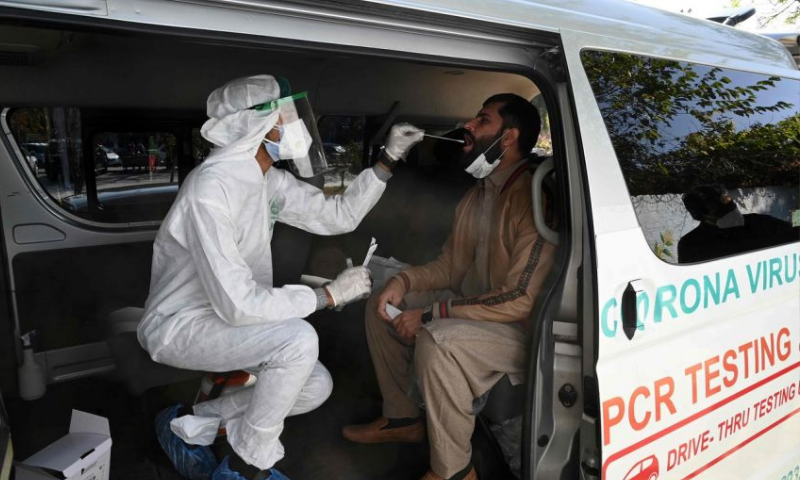 ISLAMABAD: While coronavirus continues to infect masses across the country, Pakistan has reported the lowest positivity rate since March 9.
According to the data issued by the National Command and Operation Centre (NCOC) on Thursday, 2,726 cases and 75 deaths were reported in a single day. As many as 502 patients were on ventilators and the number of active cases was 59,018 as of May 27. Moreover, 4,496 patients were admitted to hospitals across the country.
The data shows that the lowest positivity rate i.e. 4.34 per cent was reported since March 9. On March 8, the positivity rate was 4.26pc but then it gradually started increasing and reached 11.63pc on April 20. Then again positivity rate started declining and on May 22 it was reported lower than 5pc.
According to a tweet of the NCOC, 6.4 million doses of vaccine have been administered to people till date. It said that 294,364 doses were administered across the country on May 26 and overall administered vaccines were 6,424,873.
Meanwhile, according to a study, published in a US medical journal, vaccines from China's company Sinopharm have successfully curbed spread of Covid-19. It was the first time that the details of late-stage trial of a Chinese shot have appeared in the scientific journal. Two inactivated vaccines, developed by Sinopharm, prevented symptomatic infections by 72.8pc and 78.1pc, largely in line with what the company has previously announced. The findings were reported in the May 26 issue of the Journal of the American Medical Association.
The study included 40,832 volunteers from across the United Arab Emirates, Bahrain, Jordan and Egypt. They were equally divided into three groups and received either two doses of the vaccines with three-week interval or a placebo. Two weeks after the second shot, infections developed in 26 people given the vaccine known as WIV04, 21 of those given the vaccine known as HBO2 and 95 given a placebo shot. None of the volunteers given an active vaccine developed severe disease, compared with two of those given placebo.
A fake letter has been circulating on social media, claiming that the Pakistan Air Force (PAF) has directed its staff not to receive AstraZeneca vaccine.
When contacted, the PAF's Directorate of Public Relations termed it a fake letter.
Viral diseases in chicken
The Pakistan Medical Association (PMA), the representative body of doctors, has expressed concern over reports on viral diseases in chicken/poultry.
"Pakistan Poultry Association has also recently confirmed these reports and claimed that farmers are facing poultry deaths massively due to these viral diseases. According to the association the poultry death rate is so high that many farmers have shut down their business. This shows that the diseases have widely spread in chicken and in the circumstances it is obvious that unhealthy chicken is being sold in the market. Unfortunately, there are reports in the media that some ravenous people are selling even dead chicken to their particular customers on the cheaper rates," a statement issued by the PMA said.
"Black sheep in the market are playing with the health and lives of the innocent people mercilessly. The black sheep involved in this heinous crime should be dealt firmly and punished according to the law. PMA also requests all the provincial governments to activate their respective food departments because it is their failure that people are eating rotten and infected chicken," PMA Secretary General Dr Qaisar Sajjad said in the statement.
"In the present situation we advise public to buy healthy and active chicken and get it slaughtered in your presence, do not buy stale chicken in any way," he said.
Published in Dawn, May 28th, 2021