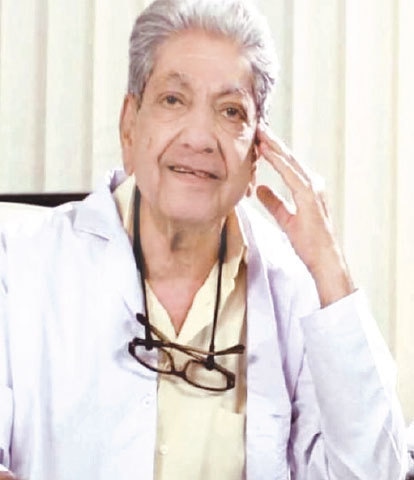 KARACHI: Eminent gynaecologist Dr Faridoon Sethna passed away on Saturday following a brief illness. He was in his 80s.
He leaves behind his wife and three sons.
Dr Sethna was a Dow Medical College graduate and fellow of the Royal College of Obstetricians and Gynaecologists who spent all his life rebuilding Lady Dufferin Hospital (LDH) in the Kharadar area and treated poor patients from old Karachi.
He was also the chair and medical director of the Concept Fertility Centre in Clifton.
"Dr Sethna was a great mentor to countless gynaecologists. He believed in women's empowerment and staunchly supported the role of midwives and the cause to provide best care to pregnant women," recalled Dr Sherhshah Syed, former president of the Society of Obstetrician and Gynaecologists Pakistan (SOGP).
At the LDH, Dr Sethna remained involved in teaching and training post-graduate students in obstetrics and gynaecology. He participated in numerous international and national scientific meetings and conferences. He took keen interest in philanthropic activities, too.
Despite the bad law and order situation in the inner city for some years, he continued providing emergency obstetrical care in Karachi, according to his friends.
He also developed interest in treatment of infertility and developed this technique at a centre in Karachi. He was also former prime minister Benazir Bhutto's obstetrician.
"Dr Sethna was behind the LDH's modernisation. He was able to convince the late Ardeshir Cowasjee to support him in building a midwifery school at the hospital," Dr Syed said, adding that he was also an ardent art lover and reader.
"He supported me when as SOGP president I tried to convince the government of Sindh to invest funds in midwifery training and midwives' posting in rural areas of the province. He also shared my idea of popularising the idea of vaccinating young girls against cervical cancer in Pakistan," Dr Syed said.
In 1994, he was made part of three-member National Committee on Maternal and Neonatal Health with an objective to analyse the high rate of maternal mortality and morbidity in the country and develop workable approaches to lower these rates.
"I was also part of the committee along with Imtiaz Kamal. Being in the same profession, we used to meet frequently. I found Dr Sethna very caring, humble and gentle," said senior gynaecologist Professor Sadiqua N. Jafarey.
Published in Dawn, May 9th, 2021