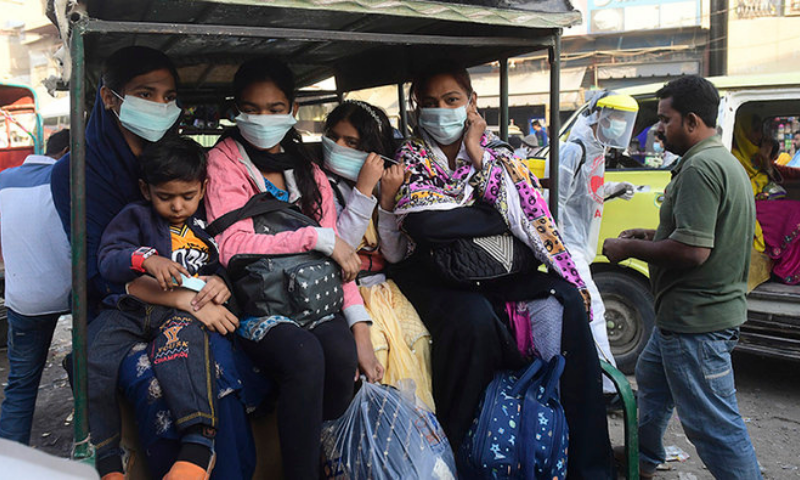 KARACHI: The Sindh government on Friday announced a ban on all kinds of public transport across the province from Sunday (tomorrow) for one week putting restriction on movement of all such vehicles even during Eid holidays.
The move indicates an almost lockdown-like situation for at least seven days when businesses would also remain closed under the recently defined measures by the National Command and Operation Centre (NCOC) to contain the spread of coronavirus.
The fresh announcement came from the Sindh transport and mass transit department, which said that the move was made following directives from higher authorities who decided to impose further restrictions on the advice of health experts amid growing number of Covid-29 cases.
However, the provincial government allowed a limited movement of rickshaws, taxis, private vehicles and ride-hailing services for short distance travelling.
"The ban shall be effective for all kind of public transport vis-à-vis within city, intercity and interprovincial with effect from May 9 up to the evening of May 16, 2021," said a notification.
Private vehicles, rickshaws, taxis and ride-hailing services are allowed with half seating capacity
Exemptions for 'short distance travel'
Giving exception to certain kind of vehicles, the same notification added that "private vehicles with half seating capacity, taxis, cabs, rickshaws for essential short distance travels meant for medical care and purchasing of essential items with 50 per cent occupancy of seats and [following of] SOPs [standard operating procedures]".
The provincial government announced the new set of restrictions as part of the national "Stay Home - Stay Safe" drive during the Eid holidays amid the third wave of coronavirus.
It also issued the list of measures being actively implemented during the Eid holidays including closure of all parks, beaches, picnic points and recreational activities spots for at least a week.
"Whereas, considering the usual festive activities traditionally undertaken on the eve of Eidul Fitr it is apprehended that such activities related to Eid are very likely to contribute to the spread of disease and accordingly it was decided at the National Command Operation Centre (NCOC) to take further measures to reduce mobility during forthcoming Eidul Fitr and the guidelines 'stay home- stay safe' as discussed at NCOC are adopted for this purpose," said a home department notification issued on Friday.
"The same measures were also discussed and decided during the Covid-19 task force meeting dated 6th May, 2021 chaired by the chief minister, Sindh keeping in view the disease spread in the country in general and the province of Sindh in particular," it added.
No ban on goods transport, charities
The new measures, however, exempted the transportation of goods from the ban. Markets, businesses and shops would remain closed during the next week from tomorrow except essential services.
In its notification, the home department identified the areas marked as essential services and allowed them to continue their operation while following defined rules.
These establishments include hospitals and medical clinic, stand-alone pharmacies, medical centres, vaccination centres, utility services offices, staff, essential municipal services, petrol pumps, e-commerce, home delivery, postal and courier services with proper trained, uniformed and identity carrying delivery persons duly trained and following SOPs.
Similarly, welfare organisations like Edhi, Chippa, Al-Khidmat duly registered and working in coordination with district administration and law enforcement agencies for food and relief distribution are also allowed to run their operation during the restrictions.
Staff of call centres, customer support centres for essential services, technical staff of cellular companies, internet service providers, media workers, government essential services, offices and staff and their field operations including port operations, customs, postal and railways have also been allowed movement during the restriction period.
Published in Dawn, May 8th, 2021