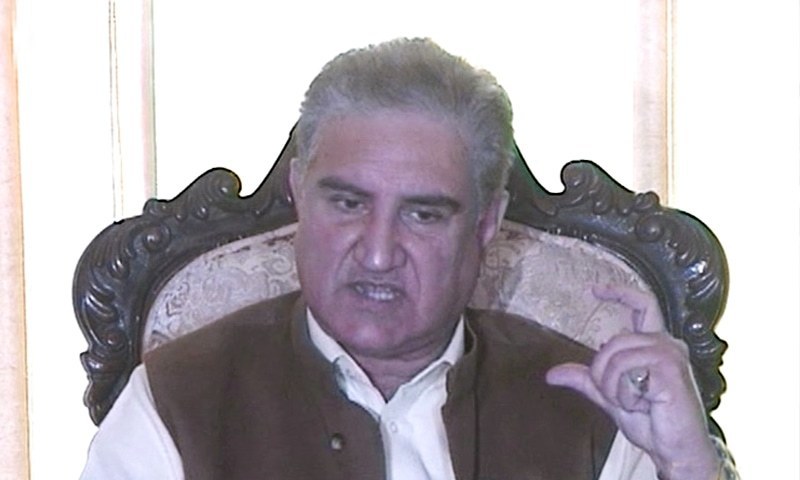 MULTAN: Foreign Minister Shah Mahmood Qureshi said on Sunday the notification to scrap the powers of the south Punjab secretariat was a conspiracy against the Punjab government as neither the chief minister nor the provincial ministers hailing from the region were aware of it.
Talking to the media here, Mr Qureshi said he would demand that the chief minister hold an inquiry into the issue.
The foreign minister said he was out of the country when his son Zain Qureshi sent him [through WhatsApp] the notification to curtail the powers of the south Punjab secretariat and he was astonished to see it.
"I contacted the chief minister and the provincial ministers and all of them were unaware of it. The approval for the notification was sought neither from the CM nor from the provincial cabinet. What was the motive behind it? The notification was the negation of the PTI's manifesto and dream of Prime Minister Imran Khan to create a separate province. We are agreed that if everything is going to decide in Lahore then why Rs4 billion have been spent to establish the offices in south Punjab," he said.
Qureshi said he had contacted the IG police and other administrative officers who informed him that they had transferred all the powers to additional IGP (south Punjab).
"We don't need a post office in south Punjab rather we will create a separate province as per the PTI's manifesto. My meeting with the chief minister over the issue is scheduled on Monday (today) in which I will demand a thorough inquiry into it," he said.
Qureshi said Usman Buzdar had constituted a committee headed by Finance Minister Hashim Jawan Bakht to submit more amendments regarding rules of business for south Punjab. "The secretariat will be established as per the wishes of the masses respectively in Bahawalpur and Multan while giving all powers and authority to the officers."
He said Pakistan always expressed its desire for peace with India as both countries could not afford war.
"The dialogue is the only way forward to resolve the issues and we are not afraid of dialogue with India. A lot of ups and downs came whenever dialogues were going to take place. Our government has a clear decision in connection with the restoration of trade with India that New Delhi should make a favourable environment for dialogue," he said.
To a question regarding the China-Iran treaty, the foreign minister said the Chinese leadership was not pointing towards Pakistan by saying that 'Iran doesn't change its stance on a phone call.'
To another question, the foreign minister said the Biden administration invited only those countries which are responsible for the spread of pollution.
"Environment is an issue over which Pakistan and the US have same view," he said.
Published in Dawn, April 5th, 2021