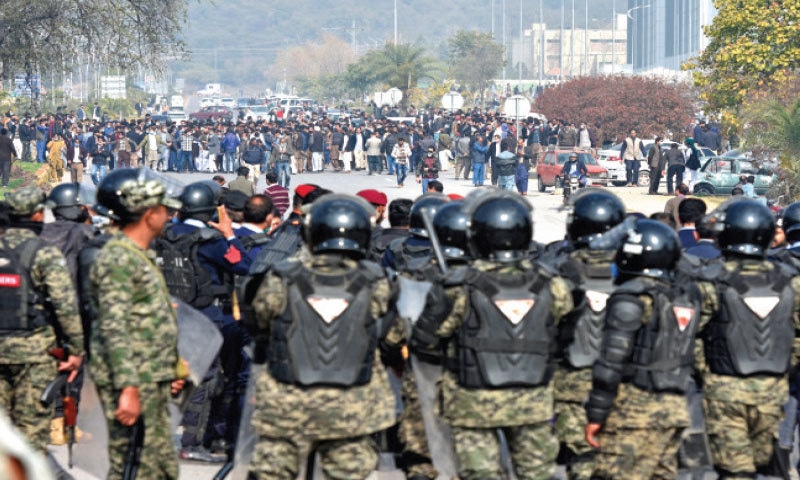 ISLAMABAD: Furious over use of force, Zafar Qureshi, a schoolteacher, said police's action on unarmed protesters yielded positive results even on the opening day.
Clad in symbolic coffin, Zafar, who came all the way from Muzaffargarh, said during the last three years, inflation saw a huge increase, but the government did not raise salaries.
"We are here to get a raise in salaries in accordance with inflation," he said, adding that instead of listening to the voices of protesting people, the government resorted to violence; Its action has gone in our favour," he said.
Zafar was part of the protesting government employees who held a sit-in on Jinnah Avenue and D-Chowk.
The protesters were determined not to return without getting a raise in their salaries, adding that inflation had made their lives difficult, leaving them with no option but to take to the streets.
Vow not to return till they get raise in salaries
The protesters were in a disarray as they staged sit-ins in groups on Jinnah Avenue. Since they came from different parts of the country, they were not familiar with each other, therefore, they sat in groups.
Mohammad Aslam, a road cleaner from Faisalabad, who was garlanded with vegetables, said he had been receiving Rs20,000 per month, which was insufficient to run his house.
"I have four schoolgoing daughters and with rising inflation and inflated utility bills, I am unable to properly run my house," he said, adding that there should be no less than 50pc increase in salaries.
"Before this government came to power, we used to eat meat two to three times in a month, but now even rate of pulses and vegetables are beyond the reach of low grade employees," he said.
Replying to a question, Mohammad Aslam said he had garlanded himself with vegetables to attract attention of the government that people were unable to purchase vegetables from their existing salaries.
Another protester, Atiqur Rehman Khan, said Imran Khan in his election campaign had made many promises to bring change into the life of poor people but failed to fulfill even a single promise even after three years in office.
Ms Chanzeb, who came from Rawalpindi, said she was unable to manage her kitchen with a meagre amount of Rs20,000.
"Being woman I know how to run kitchen in a small budget, but I have failed to do so during this government's tenure as almost all kitchen items are beyond the reach of lower middle class," she said, adding that additionally, prices of petrol and inflated utility bills had burdened the poor.
"Salaries should be increased by 100pc," she added.
Published in Dawn, February 11th, 2021