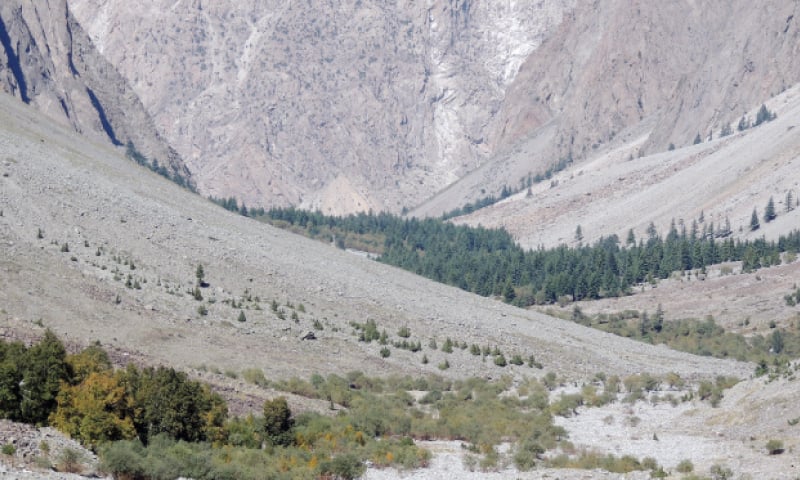 CHITRAL: The alpine tree line has shifted to the higher altitude over the years as a manifestation of climate change over the period of last three decades in Chitral, according to experts.
The process is going on with the receding of glaciers propelled by global warming.
Ejaz Ahmed, a senior conservationist, said that as per data collected by him during the course of his research, it was found that more than two dozen endemic species of plants had disappeared in the lower altitude zone from which glaciers retreated to the higher zone.
He said that Himalayan birch and juniper were two of the famous plants, which had been in common use by the local people since the time immemorial but they were conspicuous by their absence from the ecosystem.
Mr Ahmed said that the alpine tree line was an obvious and prominent natural boundary in mountain landscape of Chitral.
Expert says two dozen species of plants disappeared in lower altitude zone
He said that the district comprised areas of potentially unique habitat for the two plants. He added that the data collected by him in Broghil, Bashqar Gol and Golen showed an upward movement of tree line.
"It has been also observed that the species composition of plant communities in these areas also changed. For example the Juniper and Himalayan birch trees have been replaced by Sophora mollis and Berberis vulgaris that were earlier found in low altitude habitat," he said.
The expert said Juniper and birch were in common use of the villagers. The juniper was used as beams and pillars of homes while birch's wood was used in making agricultural wooden implements and its bark was used to fabricate container for storing different things including milk products, he said.
He said that a good number of endemic species of flowers had been become extinct in the lower altitude and some other species of flowers were found to have replaced them which used to be found in the lower altitudes.
Sharing the findings of his survey, the expert said that some herbivores had also changed their habitats to the upper altitudes with the shifting of certain species of plants from the habitats while in turn the carnivores were also affected.
"Fungal diseases have also been observed in some of the forest stands in alpine areas in Chitral for the first time. This may be due to rise in temperature in the alpine areas in Chitral," he said.
Mr Ahmed said Chitral was home to more than 500 glaciers and the increasing frequency of the glacial floods in different valleys of the area during the past two decades showed that phenomenon of global warming was on steep rise, triggering the climate change.
Published in Dawn, February 9th, 2021