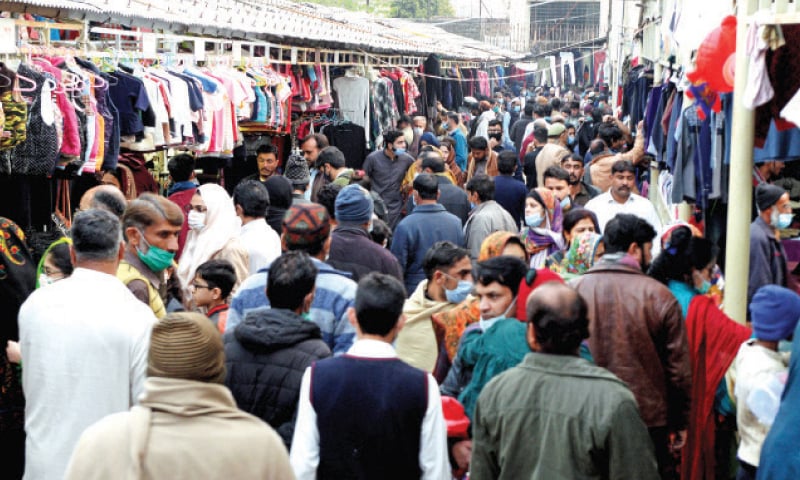 Positivity rate falls to 5.29pc
Rawalpindi police official falls victim to virus
Twin cities report 501 new patients
ISLAMABAD: The federal capital saw a reduction in its daily Covid-19 cases on Sunday as 355 people tested positive compared to 447 a day earlier.
However, the district administration advised residents to continue following standard operating procedures.
"Positivity rate, which was 7.16pc on Nov 20, has dropped to 5.29pc. Similarly, the number of cases, which had surpassed 500, was 355 on Sunday," District Health Officer Dr Zaeem Zia told Dawn.
He said 6,699 tests were conducted on Saturday but the number of positive cases remained below 400.
"In the Sixth Global Symposium on Health System Research held in UAE, which brought together policymakers, practitioners and researchers from more than 100 countries virtually, a European university had asked for the model of Islamabad and wanted to know the way we were combating the virus," he said.
Dr Zia said though the trends were reducing, it was too early to say anything about it.
"I would suggest the masses keep following SOPs and do not go out unnecessarily. We are running our surveillance activities 24/7 and expect people to cooperate with our teams," he said.
Replying to a question, Dr Zia said the main focus in the federal capital remained contact tracing.
Every time cases started to increase, the virus chain was broken as a result of which the number of cases started to reduce, he added.
Rawalpindi
As many as six people, including a police inspector, died in Rawalpindi district from Covid-19 while 146 more people contracted the deadly virus on Sunday. However, 152 patients were also discharged from hospitals after recovering.
Inspector Mohammad Ajaib, who was to retire in April 2021, lost his life in the emergency ward of Rawalpindi Institute of Urology where he had been under treatment since Friday.
He is the second police inspector to have died of Covid-19 after Inspector Yasin Khan who succumbed to the virus in June.
City Police Officer Mohammad Ahsan Younas expressed his grief over the demise of Inspector Ajaib and offered his condolences to his family. besides, two more police officials were infected by the virus.
Iqbal Jehan Begum, 75, a resident of Gujar Khan, was taken to Shifa International Hospital on Nov 28 where she died late on Saturday night. Muneer Ahmed, 55, a resident of Dhoke Piran Faqeeran on Tipu Road, was admitted to Benazir Bhutto Hospital on Nov 28 but died on Sunday morning.
Nisar Mehmood, 50, a resident of Dhoke Mustaqeem Pirwadhai, was also brought to Benazir Bhutto Hospital on Nov 28 but breathed his last on Sunday.
Hifza Bibi, 55, from Kahuta was shifted to Fauji Foundation Hospital on Nov 28 where she died on Sunday while Mohammad Akhtar, 71, from Dheri Hassanabad was admitted to Rawalpindi Institute of Urology on Nov 27 but succumbed to the virus late Saturday night.
As many as 1,271 confirmed patients are under treatment, including 185 at Holy Family Hospital, Benazir Bhutto Hospital, Red Crescent Hospital and Rawalpindi Institute of Urology while 1,086 patients have been isolated in their homes.
Officials said 12,054 people have tested positive since March in Rawalpindi Division - 10,221 in Rawalpindi, 778 in Attock, 685 in Jhelum and 370 in Chakwal. So far 483 people have died in the division and 10,096 have recovered.
Commissioner retired Capt Mohammad Mehmood told Dawn that the percentage of daily positive cases stood at 7 to 8pc while the number of patients who had recovered was increasing. He said the administrations of Rawalpindi Division's four districts had been asked to ensure that health guidelines were implemented in all departments and public places.
Taxila
The tehsil saw another surge in coronavirus cases after 11 more got infected on Sunday.
According to the report issued by the local health department, after the emergence of new patients, the tally of positive cases had risen to 739.
Deputy District Officer Health Dr Sara Qadeer said for the first time a large number of cases were reported from the rural areas of Wah. Five people contracted the virus in Brahma area in Wah Union Council, three from rural areas of Taxila while one from an urban area of Wah. She said out of the 11 patients, six were female, adding that the number of active patients in the area had increased to 126 and all were home isolated.
On the other hand, four more cases were reported in Attock after which the total number of positive cases in the district rose to 778.
According to health authorities, three cases were reported from Attock city and one from Hassanabdal. Focal person for Covid-19 Dr Akhtar said there were 78 active patients in the district out of which nine were admitted to District Headquarters Hospital. The rest had been home isolated. — Additional reporting by Mohammad Asghar & Amjad Iqbal
Published in Dawn, November 30th, 2020