A resident of Karachi's Korangi area, 34-year-old Sameen* had been grappling with a distressful condition she could not fathom. "I started having recurring panic attacks after being mugged at gunpoint two years ago," she tells Eos. "While my symptoms were persistent and troubled me severely, I did not seek treatment because I thought I was experiencing fits and was also worried about strained household finances." This condition persisted for two years.
Under the lockdown earlier this year, her symptoms exacerbated and led to significant friction between her and her family. That is when her family took her to Karwan-e-Hayat's Korangi Community Psychiatric Centre located in their neighbourhood. There Sameen was diagnosed with panic disorder and things became clearer for her. At Karwan-e-Hayat's community centre, she received free psychiatric treatment and rehabilitation services and now goes there only for follow-up appointments.
The fact that Sameen was in the dark about her mental illness symptoms and triggers comes as no surprise. Mental health is one of the most neglected fields in Pakistan, where more than 14 million suffer from mild to moderate psychiatric illnesses. The majority of those who suffer are women. A significant portion of the affected population remains undiagnosed because of the dearth of proper mental health services in the country. The mental illness crisis has escalated in the country this year due to the Covid-19 outbreak; the consequent lockdown resulted in job losses and significant financial, and thereby psychological, fallout.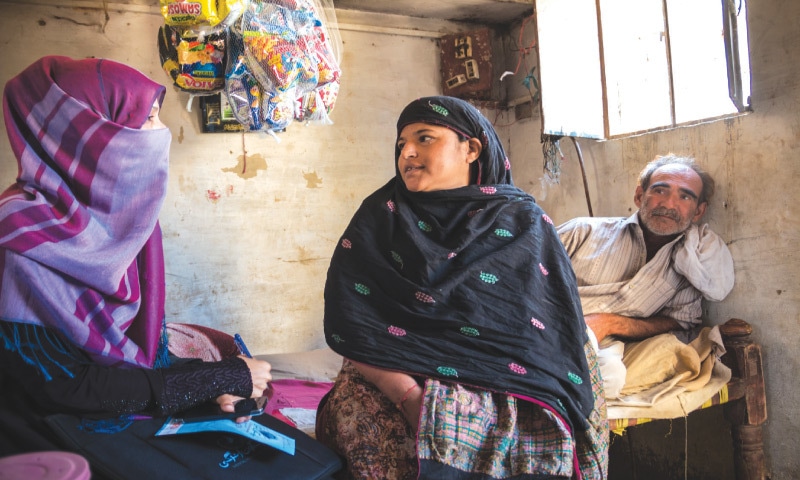 The mental health service sector in Pakistan can be divided broadly into public and private sector hospital-based services and community-based services. The majority of the people interviewed for this article who had come for psychiatric consultation at outpatient (OPD) clinics had been referred by their general physicians. This underlines the need to integrate mental health into primary healthcare in order to ensure that everyone has access to psychological healthcare.
Pakistan has only one psychiatrist for every 10,000 persons suffering from any mental disorder. Only four major psychiatric hospitals exist for the entire population of 220 million. The situation is further aggravated by the shortage of trained mental health experts, and socioeconomic and cultural barriers, such as the stigma attached to having a mental disorder of any kind. All of this stands in the way of people seeking help for psychological illnesses.
To commemorate World Mental Health Day, Eos looks at community outreach programmes, such as those initiated in Karachi, which can help spread awareness about mental health and provide psychological rehabilitation for those most in need
Community mental health initiatives can help bridge the gap between demand and supply, facilitating access to health services and making these services affordable to the general population. Over the last decade, Karachi has seen major headway made in this regard, with various not-for-profit initiatives providing much needed, affordable psychological and rehabilitation-focused services to low-income communities.
Two million people in Karachi alone are estimated to suffer from mild to severe mental disorders. While the volatile socio-political situation of the country has a compounding negative impact on psychological well-being, financial constraints, cultural barriers and lack of awareness further hinder access to mental health services. Integrating psycho-social rehabilitation with treatment in a cash-strapped economy is a feasible, holistic approach to impart affordable and effective healthcare to low-income neighbourhoods for free or at nominal cost.
Karwan-e-Hayat (KEH) has played a major role in the non-governmental sector, by providing low-cost and community-centred psychiatric treatment and rehabilitation services since its inception in 1983. It caters annually to 80,000 patients, who mostly hail from underprivileged backgrounds; 96 percent of them are provided free or highly subsidised treatment. In 2018, KEH started its community outreach at five remote locations across Karachi. Now KEH OPD clinics operate all over Karachi, in localities such as Kharadar, Shireen Jinnah Colony and Sachal Goth.
Research has established a positive link between drug use and crime. Correlational findings reveal that drug use intensifies and perpetuates pre-existing criminal activity. Additionally, the lack of finances is a strong motivator behind delinquents and drug users committing crimes. Therefore, accessible and low-cost mental healthcare plays a significant role in such localities where drug and crimes are rife.
The AAS Trust is doing instrumental work in this regard, with nine rehabilitation and after-care facilities in Karachi and Lahore that cater specifically to adults and underprivileged/street children suffering from substance abuse. While their programme is primarily residential, their community workers venture into remote communities to identify addicts and provide them awareness about recovery options. Their detoxification-cum-rehabilitation model integrates treatment with education and skill development. Most of the children AAS looks after have suffered severe mental and physical trauma, after living on the streets for long. They usually resort to drugs, easily accessible on the streets, to numb themselves from their overwhelming mental stress.
Recovery plus Rehabilitation
"I would hear voices that distracted me throughout the day," Zainab*, a 31-year-old woman, tells me. Zainab slowly lost interest in all activities and would spend all day in bed. "Going out would amplify the voices in my head," she says. "My family thought I was possessed, so they kept me in hiding for two years."
After Zainab's sister saw a KEH mental health camp set up in Korangi, her family sought consultation. Diagnosed with schizophrenia, Zainab sought therapy and was put on medication for almost a year and is now able to manage her illness. She later enrolled in KEH's vocational training in personal grooming and has now found herself a job too.
Psychiatric rehabilitation is an important aspect of most community outreach services, which involves the holistic integration of the recovered person back into their community while simultaneously strengthening their physical, mental and social skills. Clients are taught psycho-social skills that help them to be better reintroduced in their communities.
Basic Needs Pakistan has a comprehensive community-based approach and their mental health and development projects are located in three districts within Sindh province: Korangi, Malir and Matiari. Community volunteers are an integral part of their project, since they help identify people in need of psychiatric help and spread awareness. The centre supports women with mental illnesses by teaching them handicraft making.
Psychiatric rehabilitation is an important aspect of most community outreach services, which involves the holistic integration of the recovered person back into their community while simultaneously strengthening their physical, mental and social skills. Clients are taught psycho-social skills that help them to be better reintroduced in their communities.
Many community-based outreach initiatives integrate provision of psychiatric and vocational services by having OPD clinics operating within a rehabilitation or community centre. Community mobilisers and case workers at some KEH centres, for instance, ensure long-term recovery by conducting regular follow-up home visits; their aim is to provide quality care and support to home-based patients, thus reducing the chances of relapse and the resultant recurring cost of treatment.
Mental block
Talking to the families of people brought in for consultations at these centres, it is easy to see the biggest obstacle in seeking mental health help is the stigma attached to it: the feelings of guilt and shame and the fear of being ostracised or judged by their social circle.
The daughter of a depressive patient tells me why, despite living in Nazimabad, her family opts to come to a clinic in Gulshan. "No one we know lives nearby," she says, "so there are lesser chances of us running into someone familiar. We don't want word to get out." When asked what would happen if they were seen seeking psychiatric help, she replies they would be shunned from family gatherings and the news would spread like wildfire in their neighbourhood. "It would be disastrous for our public image."
Sana Faheem, a psychiatric rehab practitioner and a community mobiliser at BaWaqar Zindagi (BWZ), addresses the negative mindset around mental health. "The major barriers I've experienced in the community are attitudes of those who are not experiencing [psychological disorders]," she says. "Families or relatives of clients would use words like 'inka zehen sahi kaam nahi karta' [their mind does not work properly], 'unko to samajh nahi hai' [s/he does not understand], 'dawa lete hain phir bhi sahi nahi hote' [they take medicines but still don't become okay], etc." These remarks chip away at the already fragile self-image of a person who is psychologically vulnerable.
Faheem adds that, because of societal taboos, the willingness of clients to seek treatment and even the efficacy of the treatment are hampered in a major way. "They [clients] begin to view themselves how others see them, or they begin fearing the negativity and may choose not to receive treatment or get an assessment of their problem."
BWZ, a relatively new community-based project of Caravan of Life Pakistan Trust, endeavours to increase accessibility and awareness of mental health services, with a particular focus on the disenfranchised community of Shah Faisal Colony. It provides free psychiatric treatment and rehabilitation, counselling and now even online services for the residents. Their aim is to focus on the rehabilitation of people suffering from mental illness to make them functioning and empowered members of the community.
BWZ has set up their clinic inside Ra'ana Liaquat Craftsmen Colony, located in Shah Faisal Colony, which offers women various opportunities, including a community health centre and vocational training centre where classes are available for computer training, English language, cutting and sewing. The centre's outreach programme disseminates educational material within its coverage area on issues such as breast cancer, hepatitis, diabetes and child sexual abuse. Through these sessions, many people in the area have come forward who were not even aware they were facing these issues.
Noisy waiting rooms, tiny cubicles serving as makeshift consultation rooms and a harried practitioner rushing through patients — these are the scenes one encounters in most public OPD clinics in the city.
There is a lack of customised, safe spaces for counselling services and mental health facilities. Interactive Research and Development (IRD) Pursukoon Zindagi Wellness Centre at The Indus Hospital (Korangi campus) in Karachi aims to rectify that scenario. The wellness centre, inaugurated earlier this year, is built as a mobile container facility which will provide free-of-cost services, including individual mental health counselling, patient/peer support groups and awareness-raising activities on the basic signs and symptoms of common mental disorders. IRD hopes to open several similar mobile container centres all over Karachi in the future, under the umbrella of their mental health programme Pursukoon Zindagi which was launched in 2014.
Eos spoke to Aneeta Pasha, the country director of IRD Pakistan. "We developed and implemented a basic counselling training for community health workers to perform free-of-cost first line counselling therapy on patients suffering from anxiety and/or depression," Pasha says. "We have also developed an app that these community counsellors used to register, screen and enrol clients into the programme. Finally, we used these tools to screen over 45,000 people in Korangi, Landhi and Shah Faisal Colony in just two years."
When it comes to the effectiveness of a community-based programme for mental health, Pasha says that real and sustained change can only come through the grassroots-level which involves "community stakeholders and gatekeepers and working with them to challenge the taboos surrounding mental health." As IRD's programme involves recruiting and training individuals from the communities in which they work, it enables them to give back to their communities.
Community outreach programmes spread awareness and give free-of-cost psychological rehabilitation to remote localities which would otherwise have no access to this facility. Besides recovery, these programmes seek to make individuals self-sufficient and productive members of society. Many major hospitals and NGOs frequently conduct free mental health camps in low-income communities, where access to any kind of medical help is limited or non-existent.
While the organisations mentioned here are in no way an exhaustive list, all such initiatives are playing a small but meaningful role in normalising the concept of the treatment of mental illnesses and are helping to promote awareness about psychological issues. In a country like Pakistan that is often in denial about mental health and its impact on society, that can only be a good thing.
**Names have been changed to protect privacy of individuals*
The writer is a Karachi-based clinical psychologist and book critic writing for several international publications
Published in Dawn, EOS, Octoberr 11th, 2020