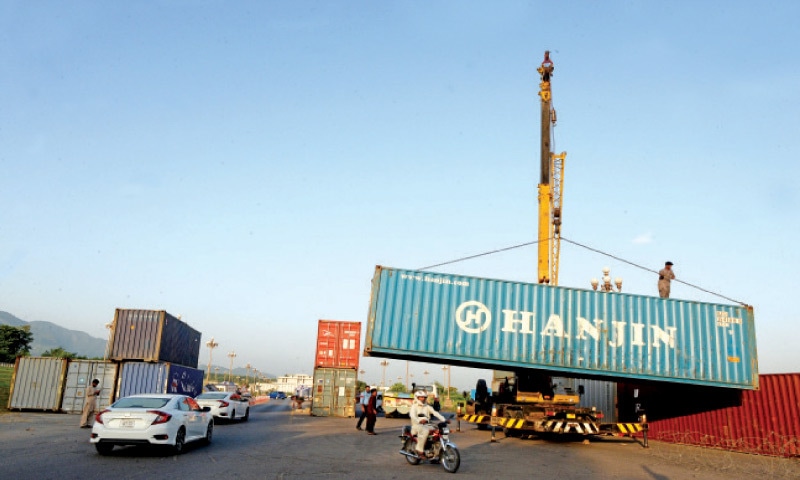 ISLAMABAD: The Red Zone will be partially sealed today (Thursday) ahead of a march by the Muttahida Sunni Council.
Jinnah Avenue will also be closed for the march, will be held from Zuhr prayers to Asr prayers.
Various Sunni groups are holding an Azmat-i-Sahaba and Ahle Bait march under the name Muttahida Sunni Council at Jinnah Chowk on Thursday.
Deputy Commissioner Mohammad Hamza Shafqaat told Dawn that shipping containers have been brought to the Red Zone to partially seal it and restrict entry into the area. D-Chowk will be sealed completely, he said, but other points of entry will be partially sealed.
Rangers and Frontier Constabulary have also been called to strengthen security around local and foreign installations in the Red Zone. Personnel will be deployed in the Red Zone and around sensitive installations there.
The group has been given a no-objection certificate (NOC) in response to their request, along with instructions to follow standard operating procedure (SOP), Mr Shafqaat said.
The march has been allowed on Jinnah Avenue and stage will be set up at China Chowk.
Police and administration officials told Dawn that an agreement has been made between the administration and the council under which participants will follow SOP for marches and processions.
The march participants will also leave the venue before sunset, they said.
Police will provide security to the marchers at the outer cordon, while march organisers are responsible for security in the inner cordon and around the stage. Arrangements have been made for physical searches and the use of metal detectors, and walk-through gates will be installed.
The march will likely reach the venue from the Expressway and Srinagar Highway, officials said. The Islamabad Traffic Police have been directed to devise alternative routes for motorists while Jinnah Avenue is closed.
Organisers have arranged over 5,000 chairs for the venue, and arrangements for another more than 10,000 participants have been made behind the seating area. Thousands are expected to attend.
The City Traffic Police (CTP) has made arrangements to control traffic during the rally to be held on Thursday.
Seven deputy superintendents of police, 15 inspectors and 164 traffic wardens will work to facilitate participants of the rally and other citizens, said CTP spokesperson Sub-Inspector Kashif Saroosh.
Rawalpindi
The Muttahida Sunni Council held a Namos-i-Azmat Sahaba and Ahle Bait rally in the garrison city on Wednesday.
The rally was led by Maulana Abdul Ghaffar Tohidi from Darul Aloom Taleemul Quran. Other participants included Maulana Idrees Haqqani, Qari Imran Hazarvi, Mufti Naimur Rehman and Maulana Waliullah, along with hundreds of others.
The rally began at the Darul Aloom Taleemul Quran and ended at Faizabad after passing through Liaquat Road, Murree Road, Committee Chowk, Waris Khan, Naz Cinema, Chandni Chowk, Rehmanabad, 6th Road and Double Road.
Addressing participants, speakers said every Muslim would protect the dignity of Prophet Muhammad (Peace Be Upon Him), his companions and the Ahle Bait.
They said no one has the right to hurt the sentiments of other sects, and urged the government to take action against those who damaged peace and brotherhood in the society.
Published in Dawn, September 17th, 2020