KARACHI: The stock market remained volatile on second day of the trading week, though the KSE-100 index succumbed to profit-taking in the final hours, losing 184.89 points (0.43 per cent) and closing at 42,346.42.
It started off in a bullish mode with the index racing up to intraday high by 300 points as institutional investors who had missed out on the rally cherry-picked stocks. Cement triggered the early morning rally on news of price rise per bag in the North. Most other sectors followed.
Other than that, there was no strong positive news that could sustain the market at a high level except stray economic performance indicators such as the improvement in large scale manufacturing data, which improved 5pc year-on-year in July after months of decline.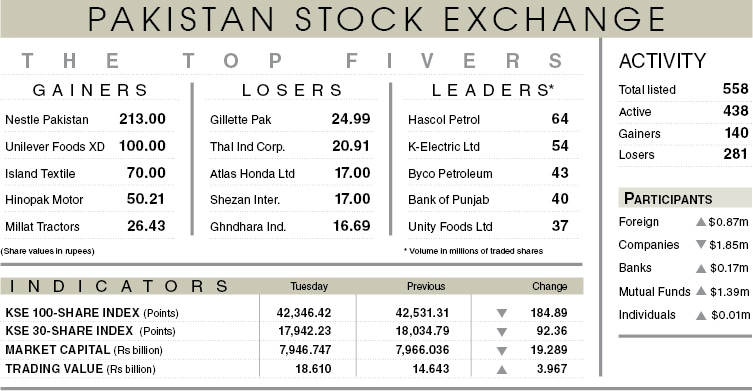 The outcome of the decision on Pakistan's status with respect to Financial Action Task Force and the upcoming monetary policy kept investors uneasy in the mind, which gave way to selling that intensified as the day progressed. The index hit intraday low by 268 points.
Foreign investors bought shares valued at $0.87 million. Mutual funds and insurance also replenished their portfolios, while brokers and companies were major sellers. The volume increased 30pc to 662.8m shares, from 509.5m while traded value jumped by 28pc to reach $111.9m. Stocks that contributed significantly included Hascol, K-Electric, Byco, Bank of Punjab and Unity Foods, which formed 36pc of total volume.
Prospects of increase in price of fertiliser kept the buying interest alive. In cement, Maple Leaf and DG Khan closed in the green while Fauji, Cherat, Power and Lucky finished on profit-taking. Profit-book­ing was also witnessed in the refinery and banking, where National Refinery, down 2.5pc, Attock Refin­ery 2.3pc, Habib Bank 0.9pc, United Bank 1.5pc, Meezan Bank 1.5pc, MCB 0.6pc and Faysal Bank 1pc dragged the index down.
Published in Dawn, September 16th, 2020