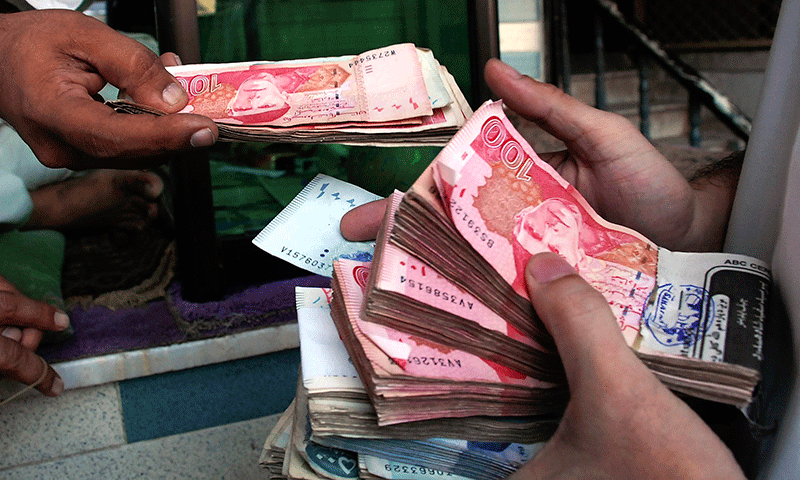 Prime Minister Imran Khan recently said that Pakistan's economy was on the right track since country's current account balance recorded a surplus $424 million in July 2020. Pakistan has gone through this boom and bust cycles many times before: an import-driven boom, balance of payments crisis, International Monetary Fund (IMF) bailout, stabilisation, a period of growth and then back to a crisis. This time is no different.
When the PTI government took over in August 2018, the current account deficit had grown to nearly 6 per cent of gross domestic product from just 1.7pc in 2016 and the Pakistani rupee had lost 15pc in value against the US dollar in the prior 12 months. The government secured billions in financing from friendly countries hoping that it would help secure a "better deal" with the IMF. That was a huge and costly mistake. Developing countries don't and cannot bargain with the mighty IMF.
Secondly, markets and investors hate uncertainty. Third, treating the current account deficit as just a financing issue was not the right response. Precious time was wasted turning a cyclical rise in energy and capital equipment imports into a full-blown sovereign debt crisis. The foreign direct investment plunged by 60pc to $1.4 billion, the rupee fell by another 13pc during the eight months to April 2019 as the foreign exchange reserves continued to be under pressure. The aggressive drive to raise tax collections without any thoughtful tax reform program scared the local investors and damaged their confidence.
The role of the World Bank and the IMF has shrunk sharply in the last four decades
Hence, during 2018-19 (PTI's first year in government), GDP growth crashed to 1.9pc from 5.5pc in 2017-18, debt-to-GDP increased from 72pc of the GDP to 85pc while exports remained flat.
The establishment was forced to act and bring in a new team of "technocrats" to rescue a sinking economy. But what was new? Three professional economists — Muhammad Yaqub, Ishrat Hussain and Shamshad Akhtar, ran the central bank in the 16 years from 1993. Yaqub was ex-IMF, Hussain ex-World Bank and Akhtar ex-World Bank and Asian Development Bank. And all of them managed to serve out their appointed terms. However, they failed to help bring any meaningful change. Pakistan needs to introduce market-oriented reforms to compete with India or Bangladesh, and in short, to become a globally competitive economy.
The role of the World Bank and the IMF has shrunk sharply in the last four decades. Foreign private investors are a much bigger source of global capital flows than these once-mighty multilateral institutions ever were.
For example, in 2019, the commitments of the World Bank Group to partner countries and private businesses amounted to around $62.3bn in contrast to total foreign direct investments flows of an estimated $695bn to developing economies. Pakistan's ability to attract foreign investments would depend on the peace prospects in the region and how global private investors view Pakistan's ability to provide investment opportunities in a multi-polar world where economic interests (such as trade, market access, technology, etc) have become the primary driver of international political economy and not the so-called geostrategic interests.
Here, it will be instructive to highlight one of the key indicators of how uncompetitive Pakistan's economy has become compared to that of India and Bangladesh. That indicator is exports per capita from 1990 to 2019 and is shown in the graph.
Since 1990, Bangladesh's exports have increased by 6.2 times compared to Pakistan's, measured in terms of exports per capita, and that of India by 6.8 times. As Atif Mian also pointed out in one of his papers (2014), Pakistan's exports have continued to lag behind that of its South Asian competitors since the early 1990s regardless of whether the country had a democratic government or military dictatorship. Exports continued to struggle despite economic liberalisation and privatisation, and despite a sustained period of exchange rate stability with no energy shortage between 2001 and 2005.
These facts suggest that the reasons for Pakistan's poor export performance are deep and structural. The 2019-20 improvement in the current account deficit has been largely the result of more than a $5bn fall in energy imports and (possibly one-off) record rise in the worker's remittances as overseas Pakistanis return following the huge surge in unemployment across the globe including in the Middle East.
It is wrong to focus on just the so-called twin deficits: current account and fiscal. These are just symptoms of much wider and deeper issues including Pakistan's chronically low savings and investments rate compared to its GDP. I would call them intellectual and capacity deficits. We need a growth model.
An exports-led growth model has lifted hundreds of millions out of poverty in countries like China, South Korea, Taiwan and Singapore. China invested heavily in education, particularly science and technology, as well as in heavy engineering and other capital-intensive industries. Foreign investors looking for trained and low-cost workers found no shortage of human talent as the 'communist' China had invested heavily in basic education and its Special Economic Zones (SEZs) jump-started the labour-intensive exports-led industrial revolution that has transformed China.
Tax concessions and government-guaranteed yields may have succeeded in attracting investments in the energy sector but this is an unsustainable model. Economic progress cannot be imported or borrowed. It has to come from long term pursuit of appropriate strategies through policies implemented consistently through competent governance. A successful national growth plan must have a 3D strategy: deregulate, devolve, and digitise.
Deregulation is essential to harness the energies of the private sector (especially medium-size businesses) severely constrained by bureaucratic hurdles and rent-seeking. Without devolution, it is impossible to provide basic services in a country with one of the fastest urbanisation rates, and without digitalisation, Pakistan cannot compete in a world defined by the digital divide as Bill Gates has put it. Imran Khan has three more years to change course. His success or failure would depend on how correctly he identifies the challenges and what resources and people he employs to meet those.
The writer is a UK-based former independent investment manager
Published in Dawn, The Business and Finance Weekly, September 14th, 2020
Follow Dawn Business on Twitter, LinkedIn, Instagram and Facebook for insights on business, finance and tech from Pakistan and across the world.