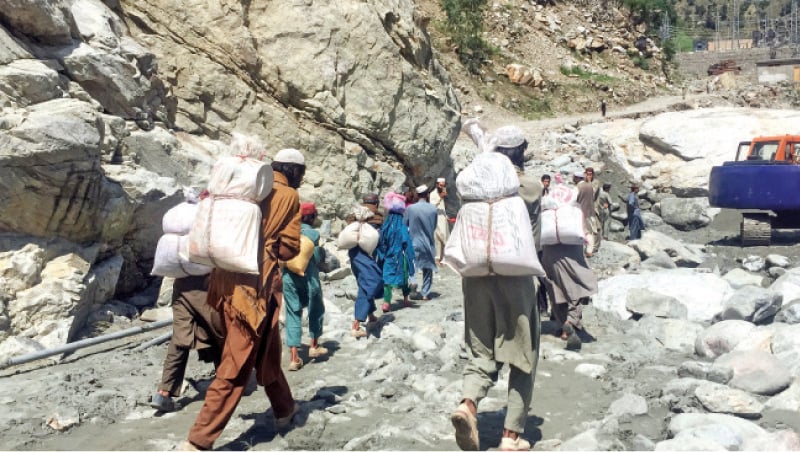 SHANGLA: The recent flash floods triggered by torrential rain have destroyed a 23-kilometre road in Dubair valley of Lower Kohistan and a 50km stretch of road in Kandia tehsil of Upper Kohistan, cutting off the mountainous regions from rest of the country.
Besides, the floods caused extensive damage to suspension bridges, hydropower stations and water mills in the region.
"After the road destruction it has become very difficult for us to bring medicines and food items for our families," said Mohammad Javid, a resident of Peranu Kalaly in Dubair Bala, who along with 10 other people reached Pattan, the district headquarters of Lower Kohistan, travelling the distance in 12 hours to buy household items.
He said he stayed with a friend to return home the next day.
He said the journey back home would be more arduous because it was all a steep walk. "We may have to take stopovers while going back home,'' he added.
According to the data provided by Lower Kohistan deputy commissioner Khalid Khan, the flash floods and rain caused three deaths, damaged 32 houses, seven roads, 12 bridges, 11 water channels, four mosques, two MHPs, 10 water supply schemes and 11 irrigation channels.
The deputy commissioner said teams were still assessing the damage and would complete the survey within next three days.
Sher Baz, a resident of Dubair Bala, said due to destruction of bridges people laid electricity poles across the rivers and streams to reach markets to buy items and medicines.
"We have no ration at home as the whole stretch of road from Ranolia to Maidan has been washed away," he said, adding around 40,000 people of the four union councils had been stranded in their homes.
Hakim Khan, a resident of Kandia Jashoi, told Dawn that the main road along the river was rebuilt after it was washed away in 2010 floods, but it had again been destroyed.
He said he had to bring his ailing daughter to a hospital in Komila on foot, travelling the distance in seven hours.
Meanwhile, Upper Kohistan deputy commissioner Arif Khan Yousafzai said the rain and resultant flash floods had caused seven deaths, damaged 86 houses, six government schools, suspension bridges and killed scores of livestock.
He said relief activities had been started and compensation cheques of Rs300,000 each were being distributed among the heirs of the seven deceased.
Published in Dawn, September 8th, 2020