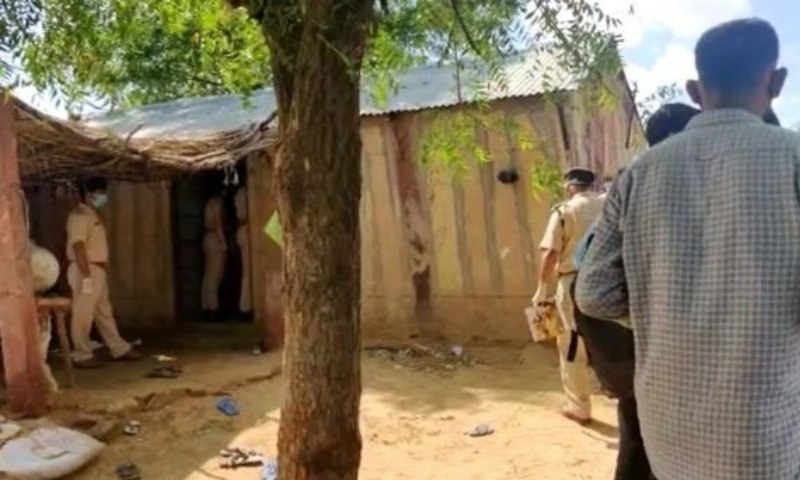 HYDERABAD: A Bheel woman has appealed to the Pakistan government and International Court of Justice (ICJ) to ensure forensic investigation into the mysterious death of her 11 family members in Jodhpur, India, previous month.
She believed that Indian agency Research and Analysis Wing (RAW) had her father and other family members killed through the goons of Rashtriya Swaya­msevak Sangh (RSS) after it failed to convince him to act as a spy against Pakistan.
When her father decided to return to Pakistan secretly with his family to expose RAW, the entire family was killed to protect the agency, she said.
Shrimati Mukhi, wife of Bhontrio Bheel, was speaking at a press conference and text of her statement was read out by Amarshi Thakur, a rights activist, at the local press club on Sunday.
She said her father along with other members had gone to India in 2012 and started living in the Indian state of Rajasthan where they were trapped by the India intelligence agency. They were given various favours for making anti-Pakistan statements, she added.
RAW had her father & others killed after failing to use them as spy against Pakistan
She said they were killed on Aug 9, 2020, because the Indian government failed to achieve its nefarious designs.
She said her father Budha Bheel, mother Antari Bheel, brother Reevo, sisters Laxmi and Piyari, and their five children had gone to India for performing their religious rituals, but RAW trapped them and provided a residence in Jodhpur.
She said that on Aug 9, she received news that her father and 10 members of her family were killed mysteriously.
Ms Mukhi claimed that she had learnt through credible sources that the Indian agency wanted to use her father as spy against Pakistan, but failed to convince him.
She said Indian police had described the death of her family members as suicide. She said that RSS goons and Bharatia Janata Party (BJP) activists were giving life threats to her relatives in India in a bid to stop them from leaking anything to media. The woman alleged that she and her husband also received such threats in Pakistan.
She said that Indian state institutions had been levelling baseless allegations against Pakistan and they also got issued statements that Hindus and their children were facing injustices and forced conversions were taking place in Pakistan.
She said it was also claimed that Hindus were treated as third class citizens in Pakistan so that they could be given Indian citizenship. She said that all those claims were false because all the excesses and injustices were committed in India while Kashmiris were not given their due rights and people were killed for not raising voice for India and Hindu religion.
Rejecting the inquiry made by Indian police, she appealed to the Pakistan government and ICJ to provide her justice and hold forensic investigation into the Aug 9 incident.
Ms Mukhi said that the United Nations and Organisation of Islamic Countries (OIC) should take notice of the atrocities committed against the people of India held Kashmir.
Published in Dawn, September 7th, 2020