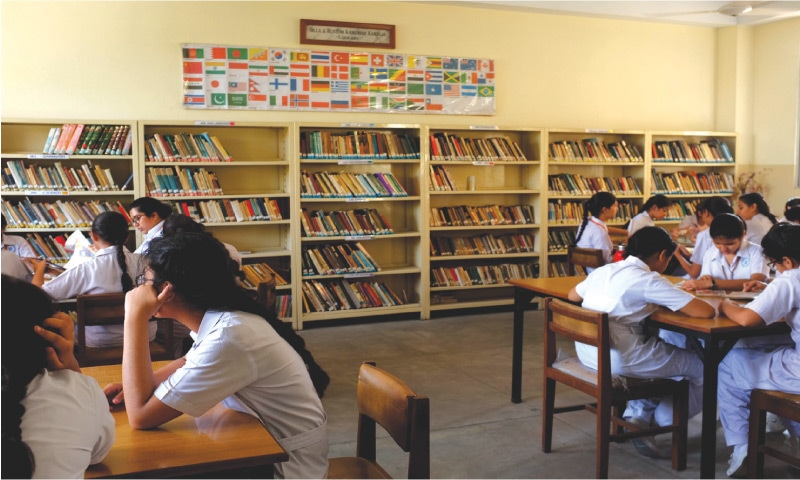 "Other than my son who is five, I have seen other children, too, showing signs that they are bored and need physical activity," says Javeria, mother of 5-year-old Faraz.
"Before the pandemic, we would take him to the park almost every day. But now he misses the swings, running and playing on the grass, and cycling on his little trainer bicycle in the park. We buy new toys for him all the time to keep him occupied and let him watch a lot of cartoons on TV and Netflix, but he still is not satisfied and wants to go out and run around."
Though parks have opened, his parents are being cautious and not allowing him out, as Javeria says, "Corona is still very much there."
With the easing of the lockdown, parks, play areas, and restaurants are open to the public, but most families are being cautious when it comes to letting children venture out. It's difficult to make the children wear a mask all the time and maintain social distancing, which are more important now with more and more people going out. It has to be kept in mind that the pandemic is not over and there are genuine fears of a second wave. Plus, there is also constant warning from health experts that the elderly and the children should avoid crowded places. But it seems the children are getting restless and losing patience.
Thirteen-year-old Abbas is tired of sitting at home; he has a bored expression on his face as he talks about missing his friends. "I miss not being able to meet my friends and spend time together with them," says Abbas. "We have online classes so I am not missing out on studies as such, but not being able to meet my friends or to play football at the academy all these months is too much. This year I could not invite my friends to my birthday. Only my parents were there when I cut the cake. Previously, my friends used to come over and spend the day at my place, and in the evening, we would have the party with cake-cutting and games." Though he admits he plays a lot of computer games, some of which are interactive so that he plays with his friends, he says it is not the same as sitting in the same room and playing together.
Children are gregarious by nature and restrictions because of the pandemic may have negative effects on their cognitive and social skills
"Children need to interact with peer groups as much as they need physical activity for cognitive stimulation," says Dr Nargis Asad, Associate Professor and interim chair of the Department of Psychiatry at Aga Khan University Hospital. "With the closure of schools, while studies are continuing online [though this advantage is also not available to all] the human touch is missing, which is important to all, and more so for children. Going to school and being with peers is not only essential for cognitive development, but for development of social skills."
Unlike Abbas, children who do not have the facility of online schooling are also worried about falling behind their peers in studies, which adds to their anxiety and depression.
Satisfied that Abbas is not missing his lessons, his mother is more concerned about his changing eating habits and fears his health might be affected. "Some days he completely refuses to have lunch or dinner, saying he is not hungry," says Fauzia, Abbas's mother. "Though he doesn't sleep till late in the morning as he has always been an early riser, he only has a light breakfast and often fills himself with snacks and then skips lunch. I know he is bored but I can't let him go anywhere. I try to make his favourite food but whether he eats or not depends on his mood. Recently, his mood swings seem to have increased. We have even relaxed his screen time, about which we were previously very particular, so that he doesn't get bored," she adds.
Though the months-long lockdown has eased, children are still spending most of their time at home since schools are still closed, and many parents are afraid of letting them go out or visit their friends. Being at home all the time has increased their screen time, but it is increasing their anxiety and fear instead of relaxing them. Like many children, watching news of the pandemic on TV, and details of death around the world leave Abbas agitated and depressed. "He fears that he or someone from the family might fall sick and die," says his mother.
"Loss of routine and structure, and whatever outlets children had, such as parks and playgrounds, are not available to them due to lockdown," says Dr Asad. "Being confined to home, their screen time has increased as there is not much else to do. They are watching a lot of TV and constantly listening to news about the coronavirus and death from it, and at the same time listening to their parents discussing these things is developing fear in them. Parents are children's role models and, when they see their parents anxious, their anxiety increases. Along with anxiety and fear, some may experience episodes of bedwetting."
Unfortunately, few children enjoy reading books, which can divert their minds, helps them relax and put their mind at ease much more than playing video and computer games or watching TV.
Dr Asad points out another problem. "Increase in screen time is also affecting their attention span," he says. "As they may be spending a lot of time on the computer or in front of the TV, they also run the risk of watching inappropriate content, as parents cannot supervise them all the time and not everyone has the facility of parental controls."
Abbas's mother is not unnecessarily worried about his changing eating habits. He might not be eating properly just out of boredom, or because of a lack of physical activity. The latter not only causes boredom but also affects one's health. Those living in large houses with open spaces can engage in physical activity, but those living in apartments and small houses — it is not uncommon to see eight to ten people living in one to two-room houses — miss out on any chance of physical activity unless they go out and play in the streets.
"In an age when children are growing up, physical activity as well as proper nutrition is very important. While, on the one hand, physical activity has decreased, especially in families living in small houses and apartments with lack of open spaces, on the other hand ,in families with limited resources or where resources have dwindled because of the virus and lockdown, especially if a parent may have lost his/her job, children's nutritional level has also been affected, which is not good for their health," says Dr Asad.
According to a May 2020 report by Save the Children, "Almost one in four children living with Covid-19 lockdowns, social restrictions, and school closures are dealing with feelings of anxiety, with many at risk of lasting psychological distress, including depression." Surveys by Save the Children "of over 6,000 children and parents in the US, Germany, Finland, Spain, and the UK, showed that up to 65 percent of the children struggled with boredom and feelings of isolation. In these surveys, children reported feeling anxious, bored and fearful. Being unable to play outside with friends or fears of falling behind in their education added to their feelings of deprivation and anxiety.
"Research shows that feelings of helplessness, loneliness and fear … along with prolonged stress, boredom and social isolation, as well as a lack of outdoor play, can lead to a higher number of mental health conditions in children, such as anxiety and even depression," the report states.
To add to the confinement is the lack of understanding of what is happening and why they are not allowed out in many children. Eight-year-old Madeeha cannot understand what is going on. Previously she used to visit her friends regularly and at least once a month had a sleepover with her cousins at her grandmothers' place. Now she hasn't met her friends or been to see her nani in almost five months. "I don't know how to make her understand that going to her grandmother can be harmful," says Madeeha's mother Farhana. "She loves to be in the company of her friends and cousins, and hates confinement. I try to keep her busy one way or the other, even involving her in small domestic chores so she doesn't get bored, but she still misses her friends."
Experts believe that children should be clearly told about the risks and how they can protect themselves in words that they understand and not adult jargon. It is also important that, while they have access to TV, it is not left on all the time and their exposure is monitored and minimised. This will help avoid confusion, worry and fear.
While protecting children from the virus is of paramount importance, it is also essential that they are protected from falling into mental distress, which can have lasting impact on their lives.
The writer is a freelance journalist and tweets @naqviriz
Published in Dawn, EOS, September 6th, 2020