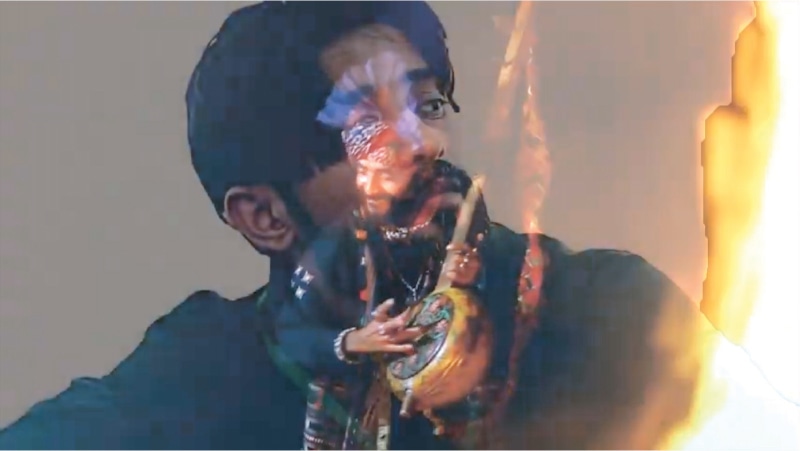 There's music that makes your heart sing and you can't help but find yourself happily swaying to it. That's how I feel about Sindhi spiritual singer and musician Faheem Allan Faqir's work. He is, of course, the son of the legendary Allan Faqir.
I first took notice of Faheem Allan Faqir earlier this year, at the last Lahooti Melo music festival in Jamshoro — where he and his family hail from — when he took to the stage for an impromptu live performance with The Sketches on a mash-up of Nind Nashe Vich and Sawali Hoon. Personally, I felt the song gets off to a slow start but picks up after a couple of minutes. Considering it's 10 minutes long, a little warm up seems almost necessary.
But don't judge the performance by the video that's available on YouTube. It only gives you a little flavour of the performance, nothing more. What's missing from the recorded version available online is that the mix misses out on really enhancing the overall sound. While the vocals are perfect, the instrumentation seems a bit muted. It also can't replicate the energy of the audience.
But then the sound that travels through the air is different in texture than that which is recorded directly through a cable. It still remains a great live performance for me to re-watch — and relive — online.
Although Faheem Allan Faqir may have followed in his famous father's footsteps in pursuing music, he's not interested in replicating him
I later saw Faheem backstage. He was talking to another Sindhi Sufi music giant, Sanam Marvi, after her performance that evening. He looked so excited, one almost hoped they would be plotting a collaboration. You never know…
Faheem later released his version of Machkan online. This too is a mash-up, but of poetry, by Shah Abdul Latif Bhittai and Bulleh Shah. The first half is Bhittai's verse and the second half is Shah's. The music is simple — there is the keyboard, ektara, guitars and, later, the tabla when the song picks up. It's a light joyful number that's easy to follow.
The video shows him sitting next to a bonfire singing the lyrics. There's the usual montage of famous heritage sites in Sindh. There's also Faheem driving to the edge of the Tharparkar desert and walking through it as if in search for something (perhaps himself?). There's also footage comparing Turkey's dervishes in sema with our own whirling 'dervishes' in red at Bhittai's shrine.
Other than Machkan, I would recommend Faheem's rendition of Marui by Shah Abdul Latif Bhittai, which he did for the Lahooti Live Sessions, sometime in 2013. This one is a bit mellow compared to Machkan. The music is predominantly through the stringed instruments played by the musicians, and include the acoustic and bass guitar, and Faheem's own ektara — an instrument favoured by most Sufi musicians. Marui is atmospherically a bit dark, yet spiritual.
One gets the impression that although Faheem may have followed in his very famous father's footsteps, he's not interested in becoming a copy of him. Instead he seems to want to carve out his own identity, his own niche, when it comes to singing spiritual music. And that includes all types of spiritual music —that which uplifts you as well as that which engages you in quiet, inward contemplation.
Published in Dawn, ICON, July 26th, 2020