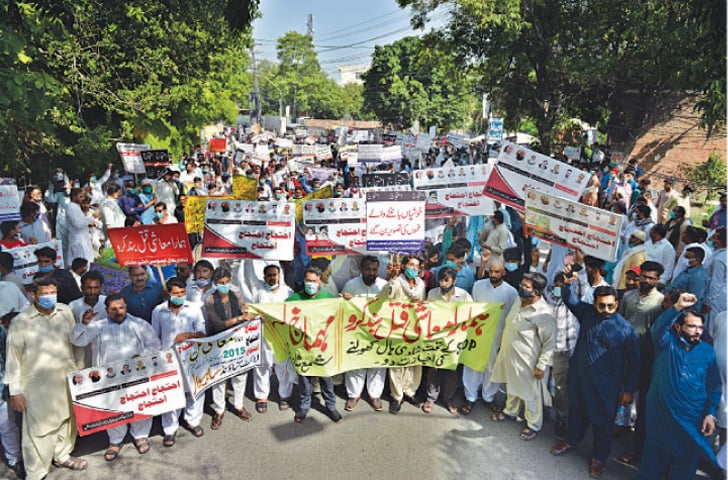 LAHORE: Marriage halls' owners, workers and those associated with allied businesses staged a protest rally against the government for not allowing them reopening of halls in Covid-19 lockdown.
Flashing banners inscribed with the slogans 'Save us from hunger', 'Restore our businesses', and 'When our businesses will reopen?', demonstrators first gathered at the Lahore Press Club.
"Though the government has opened most of the sectors, it has yet to allow us open our businesses that is directly linked with the jobs of hundreds of thousands of people across the province," said a participant.
The demonstrators later moved towards The Mall where they finally staged a sit-in at Charing Cross intersection. They said they would not leave the protest spot until the announcement of the reopening of their halls from Aug 1.
"There are 12,000 marriage halls in Punjab, and of them 1,200 are in Lahore alone. Around four million people are directly or indirectly associated with this businesses, and all have been jobless since March," Punjab Marriage Halls Association President Khalid Idris told Dawn.
"If we count the people associated with the allied businesses, the total number would be eight million who have no work," he added. He criticised the government for continuously ignoring the association demands.
"They (the government) want to reopen the halls from September 1 while we want reopening from August 1 under the Covid-19 SOPs and precautionary measures," said Idris, demanding the government to accept their demand.
LDA: To encourage the construction sector, two additional counters at the one window cell of the Lahore Development Authority have been made operational to facilitate the applicants besides increasing the number of daily visitors from 160 to 200 by following strict adherence to Covid SOPs.
Also, 140 applicants can submit their applications at LDA Johar Town office (one window) while 40 applicants can apply for various works at the Avenue One office through online appointment on a daily basis, according to a spokesman.
RAILWAYS: Pakistan Railways' Lahore Division Chief (Divisional Superintendent) Amir Nisar Chaudhry on Monday inspected the track from Lahore to Lalamusa via Gujranwala (main line).
He also visited Gujranwala and Lalamusa stations to inspect the system stability, according to a spokesman.
Published in Dawn, July 14th, 2020