KARACHI: The stock market closed nearly flat on the first trading day of the week with the KSE-100 index up by marginal 39.10 points (0.10 per cent) at 40,887.63.
The index took a positive start and buying, mainly by individuals who bought stocks of net worth $4.19 million, carried it higher by massive 447 points. However, the market succumbed to selling pressure from institutional investors and profit-booking by foreigners which sent the index spiralling down.
By midday, the index had ceded all the positive points and dipped in the red by 33 points. Some late buying pulled it up to show closing slightly in the green.
In early trade, investors continued to be optimistic over the grand rally since August, underpinned by the improved economic outlook on Pakistan that was endorsed by the International Monetary Fund.
On the political front, the release of some important opposition figures on bail offered an opportunity for a tone down in government-opposition wrangling. Moreover, changes in the NAB Ordinance, 2019 that insulated the business community from the harassment by the watchdog, was taken as a big relief for the business class including the stock market participants.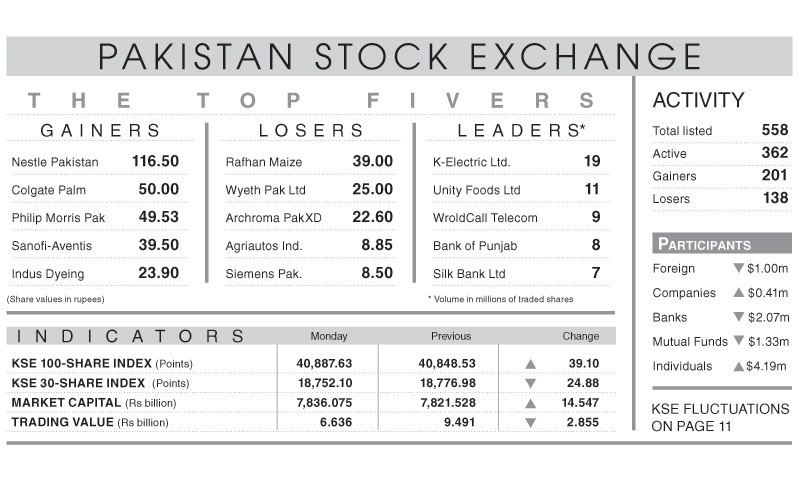 The volume declined by a significant 38pc to 166m shares, from 238m while traded value also dropped 30pc to $42.8m, from $61.2m. Stocks that contributed significantly included K-Electric, Unity Foods, Worldcall, Bak of Punjab and Fauji Foods, which together accounted for 32pc of the aggregate turnover.
Sector-wise, selling pressure was mainly observed in banking and exploration and production. Trading activity was mainly tilted towards year-end closing activity.
Major points to the index were contributed by Engro Corporation, higher by 3.4pc, Lucky Cement 3.1pc, Engro Fertiliser 1pc, Hub Power 1.1pc and K-Electric 7.4pc. On the other hand, Habib Bank, down 2.4pc, MCB 1.8pc, United Bank 1.3pc and Bank Al Habib 1.7pc closed in the red.
Published in Dawn, December 31st, 2019