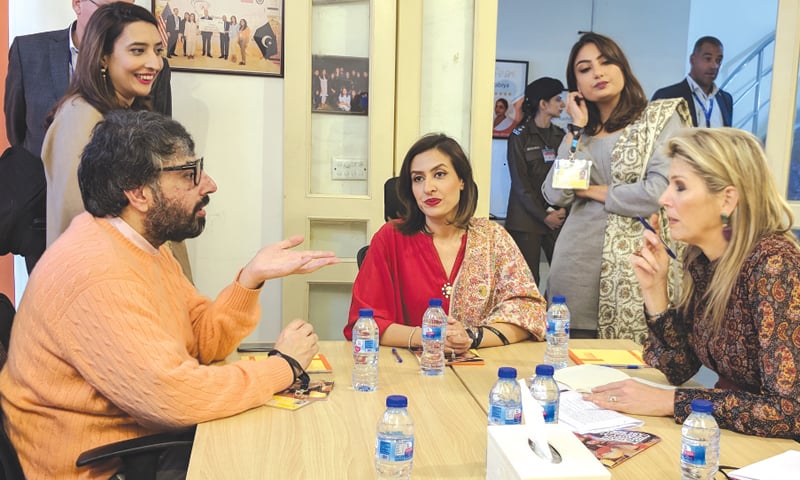 Does the idea of going to a beauty parlour ever fill you with dread? Despite good grooming habits, do you feel overwhelmed when the salon lady tells you "your eyebrows are too bushy"? Have you ever had the experience of booking an online 'deal' appointment for a Keratin treatment or makeup and walk into the salon only to find out that it will cost you more than what you had bargained as a voice in your head warns you against wasting your hard-earned money? I can't do anything about the conflict within, but this one startup is trying to address the latter part of the procedure at least.
Ghar Par is a Lahore-based startup that brings beauty services to the comfort of your house. How? Download the app, sign up with contact details, gender and the CNIC number and the home screen will then show you a list of services to choose from, along with their prices. Alternatively, you can register and book from their website as well.
The slot has to be reserved at least two hours before and once you press the submit button, the portal will suggest a beautician using its algorithm. If you don't want that particular person, then pick another one from the drop down menu. What next? The service provider then comes to your house, does the job, collects cash and done!
The startup scored $500,000 angel money in June last year and is now eyeing a post-seed round by mid 2020 to fund expansion and invest in tech and marketing. What about their revenue stream?
Expectedly, Ghar Par earns money through per-order commission charged to the beautician, which ranges between 60 and 70 per cent depending on a few metrics.
For men, massage is the only service being offered while women have a range of options to choose from, such as manicure, pedicure, hair care etc.
Let's now turn to their business's core offering: the supply? "We have a number of recruitment channels, such as local community hubs or a headhunting fee to our existing beauticians. Plus we have signed a memorandum of understanding with Punjab's Technical Educational and Vocational Training Authority to ensure skilled supply," Chief Operating Officer Mahwish Arifeen tells Dawn.
The beauticians work on an Uberised model where they are labelled 'independent service providers' and not Ghar Par employees. This gig economy culture, however, has finally come under criticism for its manipulation of labour law practices.
"Though technically not our employees, we have a host of protective measures like savings plans, and training, which is the central most aspect that distinguishes us from the usual decentralised platforms," Chief Financial Officer Fareed Qureshi explains. "Plus, we are targeting a high value and margin market, which ensures a sustainable income stream for both us and the technicians.
A cursory glance on the playstore, however, reveals that the app has gotten quite a few bad reviews with many users reporting that it keeps crashing. What is the quartet doing about it? "Building a robust tech platform is actually our biggest challenge right now and is generally an issue when it is outsourced, but now we are trying to expand our in-house team to address this bit," says the Chief Executive Officer Shameelah.
Keeping in mind the recurring nature of beauty services, one would think a subscription model might work well in this space. "We actually are considering introducing this but didn't find a lot of traction," Shameelah continues.
Another question that struck me was whether the beauticians have any incentive to cut the middleman - Ghar Par - out once they develop enough rapport with the client, and avoid that cut in between? "Not exactly, in order for them to take the same income home, they will need around 50 appointments. But it's not only the supply, our customers have a certain degree of trust in us that if something goes wrong, someone will take responsibility, and hence they don't want to bypass us either," she continues.
The idea was conceived when Shameelah, who was running her own salon at the time, was looking for ways to expand her business with Mehwish, a development professional with experience in women's financial inclusion. They were then joined by Arooj, an anthropologist working for British Council, and Fareed, a former management consultant. Together the four launched Ghar Par in late 2016 from a web application.
While far from being an active space, there is still some competition for Ghar Par in this industry, even if a bit more indirect. Starting from BeautyHooked, that lets (or apparently did once upon a time) users book appointments with salons and then obviously the traditional brick and mortar salons. But according to Shameelah, there is one key difference: both rely on an existing supply base while she and her team are trying to bring a new one into the market.
With their price point hovering around Rs3,000, how big is their target market though? "We are looking at the urban upper middle class mostly, which we have identified to be at approximately 19 million," says Arooj Ismail. Going by their estimates, if they are able to tap on around 1pc of the addressable population and have a recurring customer base, monthly revenues could be as much as Rs500m. That's a sizeable figure even compared to our publicly listed small-cap stocks.
But it all comes down to that "if" in the end.
The writer is member of staff:
Twitter: @MutaherKhan
Published in Dawn, December 1st, 2019