Tap running dry? Most residents of Pakistan's largest city know who to call for doorstep water delivery. Few know where the water comes from. Wind through the backlanes of Karachi's District East to reach the source.
It has one of Karachi Water and Sewerage Board's (KWSB) six hydrants — NIPA hydrant — that was auctioned off to one of the oldest water supplier of the city — Ghulam Nabi Water Contractor — in 2018. The public utility is responsible not only for supplying clean, safe drinking water to a population of over 14 million, but to take care of the city's sewerage system.
"My father started his water supply business in the late 70s," said 30-year-old Kashif Ghulam Nabi, who has joined the family business.
Between 200 to 300 tankers with a capacity of 1,000-5,000 gallons (3,785-18,927 litres) are filled at this spot, depending on the availability of water, during the 18 hours it is open every day. Most have been sub-contracted, explained Nabi, but 25 tankers belong to his family.
Also read | Bribes and shortages: Karachi's burgeoning water mafia
Five of the six hydrants (including the NIPA hydrant) get their water from Keenjhar Lake. The lake is filed by the Indus, and is located nearly 136 kilometres from the city. Water is sourced from it through a complex system of canal, conduits, syphons, trunk mains and pumping stations.
Can't beat 'em, join 'em
It started as an unregulated water tanker business in Nabi's father's time, drawing water from 150 illegal hydrants. The business started because KWSB failed to supply clean water to a population of over 14 million, leave alone taking care of the city's sewerage system.
Now the government has made peace with the tanker owners, and has succeeded in reducing the number of hydrants to six.
"In 2015, when the Supreme Court of Pakistan took a suo moto decision, the situation on ground was very bad," acknowledged Muhammed Shakil Qureshi, a senior KWSB spokesperson and former in-charge of the hydrants. There were 26 "legally allowed hydrants" operating in the city but there were "scores of illegal sweet and subsoil hydrants" from which KWSB's water was being stolen, he said.
"KWSB dismantled around 200 water hydrants, with help from law enforcing agencies and decided to run just six."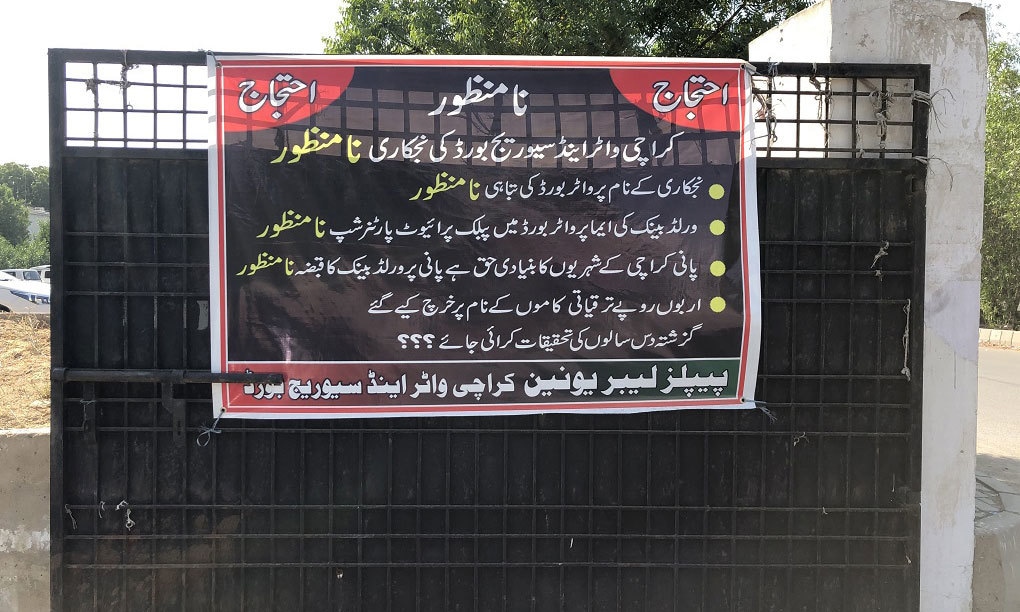 The removal led to unrest by tanker owners. "They teamed up against the KWSB and created a situation which led to the 2017 court order outsourcing hydrants," said Qureshi. KWSB was tasked with framing rules for operating water hydrants that were notified by the government after the cabinet's approval.
The NIPA hydrant is a world of revving engines. Men stand precariously atop the tankers holding on to a long flapping cloth attached to the valve through which the water slips in easily, shouting to be heard over the noise of falling water.
On one side is a queue of colourful tankers as far as the eye can see, each with a waiting for his turn. If you are not careful, you may be run over by a tanker that goes in reverse trying to quickly get to the spot left vacant by a filled one. There are, of course, the tankers of VIPs, that are allowed to join a shorter queue.
It takes 5-6 minutes to fill a 1,000-gallon tanker. There is method in the apparent chaos. "Every drop is calculated through electro-magnetic meters installed at the hydrants," Dilawar Jafri, an engineer at the KWSB and former coordinator for the six hydrants, informed thethirdpole.net.
The business model at the hydrant
Not used to paying a regular fee for operating the tankers, Nabi is clearly unhappy when he says the KWSB has not revised the selling rates of water in the last two years. "The diesel prices have skyrocketed from PKR 65 to PKR 135 per litre, and we have had to increase the salaries of our labour. The profit has reduced significantly, but what can we do; we cannot shut this business and move on to a new one, can we? We don't even know anything other than this."
More on this: Why a posh Karachi area is running dry
"The contractor can sell 50% of the water to whoever he wants to (at a fixed rate, different for commercial and domestic use) and the rest 50% is for general public service, through the KWSB," said Jafri. The utility has recently set up an online and a mobile app service through which residents can order a tanker (on a first come first served basis). "They need not go to the spot physically or call us and wait endlessly to get through." However, this is still dependent on the availability of water and the earliest the customers would get water to their doorstep would still be after a day.
Today, the KWSB earns PKR 100 million per month from the six hydrants it has outsourced, Qureshi said, "Prior to that the income from our hydrants was not more than PKR 15 million."
In his opinion, a substantial part of this money could be transferred to improve service delivery by "passing on the funds and the financial authority to the field engineers to enable them to take on site decisions especially in the meetings with public representatives and district administration. If this step is taken, it would hugely improve the service delivery and the credibility of the engineers among the public," Qureshi said.
Tanker city?
With tankers a common sight on Karachi roads and little water coming to the taps through the water board's jungle of pipelines, the general perception is that most of the city is being supplied through tankers at an astronomical cost.
This is not the case, said Jafri. "People are grossly mistaken if they believe most of Karachi is supplied water through these tankers; they furnish a miniscule amount." Of the 515 million gallons a day (mgd) supplied to Karachi, the tankers distribute not more than 12-13 mgd, he said.
The creeping in of the tanker system into the KWSB's business began in the 1970s as the city exploded at its seams and infrastructure failed to cope with a burgeoning population.
"We were unable to match the scale of the crisis, which helped bolster tanker service-delivery mafias," acknowledged chief engineer Muhammed Ayoob Shaikh.
Karachi receives an inflow of 515 mgd, mainly from two sources — the Indus River and the Hub Dam (a large reservoir built in 1981 on the Hub River). Based on the World Health Organisation's standard of 55 gallons per capita per day, Karachi's current water needs are estimated at 1,200 MGD. This translates into a shortfall of more than 685 MGD. "We are unable to meet 55% of our demand," Shaikh admitted, estimating that by 2030, the demand could reach up to 1,500 MGD.
About face
In 2016, the Supreme Court made a scathing indictment of the water board's inability to deliver this basic service. Since then, some effort has been made to put the house in order. "We want to run it using the corporate model, primarily to instill accountability and root out corruption," Shaikh told thethirdpole.net.
Qureshi said the same model has successfully turned around water utilities in Johannesburg, Ho Chi Minh, Manila, Sao Paulo, Durban and Kampala. "For the first time in my life I see light at the end of the tunnel," added Shaikh. "It is also the last ditch effort to revive KWSB; if we don't put things right now, it will mean sure death of this institution. This time I see a political will."
A 2018 World Bank report — Karachi City Diagnostic — has calculated a cost USD 4 billion to normalise the water supply and sewerage services. It also said with 92% of the KWSB budget spent on electricity, salaries and benefits, it was left with little to invest in the system. "KWSB management must often choose among paying salaries, buying fuel, or purchasing spare parts, and defaulting on the electricity bill," it pointed out.
Explore: Why Karachi is unable to tackle its water and sewerage problems
Shaikh retorted, "We are not defaulting on our electricity bill as the Sindh government is paying our bills to the extent of PKR 500 million per month. And 55% of the budget goes into salaries and pensions."
Shaikh also heads the USD 1.6 billion Karachi Water and Sewerage Services Improvement Project (KWSSIP), paid for by the World Bank (40%), Asian Infrastructure Investment Bank (40%) and the Government of Sindh (20%). The first USD 100 million phase is for improving the technical capacity of human resources. "Without that, pumping resources into the utility is like putting it in a black hole," said Shaikh. "We need to correct ourselves first."
Then there are plans to revive incomplete infrastructure projects, rationalise tariff, make metering effective in Karachi's industrial zones and install meters in homes. The World Bank report stated that less than half of the registered 1.04 million consumers paid their monthly water bills, with the total outstanding arrears estimated at USD 460 million. The largest defaulters are government institutions and utilities, owing USD 350 million.
Now, consumers are billed on flat rates based on size of plots. The tariff for domestic consumers is as low as PKR 150 per month for a 60 square yard plot and goes up to a maximum of PKR 13,713 per month for plots over 5,000 square yards. Shops pay a fixed PKR 114 per month; laundries, restaurants, hotels, high rises, colleges, schools, clinics and hospitals etc around PKR 313 per 1,000 gallons, if metered.
"After the system's rehabilitation, household metering, plugging theft and leakages, water supply should get better," said Shaikh. For the first time, it seems, Karachi has a viable plan.
This article was originally published on The Third Pole and has been reproduced with permission.