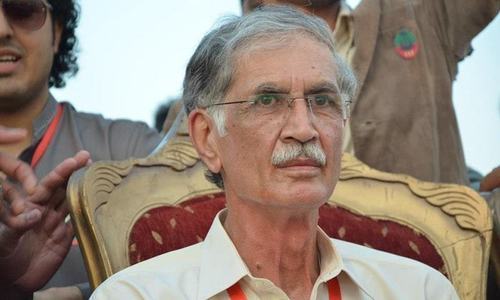 ISLAMABAD: The ruling Pakistan Tehreek-i-Insaf (PTI) has announced names of the members of the high-powered committee formed to hold talks with the opposition parties ahead of the anti-government march.
The committee is headed by Defence Minister Pervez Khattak and comprises National Assembly Speaker Asad Qaiser, Senate Chairman Sadiq Sanjrani, federal ministers Shafqat Mehmood and Noorul Haq Qadri, Punjab Assembly Speaker Pervaiz Elhai and MNA Asad Umar.
A spokesperson for the NA speaker said in a statement that the committee was formed on the directives of Prime Minister Imran Khan. It had been authorised to hold dialogue with the opposition to save the country from a chaotic situation that might emerge because of the 'Azadi March' planned by the Jamiat Ulema-i-Islam (JUI-F), he added.
The defence minister said the nation needed to be united on the issue of Kashmir as it could not afford political anarchy at this juncture, according to the statement.
On Thursday, Mr Khattak told reporters that if opposition parties had any issue or agenda, they should bring it with them for talks, but "if their agenda is to create chaos through violence, then we will not let it happen".
Mr Khattak said he had already established contacts with JUI-F chief Maulana Fazlur Rehman and would also hold talks with other opposition parties, including the PPP, PML-N, Awami National Party and Pashtun Tahaffuz Movement, which had announced their support for the march.
Published in Dawn, October 19th, 2019