Starting his career with comedy, some 22 years ago, Adnan Shah Tipu has become his own trademark. The maestro of menace has the type of face you don't forget (and don't often see on movie posters), plus a reputation for versatility, which is why you see him in every other TV play, and most films where, as a character actor, his second fiddle soon rises above the din of his higher profile co-stars. His talent for comedy and villainy has garnered him roles on TV, films and in Bollywood (Himesh Reshammiya's Kajraare and Arshad Warsi's Welcome to Karachi).
Whether he is playing Rafaqat in Chhalawa, Ghorzang Khan in Dukhtar, Faridday in Maalik, the sensitive transgender Bubbly in the TV serial Khuda Mera Bhi Hai or Jalal Khan in Suno Chanda, Tipu plays his characters with absolute conviction. With an over-long stare, a slight edge of hostility to an otherwise innocuous line, or a subtle implication, he draws you in with eyes that glow with unshakeable sincerity.
He has a particular vibe about him: natural and unaffected, slightly dreamy-eyed and soulful. Tipu arrives late for the interview, citing an unavoidable family emergency. I ask him if he feels like a star yet. "Star kya hota hai, yaar? [What is a star?] A person is who he is. Someone asked me a long time ago, what is success? I remember saying, to be able to live the way you want. I believe that, if I'm happy, I'm the most successful person. Today, I'm living almost the way I want to," Tipu says with a smile.
In 1998, he did Sassi Punnu, playing a negative character, of course, but his performance was noticed by veteran actor Talat Hussain. "He [Talat] came up to me and said 'Ap theatre bohat kartay hain?' [Do you do a lot of theatre?] I was most honoured and told him I have never done theatre before. He couldn't believe it. People think I debuted with Sab Set Hai in 2001 — it wasn't easy but I loved doing it — but it was Nighat Chaudhry, who is like a spiritual sister to me, who placed her trust in me and brought me to showbiz when I landed a role in Sassi Punnu."
His unconventional looks have meant he is always cast as a side character or a villain in Pakistan, never as a lead actor. But directors may be missing out on the depth of Adnan Shah Tipu
Tipu claims to have learnt acting from the street. "I observe people on the street, even children and animals because they are so pure and natural."
Tipu has had a fairly steady stream of work for over two decades but perhaps not as much recognition. "I used to complain about this but not anymore. When I was auditioning in India, I reached there early. Other people who came later were actors whose films I'd seen, and I would think they are all better actors than me. But when I got the role, I realised that the entire universe is being run by someone up there. I'm just supposed to work hard and not worry about returns. I never say that I'm a great actor but I'm a hard-working and honest actor."
Directors such as the Spanish Pedro Almodovar or the Frenchman Pierre Jeunet may have turned someone with Tipu's unusual looks into a pop-culture icon. After all, Almodovar used the unusual looking Rossy de Palma in many of his films while Jeunet was fond of bringing actors such as Dominique Pinon and Ron Perlman front and centre in his films.
Were Tipu's Willem Defoe-type unconventional looks ever an impediment in finding work? "Immensely," he replies. "People wouldn't know what to do with this face. I have a lot of characters in my face but I am unlike typical heroes. When I did a couple of international projects, with the BBC and a semi-Hollywood production, I was always taken as a hero. In India, I have always worked as the main villain. Thank God for directors such as Ahson Talish, Ovais Khan, Shamoon Abbasi, Azfar Ali, Ahsan Rahim and friends such as Noman Aijaz, who were able to look at me differently and peek into the characters I could play."
I sing when I feel like it, but so far no director has been able to develop a role for me that involves singing. I'm working on something for myself — a film called Suno Na, about three singers. I can't disclose much yet about it though."
Tipu wanted to play the hero but it didn't take him long to realise that in Pakistan, he could only be a character actor. "I'm not hero material," he says. "My mother used to think that I should play the hero because har maa ko apna bacha hero lagta hai [every mother thinks of her son as a hero] and they say in Punjabi jawani te khotay te wi aandi ae, saaday te wi ayi si! [Even a jackass is young at some point in time; and so was I]. People would compare my looks to lots of other people, to which my objection would be 'I look like this one and that one, why don't I look like myself!' I never thought I was a handsome guy but as a very different kind of guy. My mother would say to me that in order to love you, people would have to look inside you."
Tipu is comfortable doing theatre, TV and films, and believes that every role gives him the opportunity to paint his emotions. "No medium scares me. I try to see the meaning of every role. When choosing roles, I follow my heart. Whatever I do, I put my heart in it. You have to prove yourself every day. I once did the role of a depressed soldier for a play by a German writer, in which he finds out his wife is cheating on him, becomes impotent, and kills her. When I did that role, I became so gaunt and depressed that my mother became worried about me. Every role has its own challenges, but I'm somewhere between method and natural. I try and see the importance and the challenge it brings. I chat with the director and writer of the play, and look at the character's background. I sleep eat and drink that role. If I have to look like a sweeper or a drug addict, or someone visibly unappealing, then I will make sure I look that much unappealing. I have done 80 per cent of roles sans any make-up as the roles didn't demand it. For television, even though the director and writer have a lot of say, the channels dictate terms, but in films, the role cannot be compromised. You need to be extraordinary to be on top of your role."
The perfect life for Tipu would be to do two films a year, three months of theatre and three months of vacation. "But in Pakistan, there is no such facility for character actors. There isn't enough work around, although films have improved the situation. I have survived as a character actor for the past 22 years, and I'm very grateful to God for the kind of money I make as an actor and an honest man."
Commenting on some of his recent work, Tipu says, "Suno Chanda was a lot of fun. I loved my roles in Maalik and Dukhtar. In Khuda Mera Bhi Hai, I did a beautiful role [that of a transgender]. I wanted to show emotions without being loud, expressing only through my face and eyes. I danced from 11am to 1pm wearing ghungroos [ankle bells], and spent time with transgender people," he recalls. "Nothing is bigger than substance and you need to be honest to the subject. I always make my best effort but when God wants, the magical part happens with it."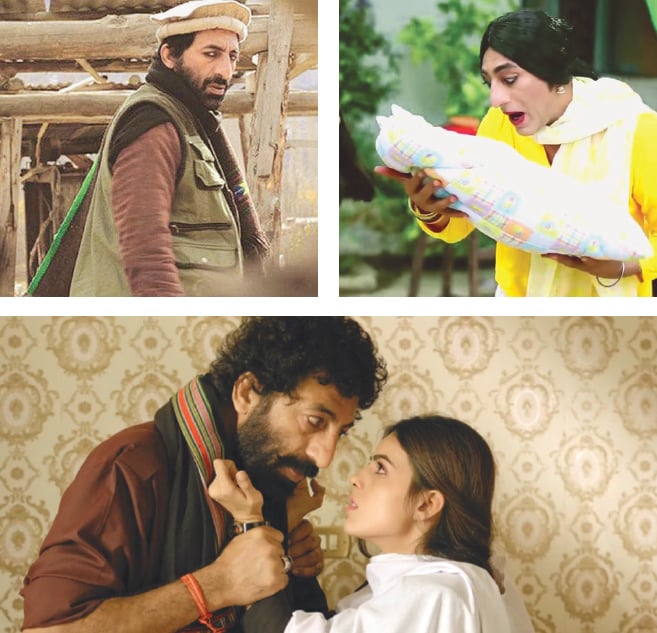 When I ask Tipu about his acting inspirations, he reels off a long list of actors —Marlon Brando, Dilip Kumar, Susan Sarandon, Sean Penn, Johnny Depp, Al Pacino, Robert DeNiro, Dustin Hoffman, Meryl Streep, Michelle Pfeiffer, Waheeda Rehman, Shehnaz Shaikh, Khalida Riyasat and Salim Nasir among them — but he adds, "I'm a director's actor. She or he should know how to extract the role out of me. Mahesh Bhatt, Azfar Ali, Ahsan Rahim, Ahson Talish, Ovais Khan, Shamoon Abbasi, Kashif Nisar, Najaf Bilgrami and Sabiha Sumar have amazing communication skills. The dedication and honesty of a director to his or her work is what truly impresses me."
Would he ever himself like to direct? He says he would make a tough director. "I would like my actors to give me 100 per cent, the way I like to do with all my roles. I think I would be great in an action-romantic film, something like Once Upon a Time in America or The Godfather," he chuckles.
Despite a substantial body of work, Tipu still feels he hasn't done much yet. "People don't write for character actors. A peon, writer, farmer, soldier and a clerk can all be heroes. Every person has a story. It is how you tell a story. I still have a long way to go."
I'd also been tipped off that Tipu has a beautiful singing voice, which he hasn't yet had a chance to showcase in his roles, so I ask him about it. "I sing when I feel like it, but so far no director has been able to develop a role for me that involves singing. I'm working on something for myself — a film called Suno Na, about three singers. I can't disclose much yet about it though," he laughs.
Tipu believes marriage is the biggest commitment in the world and that it has changed him as a person and an actor. "When you have four daughters, then you are not just Tipu anymore. You are the father of Roshni, Khushi, Taabeer and Mannat, the husband of Hajra Shah and the son of Jamila Begum. When I started I was more passionate, now I'm more responsible.
"I used to work for the love of it, now I have to do as a responsibility. I used to be a darvesh [gypsy] sort of person, mast and wearing a dhoti kurta. Now my soul is still that way but I have become more practical. Now that I'm the father of four daughters, I feel I have to be more proper in everything. Also, showbiz has changed. What car you drive, what brand of mobile phone you own, what brand you wear is all noticed. I would like people to know me for my work, but people want to know you through your appearance! I'm working on that as well. Times are different, people are not wrong, they are just different."
The actor most associate in their minds with being the antagonist is not bad, he's just cast that way. Every now and again, as he talks about his daughters, whom he obviously loves to bits, and his face softens as he talks about them. "I have to struggle to find family time but, whenever I can, I like to pick and drop my girls to school. More than a traditional father to them, I want to be their friend so that they can be who they are and flourish."
Published in Dawn, ICON, September 1st, 2019