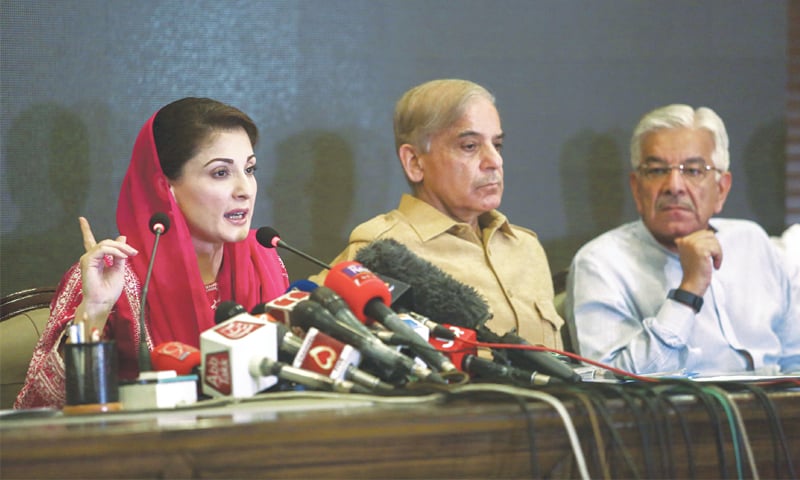 LAHORE: Pakistan Muslim League-Nawaz vice president Maryam Nawaz on Saturday opened a Pandora's box with a startling claim that the judge of an accountability court confessed he had been "pressurised and blackmailed" to convict former prime minister Nawaz Sharif in the Al-Azizia reference.
A video containing the judge's confession during his conversation with a 'sympathiser' of the PML-N was screened during a hurriedly called presser at the party's provincial headquarters in Model Town.
Accompanied by party president Shahbaz Sharif, ex-premier Shahid Khaqan Abbasi and other senior leaders of her party Pervaiz Rashid, Khwaja Asif, Ahsan Iqbal and Rana Tanvir during the press conference, Ms Maryam said this was the case of "Man proposes, God disposes".
PML-N vice president claims judge was 'blackmailed' into convicting former prime minister
She said: "Allah Almighty has listened to our prayers, as Mian sahib had left his matter to Him after failing to get justice. It is nothing short of a miracle, as divine help came in the form of the judge who had awarded imprisonment to him (Sharif) confessing that injustice has been done against an innocent man and he was forced to do so."
A video purported to be about the conversation between accountability judge Arshad Malik and a PML-N 'sympathiser' Nasir Butt was played on a screen projector at the press conference in which the former (judge) appeared to say he handed down seven-year imprisonment to Nawaz Sharif in the Al-Azizia Mills case under "immense pressure from hidden hands".
Narrating the recorded conversation, Ms Maryam said Judge Arshad Malik had called PML-N sympathiser Butt to his residence as he had old acquaintance with him and he wanted to share his ordeal related to her father's conviction. She said the judge told him that he was having "nightmares after [being] forced to convict innocent Nawaz Sharif".
"Judge Arshad Malik said when the trial against Mr Sharif was under way in his court some people met him and showed him an objectionable video of him that they had recorded some time ago. He said he had so much pressure that he reached a breaking point and gave in to their demand. He said he had one choice either to accept their demand [to convict Mr Sharif] or commit suicide," she added.
The PML-N leader said: "Judge Arshad Malik further asked Mr Nasir…tell Mr Sharif that he (Malik) was blackmailed and made to convict him. He said there was no evidence of financial corruption, kickbacks or money laundering against Mr Sharif. Neither was there any evidence against Sharif's son Hussain Nawaz in money laundering or embezzlement of funds. The judge said he had a burden on his conscience and sleepless nights for convicting an innocent," she said while reading out the transcript of their conversation.
The opposition party's vice president said sending her father to jail was a conspiracy, which had been planned even before the start of his trial.
"It was comprehensive planning in which the judge was forced to convict Nawaz Sharif," she said without naming the persons who allegedly blackmailed the judge.
"Through this video, I want 220 million people of Pakistan to see what happens behind walls. This is how judges are blackmailed," she said.
The PML-N vice president said: "How long the elected prime ministers of Pakistan will be sent behind bars or exiled and replaced with a joker, an addict or a selected one."
She recalled how such 'hidden forces' used religious sentiments against an observing Muslim, Nawaz Sharif, and when "Nalaik-i-Azam" (the inept premier) Imran Khan came to power such elements (Khadim Hussain Rizvi and Tehreek-i-Labbaik Pakistan activists) were controlled and sent to jail.
"How Nawaz Sharif was declared a friend of Indian premier Modi and a traitor, but selected Imran Khan on the contrary is begging Modi to talk to him," she said.
Ms Maryam said: "Imran Khan… you are a selected and puppet premier and will remain so. In the country's history you will be remembered as selected and stooge. You destroyed Pakistan's economy within just 10 months that Musharraf had done in 10 years.
"Power is given to you on a platter but you are so incompetent that despite having full support of other institutions you failed to deliver and made the lives of Pakistanis miserable. You are targeting your opponents by framing them in false cases while the corruption of yourself, your cronies and sister (Aleema) is not taken into account." She termed the narcotics case against Rana Sanaullah the worst form of Mr Khan's political vendetta. The world witnessed that Mr Khan was brought to power with the help of an 'umpire', she added.
The leader of the main opposition party said the last year's elections were rigged to pave the way for Mr Khan's party. "Everyone knows how the PTI was installed in 2013 and how it staged a sit-in against Nawaz Sharif the next year to stop the PML-N government from functioning. If the institutions stop giving their support to Imran Khan he cannot function even for a minute," she added.
Claiming that there are threats to her life, Ms Maryam also warned 'the hidden hands' to not play nasty with her after the judge's video surfaced. "After this revelation, I have threats to my life. But I warn: don't play nasty with me after this. If any attempt is made, then let me warn you that I have more evidence of such kind. I want to make it clear that I have no fight with any institution," she said, adding she only had questions to be answered.
Ms Maryam said: "I had vowed not to let my father meet the fate of Morsi (former Egyptian president who died on trial)."
She also said despite facing the hurdles being created by the PTI government in holding a public meeting in Mandi Bahaudin, she would reach there and address the people on Sunday.
Published in Dawn, July 7th, 2019