As the plane began to land at Baghdad Airport, I jotted down the following on a napkin. "Flight EK 943, 3:30 pm, Tuesday, February 12, 2019.
As a child, I had left Iraq in February 1964 and, half a century later, I was returning in yet another February. It took me half a century to do it but, finally, I made it!"
A part of me transcended the present and was transported to the time when I was around 10.
Revisiting Iraq after more than five decades a former resident of Baghdad discovers nothing is as it was
Although I was travelling with a group of pilgrims on a structured 10-day tour, my personal agenda, after the first four days, was to explore three localities of Baghdad where my grandparents had moved to in the 1930s — Arzrumli, where I was born; Daura, where my parents had lived; and Mansoor, where I lived just before I came to Pakistan in 1964. Somehow, I never went back until 2019.
Mohammed Sher Gul Piracha, my grandfather, in partnership with an Englishman, ran a dairy farm — about 80 kilometres from Baghdad in Habbaniya — for the Allied forces before and during World War II. Later, he went into the business of importing old garments to Iraq in partnership with another Pakistani. From being an orphan of limited means and, later, a teacher in one of the two village schools in Shahpur, district Khushab in Punjab, he became one of the wealthiest men in the Piracha tribe. His six sons worked various jobs in Baghdad. From 1952-63, my father Riaz Piracha was a representative of a British pharmaceutical company in Iraq. 
In the mid-'60s, the Iraqi government asked all foreign residents to either apply for Iraqi nationality or return to their respective countries. My grandfather moved to Lebanon and the rest of the family returned to Pakistan. 
Back in Iraq, one of the first things I noticed about the Iraqis is their courteous and laidback nature, whether they are officials, shopkeepers or taxi drivers. The local Arabic dialect started resurfacing from the deep recesses of my mind because, strangely enough, I dreamed in that language once. I did not expect it to happen so soon after my arrival but, somehow, I felt quite at home. Few Iraqis speak English and since my fellow travellers were from Pakistan, I found myself becoming their interpreter while going through immigration.
Thankfully, the weather was cold; summer can be scorching, especially during the day, despite the River Tigris flowing right through Baghdad city along a well-kept park and promenade. The city is clean with the usual hustle bustle of lots of shops and eateries. Prices are more or less similar to Pakistan, though some of the larger stores accept only dollars due to the weak and erratic Iraqi dinar. Tourists are nonexistent, except for pilgrims concentrated around clearly defined holy shrines accessible through strict security checks.
We stayed at Kazmain, paid a visit to the Al-Askari shrine in Samarra and later travelled to Karbala. The crowds of devotees at the holy shrines were staggering, with almost half of the them being women in flowing black abayas and hijabs. Free food and drinks were being offered and served mostly by local volunteers and some pilgrims to the large crowds of visitors. In Karbala, I visited the shrine of Imam Hussain, and then went for a long walk in search of a map of Iraq but couldn't find one.
On the fifth day, I collected my passport and left Karbala around 11 am to return to Baghdad to be on my own. After checking into a hotel near the famous Palestine Hotel on Sadoun Street, I boarded a public wagon for a ride around town for three hours. It took me to the other end of Karrada, a shopping area. Men and women stepped on to the public transport with a "Salam Alaikum" greeting and sat next to each other, passing their standard fare through other passengers to the driver and receiving the change via the same channel. The system clearly has integrity but no hassle, no argument and no tickets.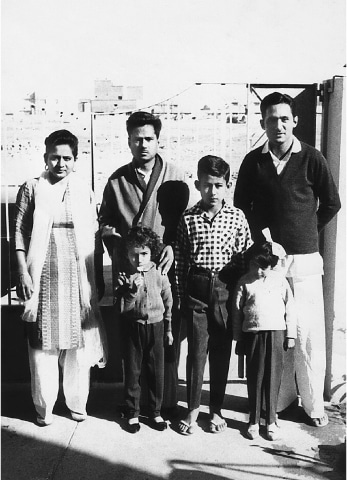 The highlight of the next day was meeting Mr Rafiq at the Pakistan embassy, where I was introduced to the interpreter Abdul Qader, who happened to be a second-generation Iraqi of Pakistani origin. A well-informed man, he readily provided me with updates and told me that Arzrumli was now called Shara Sitta (Street Six), and was just a 30-minute walk from the embassy.
A few minutes later, I stood in front of the premises of the Pakistani Jamiat — a government of Pakistan property — which is presently illegally occupied by some locals. Now in dilapidated condition, it was a community hall for Pakistanis living in Baghdad who gathered there on various occasions, such as the national day. I remember my late uncle arranging the showing of a Pakistani movie Saat Laakh there in the '60s. The Jamiat was at a walking distance from my grandfather's house in the adjacent street.
I walked to the next brick-paved street which gradually inclined along a shallow, narrow open drain going through its centre and rows of houses on either side. I was a bit unsure as to the exact house where we lived when I was born but I needed to see it from the inside. I had old photos of the interior of the house. I saw a slim, young man in his mid-20s, sporting a beard, come towards me. "Salam Alaikum. What do you want?" he asked calmly.
I told him. "Indak aurag? [Do you have papers?]," he looked at me curiously, wanting to know if I had any papers. I told him that the purpose of my visit was not official but personal. He stepped to the door next to the one I was fascinated with and rang the buzzer. A young woman wearing trousers and a T-shirt answered the door. He told her my story adding that I believed the house next door belonged to my grandfather in the past. She and her mother had not heard of Pakistanis living there. I requested to be introduced to some old-timer in the neighbourhood and he escorted me to the shops on the main road, where I was introduced to an old man with thick white moustache and a walking stick. He knew of no Pakistanis living there and mentioned the old Pakistani Jamiat building nearby occupied by some locals. I took photos of the street and decided to call it a day.
On the way back to the hotel, a middle-aged taxi driver greeted me with "Ahlan wasahlan". The taxi drivers are welcoming and helpful.
"How are things in Iraq?" I asked. "It is gloomy and there is no light at the end of the tunnel," he replied. "Children don't go to schools anymore because of the fear of kidnapping and the bad environment. The few who graduate can't find jobs. Life is very hard. We have no industry and everything is coming from Iran or Turkey, even cars."
"Was it better in Saddam's time?" I prodded.
"Compared to this, it was heaven," he said. "Ordinary people had work, food to eat and felt safe. There was peace, children went to well-managed government schools. Now even teachers don't show up, and only expensive private schools are running."
"Who is responsible for this?" I asked him.
"The rulers who came to power after Saddam," he replied. "They rob the country and take their wealth abroad." Internal politics and geopolitics have played havoc with this great country of the past.
Except for a few Bangladeshi shop assistants and some Parachinaris who overstayed their ziarat visas, you don't come across any non-Iraqis. The pilgrims remain confined to the holy shrines. There are not many cell phones yet and no graffiti, but plenty of portraits of martyrs in uniform or turbans can be seen hanging off electric poles. Power generators are common as are power failures.
The next day, I decided to go to the third location on my list, Al Mansoor, to try and find a couple of needles in the haystack. I decided to skip Daura, a vast area undergoing enormous expansion and development after being heavily bombed during the war.
The taxi dropped me at Taqata al Rawad, near Majma'a Kookh Alqadeem, a square at the sprawling upscale Mansoor locality of Baghdad. The building of our apartment and the house in a street across the main road somewhat tallied with my archived images, despite the destruction and post-war development over the years. My last residence and school (Farabi — my last school in Baghdad) remained elusive. There used to be more open spaces and scant traffic but now clusters of buildings, shops and heavy traffic prevail. I spent the rest of the day sightseeing in Mansoor.
A week into my trip, I had a fair idea where Arzrumli, Mansoor, Shara-i-Rasheed, Shorja and even Daura were. I think it was Saddam's palace I glimpsed on the way with the pock-marked and bombed-out dome.
The following day I visited the Iraq Museum. Iraq enshrines the depth of its 10,000 years of history at the Iraq Museum. Its culture is also reflected in its people on the streets, although it looks similar to any Third World country in terms of development and infrastructure. The country has produced several poets, artists, musicians and writers over the years — including the internationally acclaimed Zaha Hadid (October 31, 1950 to March 31, 2016) who was the first woman to win the Pritzker Architecture Prize in 2001.
Later, I walked back to Arzrumli nearby to knock on the door of an Iraqi Christian family when an old man answered, once again sceptically declining knowledge of any Pakistanis ever living there. Since most of these properties are illegally occupied, the tenants are afraid that real owners or heirs might show up to claim them.
Despite their economic challenges, joblessness and the law and order situation reflected through frequent security check-posts and the presence of heavily armed law-enforcement personnel, I did not witness a single unpleasant occurrence of any kind during my 10-day stay. The distinct jovial, courteous and polite atmosphere is testimony to a civilised culture. Most of the men and women looked healthy, strong and good-looking and show the utmost courtesy and good manners to each other. You can often overhear courtesy phrases such as Aeeuni [you are my eyes]; Galbi [you are my heart]; Alla y hayeek [God give you long life], etc.
There is quite a vibrant nightlife in Baghdad, with bars featuring local bands, nightclubs, restaurants and wine shops selling international liquor cheaper than the airport duty-free-shops. Their wide-ranging local dishes are delicious. This account would be incomplete without mentioning the diamond-shaped bread sammoon that is a staple at breakfast, lunch, dinner and snacks.
A word of caution for those travelling unescorted: you are told that the Baghdad International Airport is about an hour's drive from the city. The actual airport terminal is 10 kilometres further away from the drop point. That stretch covered on specially authorised and expensive cabs is one of the heaviest security zones I have ever seen and it takes more than an hour to reach the check-in counters. The security inside the airport is handled by a private international security company, employing personnel from different countries.
On my last day in Baghdad, I went to Arzrumli and to the old neighbourhood grocery shop where we as children used to go to buy candy. I was astonished to see it still existed in the same condition. A teenage boy and an elderly man were sitting on rickety chairs inside the shop.
"Assalam-o-Alaikum," I greeted them and introduced myself, "I have come from Pakistan and are mystified to find this shop as it was half a century ago!"
They laughed, and the boy said, "Yes. Six generations of my family have lived next door. You are welcome, please sit." We chatted for a short while about the time gone by and the changes that took place. Too much water had flown under the Tigris bridges.
The writer is a freelance contributor
Published in Dawn, EOS, June 30th, 2019