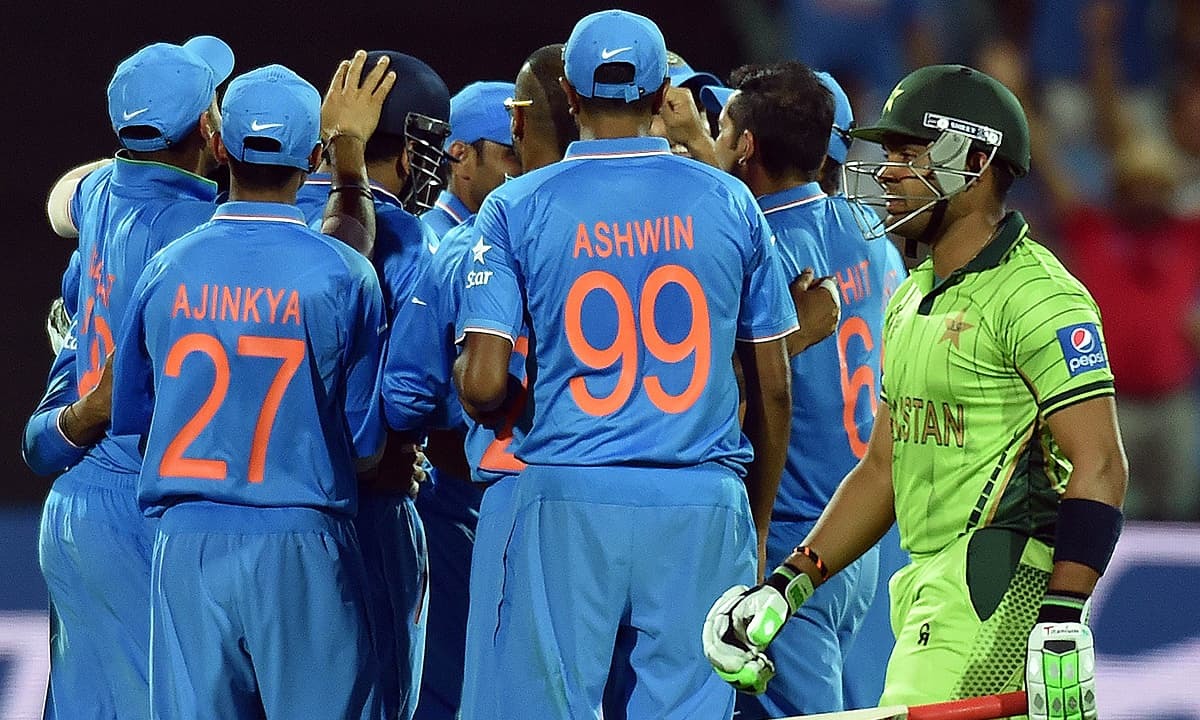 "Those who do not remember the past are condemned to repeat it." — George Santayana
As painful as it may be, history should never be forgotten for its haunting memories can serve as a guiding light in future.
Pakistan's World Cup history against India is not just painful. It's gut-wrenching, traumatic and makes for a torturous reading.
But based on the principle established above, let's hark back and analyse how this six-nil record came into being.
First blood
Though regulars at World Cups, it wasn't until the fifth edition in 1992 that India and Pakistan met for the first time. Pakistan's torrid start to the tournament that they eventually won has been well documented. But also worth noting is that India didn't have a single win in their first three games; Pakistan, on the other hand, had bagged one victory by that point.
Keep in mind, those were still early days for ODI cricket, and the benchmarks then were nowhere near modern day standards, especially on fast Australian pitches. For instance, anything above 200 was a decent total. Anything around 250 was nearly unchaseable and it was normal for batsmen to take a 100 balls to score just 50 runs.
Anyway, India won the toss and decided to bat first. They started their innings really, really slow even by those days' standards. Kris Srikkanth, for instance, ate up 39 balls and scored a paltry five runs. And when Ajay Jadeja was departing after scoring a 77-ball 46, he raised his bat. Yikes!
In the 40th over, India were 148-5 (told you those were different times). When even 200 seemed beyond reach, guess who stepped up? Sachin Ramesh Tendulkar. The Little Master, just 18 but wise beyond his years, chipped in with an unbeaten 62-ball 54.
But more than the runs, his approach was important. He did not swing wildly. In fact, he only hit three boundaries. What he did was to rotate the strike and play facilitator to the wily old Kapil Dev, who did swing wildly and contributed 35 off 26. In the final 9 or so overs, the Indians plundered an extraordinary 68.
Pakistan lost two early wickets. The twin setbacks turned their pace painfully slow. Their 50 came up in the 16th over and 100 somewhere before the 30th. In the shortened 49-over game, they needed 112 runs off the final 19 overs. They were all-out for 173
Who was to blame? It pains to say this but it was the great Javed Miandad. He took 110 balls for a mere 40. His tortoise-like effort sent the run-rate ballooning before he played one of the strangest shots to a yorker and got out. Oh, and he made a 39-year-old Imran Khan attempt a risky single and got him run out.
The showdown in Bangalore
Four years later, the two arch-rivals met in the quarter-final on Indian soil. India again won the toss, batted first but this time piled up a sizable score of 287 runs.
Pakistan started very strongly, with the pairing of Aamir Sohail and Saeed Anwar ragdolling Indian openers. The team lost the way after their departure. Miandad once again contributed runs (38 of them) but used 64 balls for his knock before getting run out.
Who was to blame? Some would point out that Waqar Younis leaked 41 runs to a ruthless Ajay Jadeja in his two late overs and the team eventually lost by 39 runs. But they would be wrong. The real culprit was Sohail the southpaw.
At 113-1 in the 15th over, Pakistan were cruising. Sohail had just hit Venkatesh Prasad for a sizzling boundary through extra cover. For some reason, he infamously told Prasad that he would do so again the next ball.
Prasad changed up but Sohail didn't until it was too late. In the end he did swing the bat but made no connection with the ball, which eventually made connection with his stumps. The game was lost right there and then.
Third time's the charm ... not!
This was actually a woeful Indian side. They lost to four teams, including Zimbabwe, but still managed to beat Pakistan, who were strong enough to reach the final.
Like their 1992 clash, India again batted cautiously and posted a mere 227 runs on the board. Pakistan had a loaded lineup with batting all the way down till number 9 in the form of Wasim Akram.
But such a deep batting unit somehow managed to be all-out for just 180. Prasad was again the nemesis, taking a five-for.
Who was to blame this time? The entire batting line-up that succumbed in front of seamers Prasad and Javagal Srinath. The duo sent eight Pakistani batsmen packing between themselves
New millennium, same result
In Pakistan's defence, they lost to nearly everyone in 2003 and not just India. This time around, however, they lost by wickets instead of runs like the first three times.
Pakistan, for a change, batted first and set a decent 274-run target — made possible by Saeed Anwar's impressive 101. However, India reached the target with ease and six wickets to spare in the 46th over.
Who is to blame? No one, really. Pakistan had Wasim Akram, Waqar Younis and Shoaib Akhtar but India had Tendulkar. And sometimes when you run into an all-time great on song, there is little anyone can do about it.
Five straight in 2011
Restricting a strong Indian batting line-up to 260 on a flat Mohali wicket was a decent job, but the total could have been even lower had Pakistani fielders not dropped a staggering five catches — four of Tendulkar alone.
The rest of the tale tells itself. Indians bowled tight, fielded responsibly and amped up the pressure. The pressure transpired into dot balls, which drew careless shots and resulted in wickets.
Who is to blame? Fielders for being generous, batsmen for being careless.
The latest blow
India were on a roll during the 2015 tournament's group stages, winning all six of their matches. They also ran into a new-age star of the Indian team: Virat Kohli. He smashed 107 and coupled with Shikhar Dhawan's 73 and Suresh Raina's 74, the Indians put 300 on the board.
Pakistan had a steady if unremarkable start, reaching 79-1 by the 18th over. Then the wheels came off and the team was all-out for 224.
Who is to blame? Weird captaincy calls. Misbahul Haq himself played well — scoring 76 off 84 balls — but several of his and the team's choices were quite baffling. Why Younis Khan opened the innings, and Yasir Shah was picked in the lineup and Sarfaraz Ahmed wasn't, is something we'd never know.
As it turned out, Younis scored just six runs, Shah leaked 60 in his eight while Sarfaraz, a future captain, eventually made a name for himself later in the tournament.