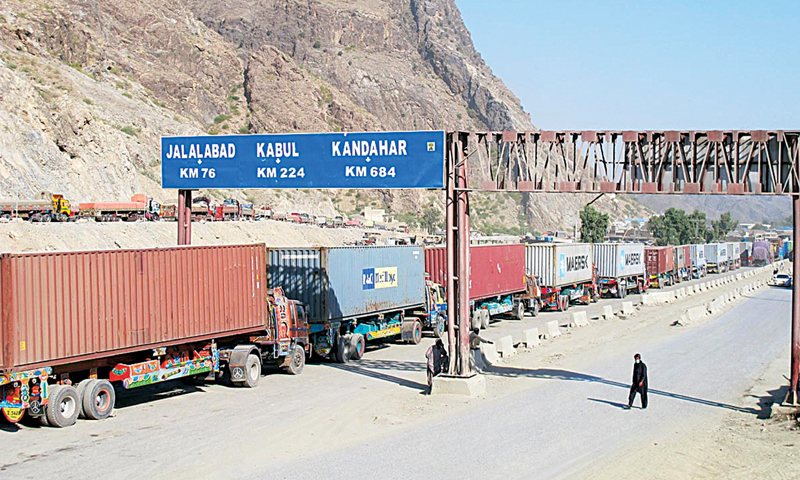 LANDI KOTAL: Trade between Pakistan and Afghanistan via Torkham border was resumed on Tuesday after lengthy negotiations between the customs officials and local custom clearing agents for two consecutive days.
There was no official word about the conclusion of talks from the office of Torkham assistant collector customs, however, the local traders and custom clearing agents, who participated in the negotiations, told Dawn that goods clearance was restarted on the previous method of examination of more than one loaded vehicle by just one Goods Deceleration (GD) form.
They said that custom officials granted them permission of continuing previous method on the condition that the new mechanism of one GD form for just one vehicle would be implemented a week after Eidul Fitr.
Custom clearing agents allowed to adopt old method for goods examination
They said that although they had reservations over the implementation of new goods examination and clearance mechanism, they decided unanimously to approach custom authorities in Peshawar to redress their grievances.
BAN: The administration here on Tuesday announced to impose a ban on use and sale of crackers, explosives and toy guns during Eid and other festive occasions.
An order issued by Deputy Commissioner Mehmud Aslam Wazir said that use of crackers, toy guns and firing in the air on festive occasions not only created unrest among the people but also resulted in casualties.
The order said that to keep peace and secure human lives, it was necessary to impose ban on firing in the air as well as use, sale and purchase of crackers explosives and toy guns across Khyber tribal district.
PROTEST: Scores of teachers of government schools took to streets on Tuesday to protest the alleged negligence of district education officer in fulfilling his official responsibilities.
The protesting teachers burnt tyres and blocked Peshawar-Torkham Road for some time alongside chanting slogans against the official concerned.
They accused the district education officer of unlawfully obstructing promotion of eligible senior teachers, his failure to distribute free books among the students and paying visits to girl schools in violation of ban on such visits by male officials.
They demanded an independent probe into the irregularities and immediate transfer of the DEO.
Published in Dawn, May 29th, 2019