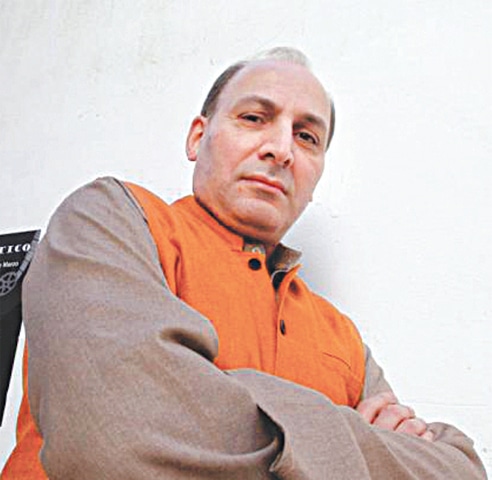 "In a very real sense, there is no beginning and ending in poetry and philosophy, since everything is a great becoming... Hence, if philosophy has to be the chosen path, it needs to be called in us as an act of thinking. But the call of philosophy is heard only as long as there are those who can hear it." — Ramin Jahanbegloo, Letters to a Young Philosopher
A few months ago, at the Annual Conference on South Asia in Madison-Wisconsin, I encountered a small book by the Canada-based Irani academic Ramin Jahanbegloo, titled Letters to a Young Philosopher. Instantly, it reminded me of Rainer Maria Rilke's famous Letters to a Young Poet, which has become a model of such epistolary writing ever since its English translation.
Jahanbegloo is no stranger to the direct force of such writing. In fact, being a philosopher himself, he takes on the role of a master in what he calls the "art of thinking" and utilises the dialogical and direct epistolary mode to advise a young seeker (his interlocutor, Rainer) on matters pertaining to the life of the mind. We don't know anything about his interlocutor, except that he shares his first name with the great German poet Rilke.
An Iranian philosopher ponders about existence and the difference between thinking and philosophy, among other things
What is thinking and how is it different from other mental activities? Is it different from philosophising? These are some of the questions at the heart of these letters. Through taking on some of the foundational discourses, Jahanbegloo takes us through the most essential philosophical concepts of life. He begins by describing what philosophy is, how it is learned in a non-academic setting, and continues to explore the key topics of life such as love, death, mediocrity, friendship, technology, patriotism, education and film. His writing style is unpretentious and resonates with the sincerity of a thinker who detests conformity and recognises its lure at the same time.
One of the most interesting aspects of this collection of letters is that it is written against the academic spirit of 'doing philosophy'. There are no complicated theorisations and no jarring turns of phrases in Jahanbegloo's writing. If anything, it seems that the author wants to share the best of his knowledge of philosophy with his young apprentice and inspire in him what the American philosopher Hannah Arendt calls "passionate thinking." While the author continues to quote some of the best thinkers of the Eastern and the Western civilisations, his emphasis remains on spiritual growth through the life of the mind, which he finds absent from our universities and education today: "I tell you, nothing is more exhausting than the snobbish philistinism of bureaucrats who take themselves seriously. It's incredible that in our time you can walk into a philosophy or a political science department and the only things you don't hear your colleagues and students talk about are philosophy and politics…"
Jahanbegloo makes important distinctions between education as growth and education as a means towards an end. For him, the life of the mind does not guarantee success as we know it today. It doesn't even have to be at a university. Instead, it makes us understand and come to terms with life in all its complexity and fallibility. 'Understanding' is the gain here, as Arendt would say, and in the process of gaining this understanding, a philosopher (one who understands by not conforming to the established truths) realises that the task is to create and live a meaningful life, which goes against the contemporary capitalist insistence on how to live a happy life.
The most fascinating letters for me in this collection are 'On the Art of Dying' and 'A Posthumous Letter'. The letter on dying is the seventh letter in the book, which he writes from Tehran where he is tending to his dying mother: "I am sending you this letter from a country of mirages where I am with my old mother for care and to look after. I have to confess that it is hard to see a parent sick or dying, especially at this age in my life, when I feel that I have to prepare for death myself. My mother is 95 and is unable to converse easily, but whenever she can speak, she testifies her willingness to leave the world. I understand her, especially that I am over 70 now myself. It may come to you as a surprise, but life is not always easy. And that is a major reason why we cannot conquer life. For, as we advance in years, it becomes more or less clear to us that behind all our efforts in life there is very little after all…"
Furthermore, in this letter the author weaves in his personal view on life and death with the views of several great philosophers and advises the young apprentice that our perception of life, our goals and our spirits remain different at different stages of life. Old age brings us closer to the ultimate futility of all that drives us in our youth and our perception of life changes as we encounter more of it throughout our personal and collective histories.
The book ends with a posthumous letter written by someone named Patricia, who witnessed the author's last words and wrote them in this last letter to the author's young apprentice. Clearly, it is a fictional gesture, which disrupts the reading momentum of the collection in the same fashion as death disrupts life. All that remains is the book and what it aspires to impart to its readers. Was it necessary in an otherwise direct and non-fictional format of the book? One can have a difference of opinion on that.
Be that as it may, the book, which arguably doesn't say anything new, is an interesting read. Those of us who continue to battle with the questions of existence know these things all too well. But sometimes, such books are sincere reminders of what we might brush away against the incessant demands of our modern technological existence, which hardly gives us any room for humility, meditation and solitary thinking. As Yuval Noah Harari pointed out in his last book, 21 Lessons for the 21st Century, clarity of mind and thought is power in this age of bewilderment. And what else but the philosophical habit of critical thinking and questioning to take us closer to that clarity, which is required in our journey of understanding.
It is also important to note that Jahanbegloo is not an armchair philosopher who has no idea of life outside his ivory towers of high thinking. He had been imprisoned in Iran's Evin Prison for his belief in philosophy and was accused of 'conspiracy to topple the government' just as the Iranian authorities — as with all totalitarian regimes — have accused many of his peers, who were eventually forced to leave the country. He is a philosopher who has endured torture and humiliating imprisonment for nurturing dialogue between some of the greatest thinkers of our times.
His work as a philosopher is not limited to writing philosophy, but extends to foster a constructive dialogue between divergent cultures. His 1991 book, Conversations with Isiah Berlin, published first in French and then in English, is one of the most celebrated books on the subject of Western philosophy and modernity. In his efforts to promote dialogue, he has interviewed scholars and intellectuals from all over the world, among them George Steiner (to whom he dedicates the book), Noam Chomsky, Ashis Nandy and the Dalai Lama. In recent years, he invited Richard Rorty, Timothy Garton Ash, Antonio Negri, Michael Ignatieff and other Western intellectuals to Iran, which remains one of his many remarkable achievements.
While this book is highly recommended, it is probably not a very good introduction to Jahanbegloo's work. The editing leaves a lot to be desired in softening the edges of sentences and rounding up their sense. The letters, which aim at something deeper with questions that are perhaps most pressing to many of us, seem to have been written in haste, with no proper development of their subjects. Furthermore, since the book is written in the spirit of dialogue, it is rather frustrating to see that the writer's interlocutor does not have any voice. He (a certain Rainer) appears only in the writer's sentences as an addressee at best. We don't know who he is and what bothers him, what his questions are, and if he agrees with all that the writer of these letters has to say to him.
Last but not the least, considering that 'philosophy' is no more a neutral word especially in the wake of some of the most ground-breaking non-Western scholarship on thinking and philosophy, Jahanbegloo's understanding of this whole enterprise is steeped in modern Western thought, which runs the risk of being dangerously ahistorical. And this is something that one needs to ponder when talking about philosophy in a universal way, since Philosophy (as a mode of Greek thinking) has been another hegemonic presence, which has ignored other forms of thinking in other parts of the world for many centuries for not being a certain kind of philosophy.
The reviewer is a PhD candidate at the Institute of Islamic Studies, McGill University Canada. Her research focuses on the literary and intellectual traditions of Persian and Urdu languages in pre-modern North India
Letters to a Young Philosopher
By Ramin Jahanbegloo
OUP, Oxford
ISBN: 978-0199480388
160pp.
Published in Dawn, Books & Authors, May 26th, 2019