CHAKWAL: MNA Sardar Zulfiqar Ali Khan Dullah was shocked when he discovered that hundreds of eucalyptus saplings were set to be planted after a ceremony in Dullah village to celebrate International Forest Day on March 21.
He was among several others who expressed reservations regarding planting eucalyptus. "Why are you planting eucalyptus when it consumes so much water," Mr Dullah asked. Mohammad Saqib, a forest conservator from the Rawalpindi division, then explained to him the benefits of planting eucalyptus and the myths around it.
Over the years, eucalyptus has been criticised for being a "water guzzling" plant, with voices urging the government to stop planting eucalyptus trees.
However, foresters in Punjab have increased eucalyptus plantation across the province after a national seminar in Peshawar was organised by the Pakistan Forest Institute (PFI) about its pros and cons.
Eucalyptus has now emerged as one of the preferred plants in the ongoing tree plantation campaign being carried out across the country on the directives of Prime Minister Imran Khan.
"Unfortunately, eucalyptus has been portrayed as environmental hazard because of false notions sans any logic and research," Mr Saqib, the forest conservator, told Dawn.
The blunder made in past years was that eucalyptus saplings were planted in fertile and water-scarce areas, senior Punjab forest department official says
But he hastened to add that eucalyptus should be planted in problematic areas, such as waterlogged or saline belts.
"It is true that eucalyptus consumed sufficient water, but it is not as it has been portrayed. An interesting point is that the water intake of eucalyptus is less than that of shisham, which is a native tree," he said.
According to PFI's report, issued in connection with its seminar, eucalyptus is an exotic tree species belonging to the Myrtaceae family.
"It is a tall, evergreen, flowering tree species. It adapts easily to dry climates and various soil conditions, grows rapidly and requires less care after plantation. Over 800 different species of eucalyptus are found all over the world," the report states.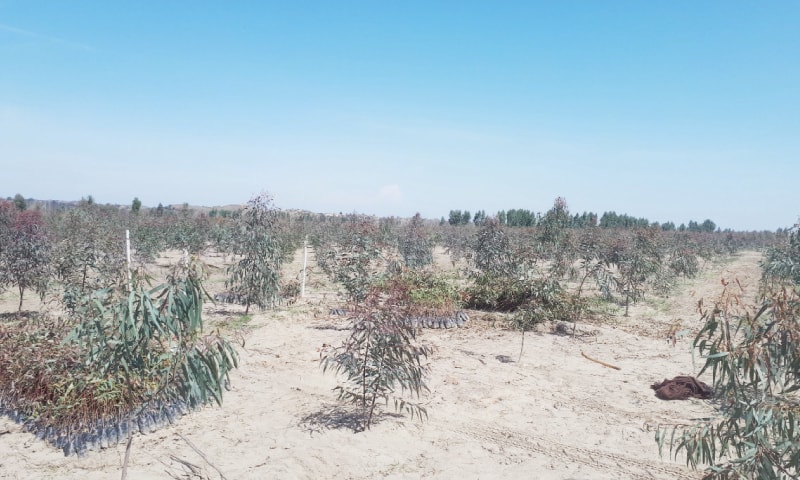 Eucalyptus was imported to Pakistan from Australia during Gen Ayub Khan's era to increase forest cover. Since then, it has been included in social and agro forestry programmes in all four provinces and has taken over a considerable area, with large eucalyptus trees across the country.
Saplings were planted on fertile land, on the premises of public institutions and along roadsides, where they caused a shortage of groundwater.
In the Chakwal district, large eucalyptus trees can be seen along the Choa Saidan Shah-Kallar Kahar Road, an area that is currently facing an acute water shortage.
The trees can also be seen along the Lahore-Islamabad Motorway and at educational institutions such as the Government Postgraduate College and the Government Degree College for Women in Chakwal.
Foresters in Punjab have now realised that eucalyptus plantation should be avoided on fertile land and areas facing a water shortage.
"The blunder that was made during its plantation in past years was that eucalyptus saplings were also planted in fertile and water-scarce areas," a senior Punjab forest department official admitted.
"But like we cannot remove broiler chickens from our food items instantly, similarly we cannot eliminate eucalyptus grown on fertile lands. Because if we do so, the price of wooden fuel would shoot up," the official said, adding that there is no alternative to eucalyptus when it comes to wood as a fuel source.
Chakwal District Forest Officer Junaid Mumtaz told Dawn 4,300 eucalyptus saplings have been planted on 10 acres of forest land near Dullah village.
Quoting the PFI report, Mr Mumtaz said: "Knowing the fact that our country has low forest cover of hardly 5pc, and vast areas are lying without trees, if we strive to plant eucalyptus with good efforts there is no reason that we cannot increase substantially the forest cover of our country."
Referencing the report, he said that eucalyptus has been planted over around 50 million hectare acres in Asia, Europe, the United States, Africa and other parts of the world.
"The main purpose to raise this plant is to meet the demand for fuel-wood, timber, lumber and biomass. Eucalyptus wood is used both by small farmers for profit and subsistence and large conglomerates for industrial wood. Eucalyptus has proved an excellent source for oil for human health and nectar for honeybees and other insects and birds," he said.
He also denied that eucalyptus trees are not environmentally-friendly, saying: "The benefits of eucalyptus are many. It is a fast growing tree which does not need much care after plantation as it requires neither watering nor do animals graze on it. Moreover it has huge market value."
Published in Dawn, May 20th, 2019