KARACHI: The market took investors on a roller-coaster ride again on Thursday as the index opened positive and extended the earlier day's recovery, rising to intraday high by 439 points.
But that brought back the bears who trampled over the rising stocks and wiped off all the gains before value hunters entered and lifted the index by 350 points. Overall, it recorded gains of 291.78 points (0.80 per cent) to close at 36,796.03.
Investor sentiments improved on the back of expected arrival of International Monetary Fund (IMF) mission from Apr 27-30, and possibly bringing to an end the long nightmare of the bailout and uncertainty over conditionalities attached to it.
Moreover, the prime minister's visit to China and the possibility of a meeting with IMF chief there raised hopes of settlement of some disconcerting issues. Market confidence also received a boost from the amnesty scheme which most thought could be quickly launched after its presentation to the cabinet next week.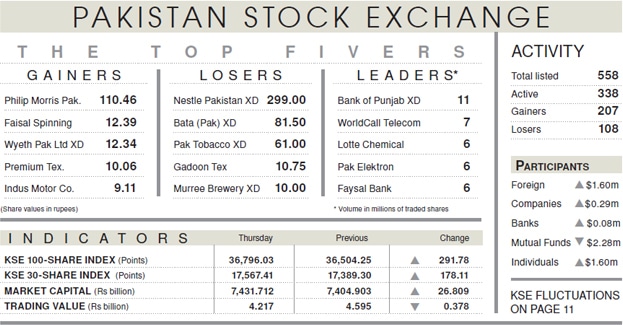 Positive earnings report from several companies and banks including Allied and Faisal Bank, Millat Tractors, Bestway and Cherat Cement along with a surprise interim cash payout and bonus issue from Meezan Bank, which encouraged investors to take positions in the banking sector, adding 351 points to the index. Oil stocks remained under pressure due to decline in international prices of crude.
During the session, traded value and volume both declined 8pc to $30 million and 107m shares, respectively partly due to suspension of trading for one hour and 34 minutes on account of technical fault. Trading time was extended by half an hour.
Major contribution to the index upside came from Habib Bank, increasing by 3.91pc, Engro Corporation 2.50pc, United Bank 2.94pc, Bank Al Habib 2.84pc and Dawood Hercules 3.38pc, adding 227 points. On the flip side, Nestle Pakistan, decreasing by 3.74pc, Hub Power 1.86pc and Pakistan Tobacco 2.43pc took away 73 points.
Published in Dawn, April 26th, 2019