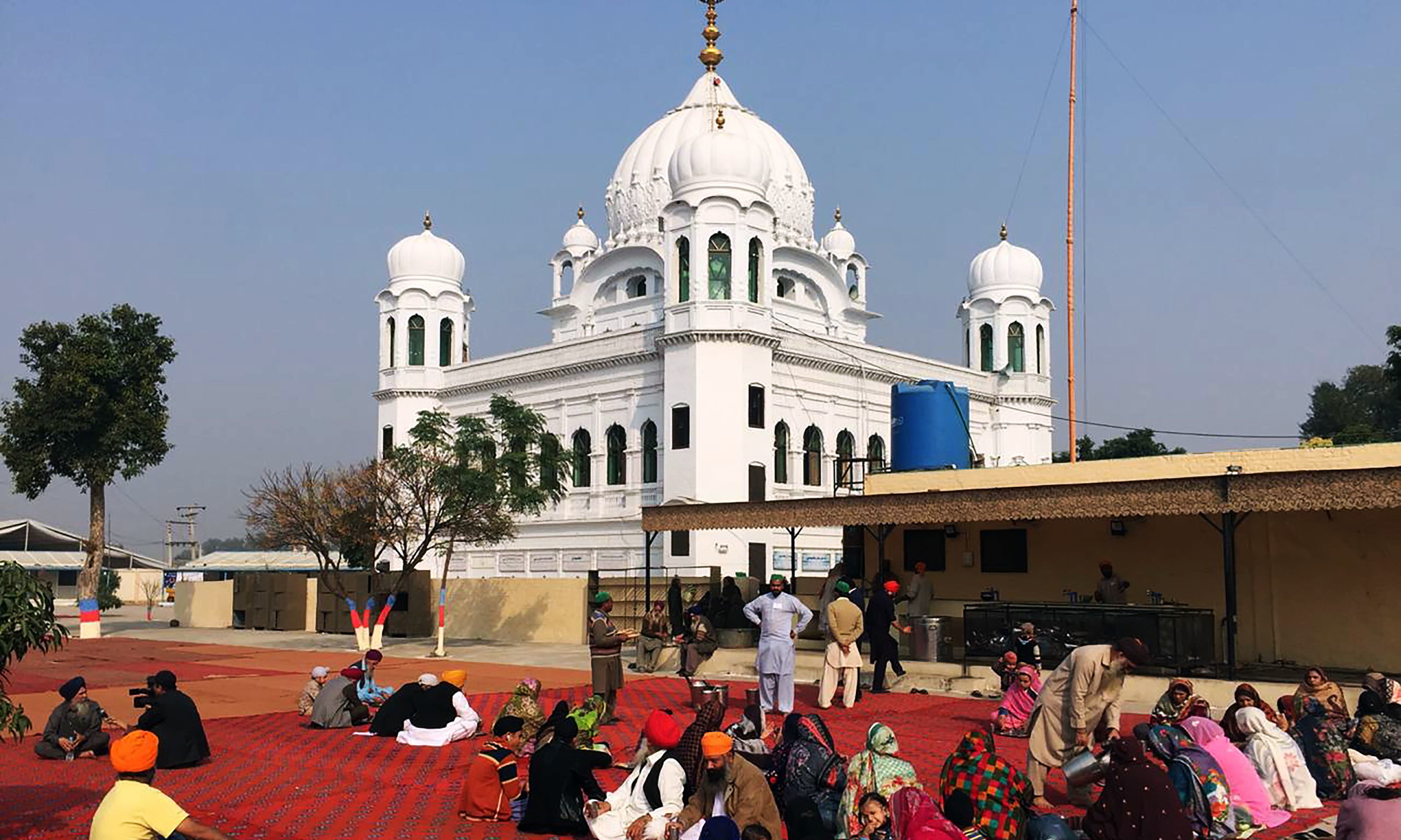 Prime Minister Imran Khan on Wednesday performed the groundbreaking of the long-awaited corridor connecting Gurdwara Darbar Sahib in Kartarpur area of Narowal district to Dera Baba Nanak in India's Gurdaspur district.
A large number of Sikh yatris ─ both local and Indian ─ along with Indian Minister for Food Harsimrat Kaur Badal and Minister for Housing Hardeep S. Puri, Indian Punjab Minister of Local Government, Tourism, Cultural Affairs, and Museums Navjot Singh Sidhu, and Indian journalists and foreign diplomats attended the ceremony.
Foreign Minister Shah Mahmood Qureshi, Punjab Chief Minister Usman Buzdar, Railways Minister Sheikh Rasheed, Minister of State for Interior Shehryar Afridi, Minister for Religious Affairs Noorul Haq Qadri and Army Chief Gen Qamar Javed Bajwa were also in attendance.
Facilities to be introduced for Sikh pilgrims
At the start of the event, the attendees were briefed about the measures that will be undertaken to facilitate Sikh pilgrims seeking to visit the Gurdwara Darbar Sahib.
The government announced that it aimed to open the four-kilometre-long visa-free corridor on Baba Guru Nanak's 550th birth anniversary next year.
In the first phase of the project, set to be completed before Nov 2019, a boarding terminal will be set up near the border. Transportation will be arranged to shuttle pilgrims possessing a special permit to the gurdwara. An 800-metre-long bridge will also be built across the River Ravi for this purpose. Moreover, accommodation facilities for 10,000 pilgrims will also be arranged in this phase.
In the second phase, hotels and other accommodation facilities will be constructed to house pilgrims arriving with visas. A 300-metre track starting from the border will be built for pilgrims carrying special permits, after which a 4.5km road will also be constructed from the border terminal to the gurdwara. From there, pilgrims will be able to travel by foot or in cars.
The border terminal will have immigration, parking and medical facilities, a tuck shop, a souvenir shop and other amenities.
After receiving their permits, special transport will take the pilgrims to a parking area near the gurdwara. Security posts will be set up to ensure the safety of pilgrims. When the pilgrims reach the parking, biometric verification of their identities will be conducted, and then they will be able to enter the gurdwara premises and worship freely within the specified time.
The facilities available will also include a place to worship, food arrangements, a library, a souvenir shop and a flower shop.
The pilgrims who have been issued visas and are travelling from India via the Wagah border or from other countries to the Lahore and Sialkot airports will reach the gurdwara through predetermined routes. A separate parking area will be created for those pilgrims.
Pakistani Sikh yatris will need to carry travel documents and identification in order to enter the gurdwara premises.
All arrangements will be made for the safe and timely return of pilgrims, who will exit after showing their permits and going through biometric verification. They will then be transported to the border terminal via special transportation and, after returning their permits, will be able to return to the Indian side either by foot or their own transport.
'Pakistan will celebrate 550th birth anniversary of Baba Guru Nanak'
Religious Affairs Minister Noorul Haq Qadri addressed the ceremony first, beginning his speech by greeting the prime minister, the Indian delegation and all those attending.
"Today we are at an important point in history," Qadri said. "This is where he left the world. I am referring to Baba Guru Nanak," he said, adding that the religious leader spread the message of unity (tauhid), love, peace and humanity.
"The Kartarpur gurdwara will be made into a state-of-the-art gurdwara," he said.
"Next year in November, a year from now, on the 550th birth anniversary of Baba Guru Nanak, the Pakistani government and the people will celebrate in a grand manner," he announced.
According to Radio Pakistan, Qadri said, "Pakistan is the safest country for minorities and protects the religious sites of all communities."
Qadri stressed that only talks can lead to the resolution of outstanding issues.
'Religion should be separate from politics'
Former cricketer-turned-politician Navjot Singh Sidhu took the stage amid loud applause and cheering and delivered a speech mostly in Punjabi.
He was of the opinion that religion should be kept separate from terrorism and politics. "India's Constitution says there will be no discrimination on the basis of caste or creed. Baba Guru Nanak said this 549 years ago," he said.
The minister said that there had been enough bad blood between both countries and that the corridor would be a major opportunity to open the doors to the hearts of people. He said the governments of Pakistan and India are equally appreciable for facilitating the realisation of the dreams of over 120 million Sikhs around the world.
Sidhu said that if the borders between both countries opened, it would be possible to transport goods to different parts of Pakistan and even others countries.
"This is my hope, this is my dream ... While there is blood in my veins, I will continue to thank both governments," he said.
'Never thought I would be here'
Indian Minister for Food Harsimrat Kaur Badal also addressed the attendees with an emotional speech.
Guru Nanak spent his last years on the other side of the border, just four kilometres away, she said, adding that at times the chanting of devotees can be heard on the Indian side of the border.
"We have been so close, but so far for past 70 years," she said. "Scores of Sikhs are on this journey for the first time today."
"I have no friends, no relatives here [in Pakistan]. I never thought I would be here," she said.
"When we laid the foundation stone [for the corridor] in Indian Punjab, I saw the corridor becoming a reality there and now I am seeing it here."
Badal said the wall of hatred between Pakistan and India can also fall as the Berlin Wall fell. She said the groundbreaking will prove to be a blessing for everyone.
"Today this corridor will bring everyone together ... It will bring joy and peace to both countries. I beseech you ... to issue postage stamps or coins to commemorate Guru Nanak," she said.
'Need more steps for regional peace'
Foreign Minister Shah Mahmood Qureshi welcomed Sikh brothers and sisters attending the ceremony.
"The light that Guru Nanak brought with him will remain forever ... We are here at this historic area where Baba Guru Nanak spent his last 18 years in worship."
"Today we are laying a foundation stone for the Kartarpur corridor and fulfilling the wishes of our Sikh community," he said.
The foreign minister recalled Quaid-i-Azam Muhammad Ali Jinnah's August 11, 1947 speech, quoting him as saying: "You are free; you are free to go to your temples, you are free to go to your mosques or to any other place or worship in this State of Pakistan. You may belong to any religion or caste or creed that has nothing to do with the business of the State."
"The whole world has welcomed the decision to open the Kartarpur corridor on the 550th birth anniversary of Guru Nanak," he said, adding that although deliberations on the matter were ongoing for a while, it was delayed due to ups and downs in Pak-India ties.
"We need more steps like this for peace in the South Asian region," he said.
'We want civilised ties with India'
Prime Minister Imran Khan appreciated the joy on the faces around him. "Today I want to welcome all our guests, our Sikh brothers and sisters who have come from all around the world."
"The happiness I see in you today, if I were to explain to my Muslim brother and sisters, is that imagine that you are standing 4km outside Madina and cannot go in, and you are then given the chance to go. That is the happiness I see here."
"We will keep improving the Kartarpur darbar for you," he told Sikh pilgrims. "We will keep giving you facilities ... When you come next year, we will provide you with every sort of facility," he said.
"Where Pakistan and India stand today, we have seen such a situation for 70 years now," PM Khan said. "We will stay stuck this way unless we break the shackles of the past and stop blaming each other. There have been mistakes on both sides."
"We should not live in the past. It should be used to learn lessons," he asserted.
"We still do not have the resolve to decide that, no matter what, we must improve our ties," the premier said. "France and Germany, who have fought so many wars, are now peacefully living as neighbours. They have trade ties despite killing thousands of each other's people. But one day their leaders decided that we will break their shackles and they did."
"Pakistan and India have not been able to benefit from the opportunities Allah has given us. Whenever I visited India for conferences, I was told that Pakistani politicians are united, but the army won't allow friendship," he claimed.
"I am saying today, that our political leaders, our army, and all other institutions are all on one page. We wish to move forward, we want a civilised relationship. We have just one problem, Kashmir. If a man can walk on the moon, what problems are there that we cannot resolve?" he asked.
"I assure you that we can solve this problem. But determination and big dreams are both necessary. Imagine, once trade begins, once our relationship is improved, how much both nations could benefit," he said. "Both countries can get ahead."
"War cannot take place between us. Both countries have nuclear arms, it would be madness," he said.
"The citizens of both countries want peace. It is just the leadership which needs to be on one page."
"If India takes one step forward, we will take two steps forward in friendship," he reiterated.
"I don't understand why Navjot Singh Sidhu was criticised so harshly when he visited last," the prime minister said."
The premier joked that Sidhu had accumulated such a large fan following in Punjab that if he ran in elections in Pakistan, he would win.
"I am hoping that we don't have to wait until Sidhu becomes prime minister for there to be peace between India and Pakistan," he added.
Indian ministers arrive for ceremony
Earlier in the day, an Indian delegation — comprising Minister for Food Harsimrat Kaur Badal and Minister for Housing Hardeep S. Puri — was received by officials of the Pakistan Rangers (Punjab) at the Wagah border earlier on Wednesday.
Badal said that participating in the ceremony was an "emotional moment" for her, while Puri described the visit as "the most momentous journey" in his life.
Former Indian cricketer Navjot Singh Sidhu, who had arrived on Tuesday said, "Today marks a pilgrimage away from the hate and greed of politics, and towards a relationship built upon the dreams, aspirations and spiritual quest of the common people."
While addressing a press conference at the Lahore Press Club yesterday, Sidhu had expressed hope that the corridor would bring peace and prosperity for citizens of both countries and prove to be "a foundation stone for brotherhood".
'Event to open opportunities for Pakistan, India'
Foreign Office Spokesperson Dr Mohammad Faisal hailed the groundbreaking as a monumental event "which will open many opportunities for both Pakistan and India", Radio Pakistan reported.
Speaking to journalists, Dr Faisal described the initiative taken by Prime Minister Khan as a step towards the inclusion of minorities, and expressed hope that the corridor would prove to be helpful in facilitating Sikh pilgrims to visit their holy sites in Pakistan.
Responding to a question, the FO spokesperson said that the construction of the corridor would be completed before the next birth anniversary of Baba Guru Nanak in November 2019.
"Pakistan is committed to taking every step to bridge the gaps between Islamabad and New Dehli," he asserted.
"The Sikh community will be greeted here amid sentiments of love and will return with a positive image of Pakistan and its people," he said.
Pakistan invites Indian officials for event
The Pakistan government had invited three Indian politicians ─ Minister for External Affairs Sushma Swaraj, Punjab Chief Minister Amarinder Singh and Sidhu ─ to the event, along with 17 journalists and editors from across the border.
Read: India agrees to opening of Kartarpur border
Swaraj and Singh both declined to attend the event. *Indian ministers Badal and Puri are attending in place of the Indian foreign minister.
Long-awaited corridor opening
Thousands of Sikh devotees from India visit Pakistan every year to celebrate the birth anniversary of Baba Guru Nanak.
Kartarpur is located in Shakargarh in Narowal district of Pakistan's Punjab province. Guru Nanak Dev, the founder of Sikhism, had spent more than 18 years of his life there. The Kartarpur Sahib Gurdwara is located on the banks of the Ravi River, about three-four kilometres from the border in Pakistan.
The proposal for the corridor has been on the table since 1988 — when Pakistan and India agreed in principle to construct a corridor from Dera Baba Nanak in India to Kartarpur Sahib in Pakistan — but tense relations between the two countries prevented progress on the plan.
In the absence of the corridor, Sikh devotees would gather near the border fence and offer prayers with Gurdwara Kartarpur Sahib in sight, with some of them even using binoculars to better view the temple.
The Pakistan government had in early September proposed to open the Kartarpur border crossing with India for Sikh pilgrims to visit Gurdwara Darbar Sahib without a visa.
This year — for the 549th birth anniversary of Baba Guru Nanak — the Pakistan embassy in New Delhi issued over 3,500 visas to Sikh pilgrims who wished to attend the celebrations. Instead of visas, the pilgrims will be given special permits to access their shrines.
The Pakistan government will open the four-kilometre-long corridor on the Guru Nanak's 550th birth anniversary next year.
Gen Qamar Javed Bajwa had hinted at opening the Kartarpur border on the occasion of Baba Guru Nanak's birth anniversary next year for Sikh pilgrims when he met cricketer-turned-politician Navjot Singh Sidhu during the swearing-in ceremony of Prime Minister Khan in August.
Islamabad announced the date for the groundbreaking ceremony of the corridor only after the Indian Union cabinet recently agreed to avail the offer of the passageway in view of the 550th birth anniversary of the founder of the Sikh faith, Shri Guru Nanak Dev Ji, next year.
According to the proposal, the Indian government will construct and develop the Kartarpur corridor from Dera Baba Nanak in Indian Punjab's Gurdaspur district to the border, while Pakistan will build the other part of the corridor connecting the border to the Gurdwara in the Kartarpur Sahib area of Narowal.
Indian Vice President M. Venkaiah Naidu and Punjab Chief Minister Amarinder Singh laid the foundation stone of the Kartarpur corridor in Gurdaspur district earlier this week.