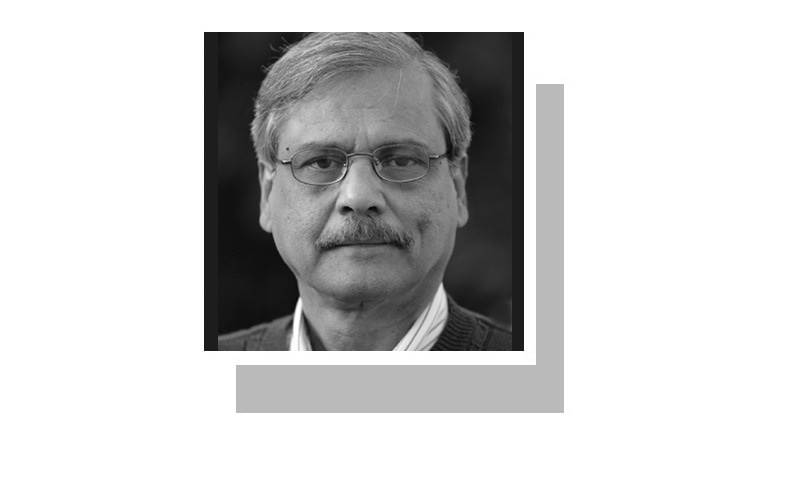 US PRESIDENT Donald Trump's latest salvo against Pakistan is yet another reminder that the two countries' already uneasy relationship is getting nastier. It was not the first time that the president launched an outrageous broadside but the response from a Pakistani leader has never been so candid. The war of tweets threatens to completely derail a faltering association.
Intriguingly, the Trumpian invective came at a time when it seemed that the two estranged allies could still work together for a negotiated political solution to the Afghan crisis. A series of recent senior-level interactions had raised hopes that the rocky relationship could be stabilised. The latest spat has made it more difficult to maintain even the illusion of meaningful alignment.
It was certainly not a spontaneous bout of rage that drove an impulsive US president to make such humiliating remarks; it was a well-thought-out move to increase the pressure on Islamabad. The first volley of words came during an interview with Fox News, when out of nowhere Trump blasted Pakistan for not doing a "damn thing" for the United States, despite receiving billions of dollars in aid.
The latest Pakistan-US spat has made it difficult to maintain even the illusion of meaningful alignment.
He taunted Pakistan for sheltering Osama bin Laden and insinuated that the latter's presence in a high-security zone was known to Pakistani officials. One wonders why this issue has been raised now, while forgetting that it was as much a failure of US intelligence that the most-wanted terrorist leader managed to escape from Afghanistan despite the presence of American forces there.
Moreover, there is no acknowledgement by the American president of Pakistan's role in destroying the Al Qaeda infrastructure in the region. Pakistan may be blamed for not taking action against some militants operating from its soil, but holding it responsible for the US military debacle in Afghanistan is extremely unfair.
Surely, it was not the first time that a US official alleged that Pakistan was playing a double game; however, Trump's tenor is becoming increasingly strident. He was equally harsh in his New Year tweet in which he accused Pakistan of lying and being deceitful. The hostility had seemed to lessen a bit in the past months. That, perhaps, prompted our foreign minister to claim that the US was willing to reset ties with Pakistan. One wonders what caused Shah Mehmood Qureshi to believe that the Trump administration could change tack. The latest episode has shattered the myth that relations were getting back on track.
The tough response from the Pakistani prime minister did not come as a surprise. Imran Khan has been known for his strong views on Pakistan's post-9/11 alliance with the US and his fiery anti-American rhetoric. Yet one cannot agree more with the prime minister that the US needed to examine the reasons for its failure in Afghanistan. "Instead of making Pakistan a scapegoat for their failures, the US should do a serious assessment of why, despite 140,000 Nato troops plus 250,000 Afghan troops and reportedly $1 trillion spent on war in Afghanistan, the Taliban today are stronger than before," Imran Khan said in a tweet. He further noted that Pakistan had borne the brunt of the American-led war on terror.
Trump, perhaps, did not expect such a lashing from Pakistan's prime minister and his tenor got harsher in a spate of Twitter replies. The message was clear: the US would further toughen its stance towards Pakistan. Almost all US military aid has been stopped and only a trickle of civilian aid is now coming to Pakistan.
Trump's South Asia policy has brought Pakistan-US ties to a new low. It is even worse than what it was in the 1990s when Pakistan was under all kinds of US sanctions. The interaction between the two countries has been reduced to a low official level though military-to-military contacts may still have survived.
While the illusion of any strategic convergence has been absent for long, even a transactional relationship is now hard to maintain. It is apparent that Islamabad is no more dependent on US aid, and the latest American measures are not likely to force it to comply with the US demand, though Islamabad would need to take some action in its own interest against the militant groups allegedly operating from its soil.
The recent hostility is unprecedented. Trump's demand for unquestionable compliance is unacceptable to Pakistan. The US policy of using pressure tactics to bring Pakistan to its knees has not worked, and the latest Twitter war between the two leaders would have further widened the trust deficit. However, there is still some convergence of interest between the two countries with regard to Afghanistan. That minimises the option of a complete rupture in ties.
Intriguingly, Trump chose to up the ante at a time when his administration is engaged in direct talks with the Afghan Taliban. The US authorities acknowledge that the role of Pakistan would be extremely critical in any Afghan peace process. Pakistan has long advocated a negotiated settlement for Afghanistan and has shown willingness to cooperate in the effort. Last month, Islamabad released a number of high-level Taliban prisoners, including the movement's co-founder, Mullah Abdul Ghani Baradar. These prisoner releases are widely seen as a US-directed move aimed at encouraging the Taliban to participate in the talks.
The US special envoy Zalmay Khalilzad has already held two rounds of talks with the Afghan Taliban representatives in Doha. After three-day-long parleys at the Taliban political office last week, Khalilzad appeared cautiously optimistic about reaching a peace agreement with the Afghan insurgents by April next year. "I am talking to all interested parties, all Afghan groups ... and I think there is an opportunity for reconciliation and peace," he told a news conference in Kabul. Such optimism may be premature, but any breakthrough in the talks should be welcomed by Pakistan.
Notwithstanding these tensions, there is still some convergence of interest between the two estranged allies when it comes to ending the war in Afghanistan. But Trump's war of words will not help the two sides work together.
The writer is an author and journalist.
zhussain100@yahoo.com
Twitter: @hidhussain
Published in Dawn, November 21st, 2018