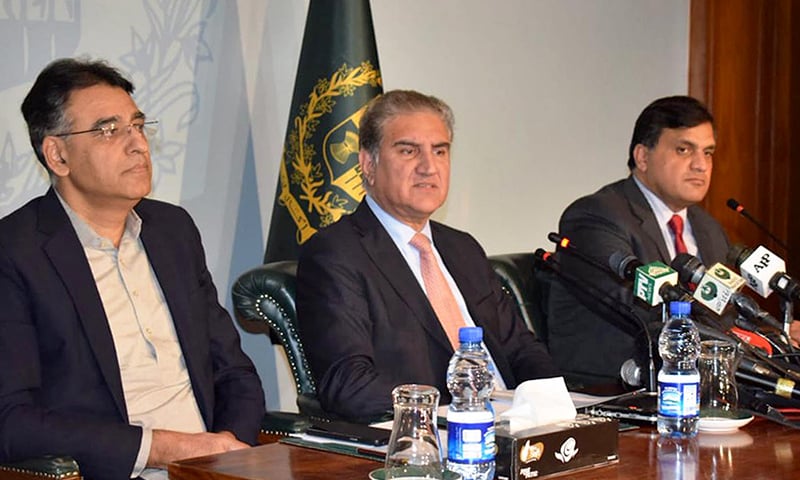 Finance Minister Asad Umar on Tuesday claimed that Pakistan's "balance of payments crisis is over" and assured that China is committed to providing short-term relief to Pakistan as well — the modalities of which, he said, will be discussed in a new round of discussions in Beijing on Friday.
"The long-term solution to the balance of payments crisis is to increase our exports, and to do that we should have enough income so that we do not need to borrow," Umar, who was a part of the Prime Minister Imran Khan-led delegation that visited China recently, explained during a press conference today. "In this regard, we have received a commitment from the highest level.
"Regarding the doubling of our exports, we are not talking long-term. We have [this target] for the ongoing year. We have also discussed short-term reliefs. A decision in principle has been taken, but to discuss its modalities our contingent is going to Beijing on November 9.
"So this curiosity that the people have will also be resolved soon. We had told you about the $12bn financing gap, of which $6bn have come from Saudi Arabia, and the rest has come from China so the immediate balance of payment crisis of Pakistan has ended. I want to make that clear in unequivocal terms. We do not have any balance of payments crisis now. "
A statement released by the finance ministry echoed Umar's remarks, adding that "a senior level delegation comprising of federal secretaries of finance, foreign affairs, planning & development and commerce along with the State Bank of Pakistan's governor will undertake a visit to China during the current week to work out the modalities".
Foreign minister says Pakistan 'out of the woods' after China trip
Foreign Minister Shah Mehmood Qureshi, meanwhile, claimed that the trip to China was "productive to the extent that we are out of the woods".
The foreign minister said that the purpose of the visit to China was to "send a message to the international community" and also "move the two countries' strategic relationship towards an economic partnership".
He said that a total of 15 memorandum of understanding (MoUs) were signed in China, of which he highlighted a quartet.
"We decided that our strategic dialogue must be upgraded and its level be raised to the FM level," he said. "It was also decided to transfer our citizens sentenced there and theirs sentenced here so that they can serve their sentences in their own countries.
"Thirdly, the MoU which is important to me is poverty alleviation. China is a country that has taken 700 million people out poverty in the last 30 years. One-third of our population also lives below the poverty line — so the purpose of this MoU was to learn from the Chinese experience."
"The fourth MoU was regarding agricultural cooperation," he said. "We think that through transfer of technology, we can get a lot from China. We can learn how to increase our productivity and our per-acre produce."
Qureshi claimed that the trip also served to rubbish the notion that the Pak-China relationship would suffer under the PTI government.
"The perception that some people here tried to give that the government was not paying attention to our relationship with China," he said. "There is nothing to it. I can say that our relations with China are not just great but could get even better than before.
"This visit helped us in moving our relationship towards an economic partnership. We have always had good strategic relations so our aim [this time] was to figure how to advance the economic footprint."
The foreign minister said he is confident that the discussion with the Chinese counterparts would help Pakistan "double its exports".
He further said that the two sides would try and wrap up the second phase of the Pakistan-China Free Trade Agreement (FTA) by April 2019.