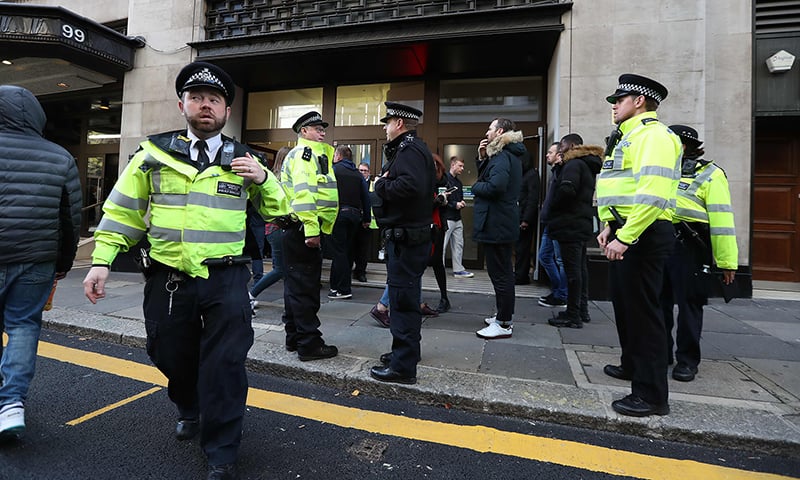 Armed police stormed into Sony Music's offices in London on Friday after two people were stabbed in what the company said was a violent argument between two kitchen staff.
Panicked employees were evacuated from the large office building, which also houses Warner Music Group, and police said one person had been arrested.
"Two members of the catering team were involved in a violent altercation," Sony Music said in a statement.
Police said they were called at around 11:00am (1100 GMT) and dispatched firearms officers and emergency medical workers.
Maria Afolabi, 25, a finance analyst with Warner, said the first she knew of an issue was when the fire alarm sounded.
As she made her way out of the building, she said she saw a Sony staff member in tears and armed police storming up the stairs.
"We didn't know what it was. They had massive guns and were running up," she told AFP.
An unnamed Sony employee was quoted by the Press Association news agency as saying that the kitchen staff, employed by a catering company, were "running round chasing each other" and "slashing each other up".
The street was briefly cordoned off during the incident.
London's Metropolitan Police said in a statement that evacuations took place "as a precaution".
"Two people have suffered stab injuries — we await an update on their condition," police said, adding that there was "no evidence of any firearms" used in the incident.
The area is in the High Street Kensington shopping district and Sony Music is opposite the offices of the Daily Mail newspaper.
Trish Ellis, a personal assistant at The Mail on Sunday newspaper who witnessed the incident, told PA: "Armed police were going in six-plus at a time, and more and more of them but they seemed to be keeping people in the building.
"Gradually they started to release people in tens, twenties."