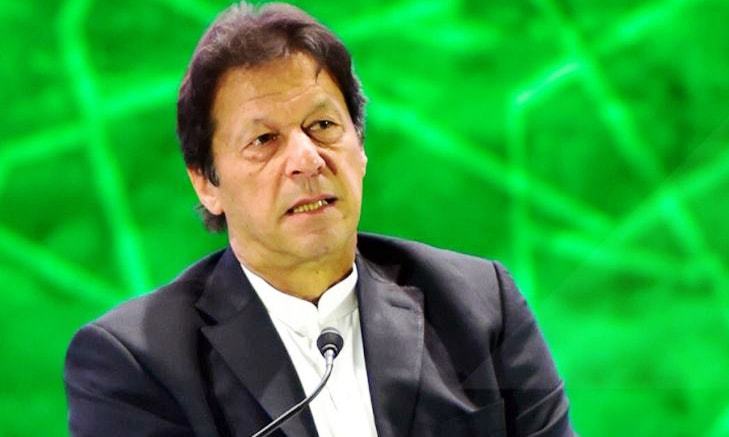 Prime Minister Imran Khan on Tuesday spoke at the Future Investment Initiative Conference (FIIC) in Riyadh, where he discussed Pakistan's economic challenges and invited foreign investors to invest in the country.
"Pakistan has 100 million people below the age of 35," he told his audience. "There is a big pressure on the government to find employment for this population.
"We are trying to create an enabling environment for investment. The plan is not just to attract foreign and overseas investors, but our own investors as well. We are restructuring our duty sectors [in this regard]," he said.
The prime minister said that Pakistan's largely untapped mineral reserves could not be extracted in the past due to terrorism and corruption issues, but claimed that that is changing now.
"There are vast reserves of mineral wealth in Pakistan," he said. "We have hardly had any investment in our mineral resources and one of the reasons in the last 15 years, as I said, was the 'War on Terror'. Investors would not come back to Pakistan. We have also had very poor governance and [widespread] corruption.
"Now, thanks to our security forces and intelligence agencies, Pakistan has brought terrorism under control. In December, Exxon is coming back to Pakistan."
The premier vowed to facilitate foreign investors, and added that Saudi Crown Prince Mohammad bin Salman is already helping the country attract foreign investment.
PM Khan said that the war against terrorism has taken its toll on Pakistan, stressing that the country now needs stability and peace to recover.
"One thing Pakistan needs more than any other country right now is peace and stability," he said. "The decade after 9/11 has been of great turmoil for us. Our tribal areas were devastated by the war. In fact, one of the reasons we are at this stage is due to instability and war."
The prime minister said that Pakistan's relations with its neighbours, especially Afghanistan and India, are crucial, and expressed disappointment that the latter did not reciprocate his attempts for reconciliation.
"What we need is stability, and stability means peace with all neighbours," he said. "Our problems right now are with Afghanistan and India. When I won the elections and came to power the first thing I tried to do was extend a hand of peace to India, but I am afraid we got no response from India. In fact, we got rebuffed."
"Now what we are hoping is that we wait until the elections then again we will resume our peace talks with India," he added, referring to upcoming nationwide polls in India scheduled to take place by mid-May.
PM Khan said he has asked the Chinese government to help Pakistan in two areas: eliminating corruption and ending poverty.
"China in the past five years has really clamped down on corruption," he said. "We have corruption so we are going to look for ways, because white-collar crime is very hard to prosecute.
"Secondly, the way in which they have brought this huge number of people out of poverty ...we have already asked the Chinese government to help us in these two areas."
PM Khan also apprised his audience of the measures his government is taking to empower women.
"You can only empower women if you educate them," he said. "The five years we were in power in KP we decided that for every 100 colleges built, 70 would be for women.
"Secondly, we have started a housing project ... there too we are involving women, as we have found that women pay back loans more efficiently than men.
"Women also do not get their inheritance rights, which is mentioned in the Shariah, so we are also financially empowering them so that they get their rights."
PM, delegation meet Saudi king
Later in the day, PM Khan and his delegation met Saudi King Salman bin Abdulaziz, according to Pakistan Tehreek-i-Insaf's official Twitter account.
Foreign Minister Shah Mehmood Qureshi, Finance Minister Asad Umar, Information Minister Fawad Chaudhry and PM's commerce adviser Abdul Razak Dawood also attended the meeting.
PM Khan also met Saudi Crown Prince Mohammad Bin Salman on the sidelines of the investment summit.
Furthermore, PM Khan held a telephonic conversation with Crown Prince of Abu Dhabi Sheikh Mohammad bin Zayed bin Sultan Al-Nahyan, and invited the Emirati royalty to visit Pakistan.
After the prime minister shared his government's plans and reforms agenda, Nahyan assured PM Khan his country's support, and also accepted his invitation.
The prime minister had travelled to Saudi Arabia on Monday to attend the conference on the special invitation of King Salman Bin Abdulaziz.
The conference, which hosts businessmen and "representatives of hi-tech industry" from around the world, is an "opportunity to interact with important business leaders who are interested in investing in Pakistan", according to state broadcaster Radio Pakistan.
Now you can follow Dawn Business on Twitter, LinkedIn, Instagram and Facebook for insights on business, finance and tech from Pakistan and across the world.