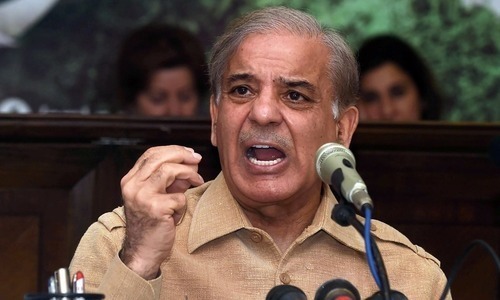 LAHORE: A senior lawyer has approached the Lahore High Court challenging the arrest of opposition leader in National Assembly Shahbaz Sharif by the National Accountability Bureau (NAB) in Ashiana-i-Iqbal Housing Scheme case.
Advocate A.K Dogar argues in his petition that arrest of a person during investigation and trial is inconsistent with article 10(1) of the Constitution. He states that no person can remain in custody unless he is informed about the ground of his arrest and such ground can only be established after investigation is completed. Furthermore, he pleads no investigation is constitutionally valid unless the accused has been granted the fundamental right.
The lawyer argues that the article 10 of the Constitution gives the right to be defended by a counsel at the time of investigation, which Mr Sharif was not granted by the NAB.
He asks the court to declare that section 24 of the NAB ordinance that allows chairman of the bureau to arrest an accused during investigation/inquiry is inconsistent with fundamental rights enshrined in article 10 of the Constitution. He further asks the court to set aside the order for the arrest of the opposition leader issued by the NAB chairman and release him on bail.
Published in Dawn, October 23rd, 2018
Download the new Dawn mobile app here: