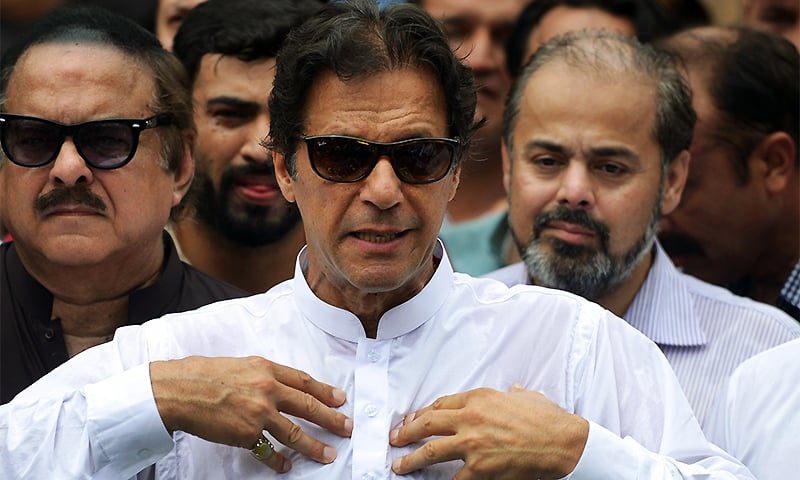 ISLAMABAD: Pakistan Tehreek-i-Insaf (PTI) chairman Imran Khan at a meeting on Monday reviewed the party's performance in by-polls across the country and expressed dissatisfaction over the results.
The ruling PTI lost two NA seats won in the July 25 general election by Imran Khan (NA-131 Lahore, NA-35 Bannu), one NA seat won by Tahir Sadiq (NA-56 Attock), and Punjab Assembly seats won by Fawad Chaudhry (PP-12 Jhelum) and Mohammad Khan (PP-92 D.G. Khan) and two KP assembly seats in Swat.
Information Minister Fawad Chaudhry said although PTI had lost some of its seats it had bagged the highest number of over 1.1 million votes, followed by 0.8m secured by the Pakistan Muslim League-Nawaz (PML-N).
"PTI and its ally PML-Q clinched 17 seats of the National and provincial assemblies, while PML-N won 11 seats," he added.
Pakistan Tehreek-i-Insaf lost seven seats, but party says it polled highest number of votes
In reply to a question, he said Imran Khan was unhappy over the loss of seven party seats.
Imran Khan had won all the five NA seats he had contested from Islamabad, Bannu, Mianwali, Lahore and Karachi in the July elections. He later retained the Mianwali seat.
In the by-elections, Muttahida Majlis-i-Amal's Zahid Akram Durrani, son of Akram Durrani, won the Bannu seat, whereas PML-N leader Khawaja Saad Rafique clinched the NA-131 Lahore seat.
The PML-N upset the PTI by clinching the NA-56 (Attock) seat with a clear margin. The seat had been vacated by PTI's Tahir Sadiq who had also won the other NA seat from the district in the general elections.
In D.G. Khan, PML-N leader Awais Khan Leghari won the Punjab Assembly (PP-3) seat by defeating PTI's Maqsood Leghari.
The KP Assembly (PK-78) seat, where elections could not take place on July 25 due to assassination of Awami National Party leader Haroon Bilour, has been won by his widow despite the fact that the National Assembly seat in the same constituency had been won by the PTI.
Meanwhile, Prime Minister Imran Khan met Balochistan Chief Minister Jam Kamal and discussed overall situation in the country.
They also discussed the by-election results.
Published in Dawn, October 16th, 2018