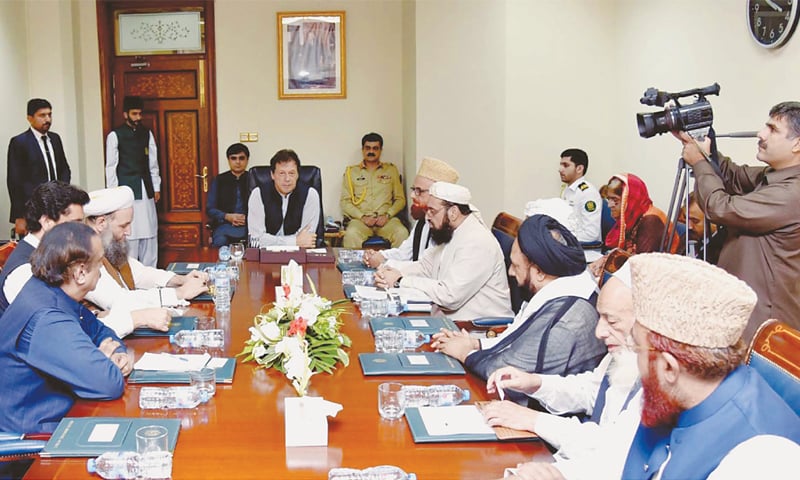 ISLAMABAD: A delegation comprising five heads of major madressah boards on Wednesday held a meeting with Prime Minister Imran Khan and discussed the government's agenda on madressah reforms.
The delegation — headed by Mufti Muneebur Rehman — included heads of madressah boards of four mainstream schools of thoughts in the country and one belonging to Jamaat-i-Islami.
Accompanied with education minister Shafqat Mehmood, the premier informed the delegation that mainstreaming education standards of religious seminaries was among the top priorities of the government.
He said that the government wanted to eradicate class-based education system and introduce uniform syllabi and curriculum in the education sector, which included the seminaries.
The prime minister said that the multiple education systems were a dividing line for the nation and this had to be eradicated. He said that the seminary students had the right to participate in all sectors of life and mainstreaming madressahs was essential in this regard. Mr Khan added that the services rendered by the seminaries could not be ignored and it was unfair to link all religious institutions with terrorism.
He assured the delegation that issues faced by the seminaries related to education would be resolved amicably.
Mufti Muneebur Rehman heads the Tanzeemul Madaris Ahle Sunnat Pakistan, which is the board of seminaries belonging to the Barelvi school of thought.
The other members were Maulana Hanif Jalandhari of Waqaful Madaris al Arabia (Deobandi), Maulana Qazi Niaz Hussain of Wafaqul Madaris al Shia, Maulana Yaseen Zafar of Wafaqul Madaris al Salfia (Ahle Hadith) and Maulana Abdul Maalik Rabtatul Madaris ul Islamia for seminaries affiliated with Jamaat-i-Islami.
Earlier, Prime Minister Imran Khan chaired a briefing on Ministry of Law and Justice at Prime Minister's Chamber.
He said that reforming the criminal justice system and ensuring access of citizens to "easy and speedy" justice was the central plank of PTI's government and it was committed to putting in place a mechanism that facilitated the citizens as well as the judiciary in speedy dispensation of justice.
Law Minister Dr Muhammad Farogh Naseem assured the prime minister that a comprehensive reform package carrying the future plan of action with delineated timelines would be finalised within the first 100 days of the present government as per the promise made by the Prime Minister to the nation.
He made a detailed presentation on civil litigation reforms identifying various procedural and legal lacunas in the existing justice system which caused inordinate delay in provision of justice to the people.
The law minister also briefed the premier about criminal laws and highlighted the need for employment of technological solution for better investigation and prosecution in criminal cases.
Published in Dawn, October 4th, 2018