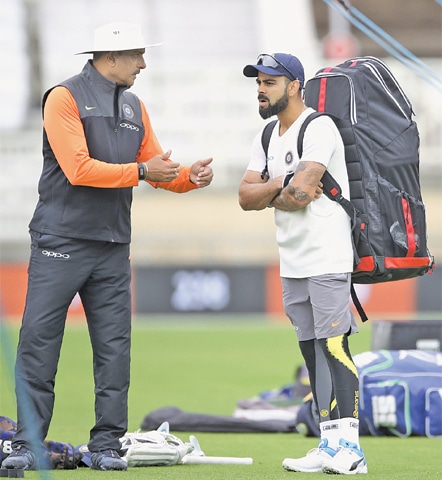 NOTTINGHAM: India captain Virat Kohli said "the only option is to win this game" as he urged his side to make a virtue of their dire position heading into the third Test against England.
The tourists start Saturday's fixture here at Trent Bridge 2-0 down in a five-match series after a narrow loss at Edgbaston was followed by a thumping innings and 159-run defeat at Lord's last week.
Only once in Test history have a side come from 2-0 down to win a five-match series and that was when a Don Bradman-inspired Australia beat England in 1936-37.
But Kohli, speaking to reporters at Trent Bridge on Friday, was in defiant mood.
"The only thing that is spoken about it to focus on what the team requires at all times, in this Test match," he said. "You know when your back is against the wall, that is the time for you not to think about anything else.
"If you look at it from another point of view, it's actually a good situation to be in because you literally have no room for thinking about anything else apart from what the team requires at that particular moment from you throughout the course of the Test match," the star batsman added.
"The only conversation we've had is that the only option is to win this game and nothing else.
"As I have mentioned in the past, [it's] up to the individuals to stand up and say 'I'm going to go out there and make a difference'."
Kohli's own back was a concern for India after he was clearly in pain at Lord's, where he managed scores of just 23 and 17 after his impressive tally of 200 runs at Edgbaston, which included an innings of 149 — the 29-year-old's maiden Test century in England.
But Kohli insisted he was fit to play at Trent Bridge.
"I'm feeling absolutely fine. It's been an issue that's coming on and off again. I've had it [back trouble] a couple of times before, so it's not a new development. I know how to handle it."
Meanwhile, Kohli said a recall for Jasprit Bumrah was possible, with the paceman having been sidelined since breaking his thumb during a T20 International against Ireland in Dublin on June 27.
Bumrah has taken 14 wickets in three Tests at an average of 25.21 since making his debut in South Africa in January and he could now replace left-arm wrist-spinner Kuldeep Yadav.
"I'm very excited that Jasprit's getting fit again," said Kohli. "He's an attacking bowler who bowls good lines and lengths. He's very consistent in hitting the areas that are required at Test level."
Also on Friday, captain Joe Root confirmed that all-rounder Ben Stokes returns to England XI on Saturday, just four days after being cleared of affray.
The all-rounder would be back in the starting eleven at the expense of the unfortunate Sam Curran, who was man-of-the-match in the opening Test at Edgbaston.
"It was one of the most difficult decisions I've had to make as captain. It's about us as a squad delivering over five games and on this occasion Sam is unfortunate to miss out," said Root.
"Ben is desperate to get back playing cricket. He's desperate to get out there, put in performances and concentrate on his cricket now. He feels ready to play.
"I have known Ben from being really quite young and I feel very confident he will be able to go out and put in a performance."
Woakes is retained after his magnificent effort as is batsman Ollie Pope who made a decent debut with his 28 at Lord's.
Teams:
ENGLAND: Alastair Cook, Keaton Jennings, Joe Root (captain), Ollie Pope, Jonny Bairstow (wicket-keeper), Ben Stokes, Jos Buttler, Chris Woakes, Adil Rashid, Stuart Broad, James Anderson
INDIA (likely): K.L. Rahul, Murali Vijay, Cheteshwar Pujara, Virat Kohli (captain), Ajinkya Rahane, Rishabh Pant (wicket-keeper), Hardik Pandya, Ravichandran Ashwin, Umesh Yadav, Mohammed Shami, Ishant Sharma
Umpires: Chris Gaffaney (New Zealand), Marais Erasmus (South Africa)
TV umpire: Aleem Dar (Pakistan)
Match referee: Jeff Crowe (New Zealand).
Published in Dawn, August 18th, 2018