MIRPURKHAS has been a fort of the Pakistan Peoples Party since the country's first general election in 1970. The party has won on all the seats in this district save one provincial assembly seat, PS-64 (now PS-47), which the MQM has won three times running since 2002.
Mirpurkhas has two National Assembly seats — NA-218 and NA-219 — and four provincial assembly seats — PS-47 to PS-50.
The PPP seems to have lost some ground in NA-218 with the desertion of Syed Ali Nawaz Shah, who has decided to contest as an independent candidate. Shah is up against PPP's Pir Hassan Ali Shah, son of Pir Aftab Hussain Shah Jillani and nephew of Pir Shafqat Hussain Shah Jillani, former MNAs from the same constituency.
Take a look: The new old order: Elections 2018 in Sindh
The PPP faces an uphill battle because Nawaz Shah enjoys the support of the Grand Democratic Alliance (GDA) and the MQM-P.
Shah is not an unknown figure here as he has served as an MPA, MNA, Senator and a federal minister. Observers suggest he is no longer in the good books of Asif Ali Zardari and Faryal Talpur, citing his failure to clinch a PPP ticket. His fall from grace becomes all the more surprising when one recalls that he headed PPP's Mirpurkhas division chapter until recently.
"Shah embarrassed Faryal Talpur by questioning her presence at a meeting of the party's central executive committee as she was not a member," a government official told Dawn.
"That put him on the wrong side of the PPP's top leadership. It was decided then and there that he wouldn't be given a ticket," he recalled. "But Ali Nawaz Shah has support among the poor because he did a lot for them whenever he was in the assembly or served as a minister," the government official added. "It doesn't matter if the PPP did not favour him with a ticket."
Ali Nawaz Shah is also contesting against his nephew, Zulfikar Ali Shah of PPP in PS-48. The constituency comprises Sindhri taluka, where the PML-Functional, too, has a significant vote bank.
So Ali Nawaz Shah is in a position to give a tough time to the PPP in NA-218 and PS-48 because of adjustment with the GDA, which has fielded no candidates against Shah and his son Shuja Mohammad Shah, a candidate for PS-49.
The GDA has fielded Arbab Inayatullah, son of Arbab Ghulam Rahim, from PS-50 against PPP's Tariq Ali.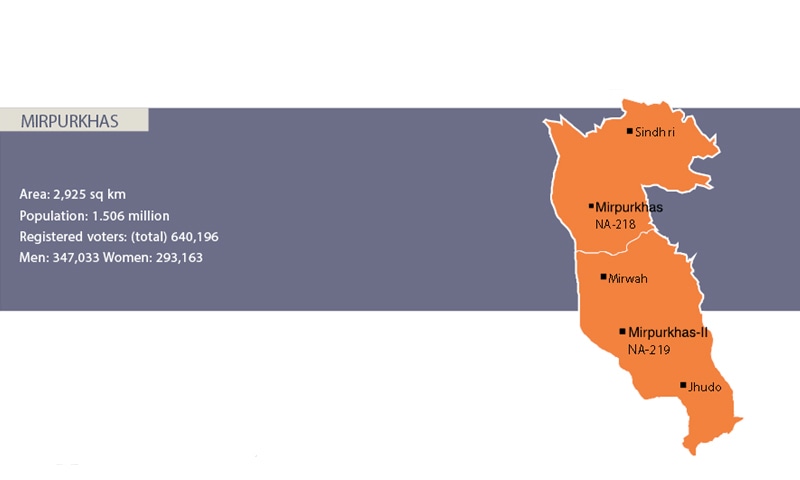 Seat adjustment
The MQM-P and the GDA have entered into a seat adjustment agreement under which MQM-P will support the latter's Dr Arbab Ghulam Rahim, a former chief minister of Sindh, on NA-219 and Arbab Inayatullah on PS-50. It will also support PPP leader Ali Nawaz Shah on NA-218 and PS-48.
Just a few days ago, leaders of MQM-P's Mirpurkhas chapter met Mr Rahim and later declared that their party would withdraw its candidates Sanjay Perwani (NA-218), Mir Shah Mohammad Talpur (PS-48) and Rana Tarique (PS-49) in favour of Ali Nawaz Shah and his son Syed Shuja Mohammad Shah on PS-49. They were supported by GDA as well.
In return, MQM-P sought the support of GDA and Shah's voters for PS-47, where it has fielded Mujibul Haq against a PPP stalwart, former senator Hari Ram Kishori Lal.
The PS-47 comprises urban areas of Mirpurkhas and a recently included area of Hussain Bux Mari Taluka. The seat, old PS-64 Mirpurkhas-I, was won by MQM in recent elections because urban Mirpurkhas has a significant Urdu-speaking presence. But the inclusion of Hussain Bux Mari in the new PS-47 may have tilted the balance in favour of Hari Ram because Hussain Bux Mari has a significant presence of the minority community.
That is where the MQM-P got much-needed support and the recent announcement of GDA and Shah's support to MQM-P candidate has put Hari Ram in an odd position. He was previously thought to be the strongest candidate in PS-47. Hari Ram is also said to be facing opposition from religious quarters as well.
Analysts believe that the triangular anti-PPP alliance has a tough fight on its hands in all National Assembly and provincial seats in the district. The most hotly contested seat has turned out to be NA-219, where Mir Munawar Ali Khan Talpur, husband of Faryal Talpur, is in a one-on-one race against GDA's Arbab Ghulam Rahim. But Talpur's task has been made easy with the separation of the constituency (old NA-227) from Umerkot. "Arbab Rahim would have had a better chance if he had the support of local communities from Umerkot," according to a local observer.
Published in Dawn, July 23rd, 2018