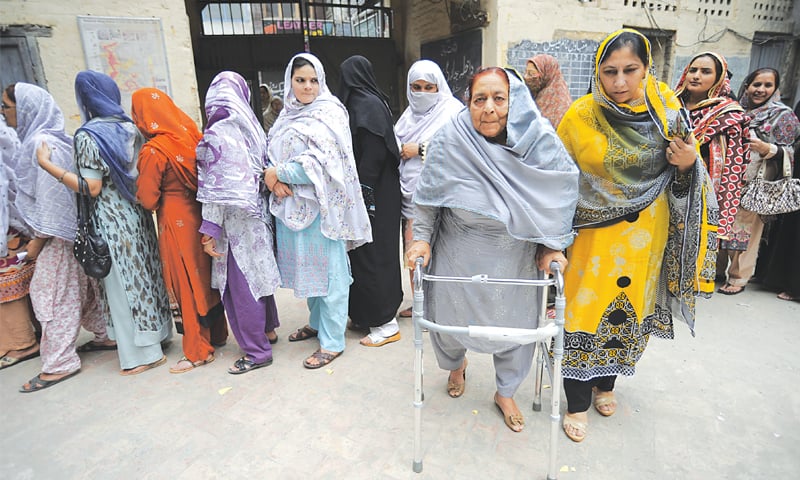 General elections are just round the corner and all parties cannot emphasise enough on the inclusion of all sections of society in the electoral process. That said, what should be a cause of concern are the conditions at the polling stations in terms of accessibility and basic facilities for the marginalised groups of society including persons with disabilities (PWDs) and the transgender community.
Due to inadequate basic facilities and inaccessibility to polling stations set up in public buildings, physically-challenged people, and members of transgender and intersex community are reluctant to exercise their right to vote in the July 25 elections.
According to an accessibility audit conducted by a non-governmental organisation (NGO), Pakistan Alliance for Inclusive Elections (PAIE), the situation is unnerving as 95 percent of the sampled polling stations in Islamabad Capital Territory (ICT) do not meet the mandatory accessibility criteria for PWDs.
Having the legal right to cast your ballot isn't much comfort when poor access or social taboo means you can't physically do it
Survey findings reveal that the approach pathways of 54 percent of the sample polling stations "are not firm and obstacle free", while at 69 percent polling stations the "pedestrian gates do not provide level access to the building." The study also shows that 65 percent of the sampled polling stations "do not meet the mandatory criterion of functional lighting at the gate."
In a previous study compiled by PAIE during by-polls in the most important constituency of Peshawar NA-29 — denoted as NA-4 until fresh delimitation of constituencies by the ECP — about 80 percent polling stations of the area did not meet accessibility criteria, whereas the inclusion of PWDs in the electoral process and accessibility of polling stations is vital among other procedural and administrative measures.
According to the latest data available at the Pakistan Bureau of Statistics, there are 3.3 million PWDs in Pakistan. One of the major challenges faced by PWDs in their mobility is accessibility to buildings.
"With the upcoming elections, it is high time that the stakeholders on both demand and supply side use their resources in making this election inclusive," the study suggests. "For this, accessibility of polling stations is one prerequisite."
"I am not able to cast my vote even in the posh area of Peshawar Saddar, because the polling stations are not accessible," says Mushtaq Hussain Mohmand, a 52-year-old disabled person.
Mohmand also runs an organisation, Friends of Paraplegics, for the rights of PWDs in KP. The organisation has more than 12,000 registered disabled persons including almost 4,000 women and girls.
He says that they have decided to boycott the upcoming general elections because of the accessibility issue at the polling stations in the entire province. According to him, although politicians want their support in the electoral process, they hardly bother to discuss the issues of PWDs in the assembly, once they come into power.
He says that they would start campaigns on social media and in the mainstream media about the problems confronting PWDs during and after the electoral process, adding that in the general elections people from his community should be able to cast their votes.
"The government should establish separate polling stations that have ramps, functional lightning and other basic facilities for disabled people," he says.
He mentions that the polling stations established in public places do not have washrooms for both PWDs and senior citizens, which is also a big obstacle for a physically-challenged person while exercising his/her right to vote.
Qamar Naseem, a Peshawar-based activist working for the rights of transgender people, highlights various issues that transgender people face in order to cast their votes. "Most of them are reluctant to visit polling stations due to security issues and societal taboos," he says. "According to Nadra, there are 1,948 registered voters from the transgender and intersex community but only one percent would be willing to exercise their right to vote. Although 13 transgender persons had submitted their nomination papers for national and provincial assemblies to contest the general elections, most of them withdrew their nominations later. Two transgenders will contest elections on National Assembly seats while five are aspirants of KP and Punjab provincial assemblies," he adds.
A study conducted by his organisation reveals that, in the last three years, about 54 transgender people were killed while 1,133 cases of sexual and physical abuse were recorded in KP. It is the hostile environment towards transgender and intersex community which forces them to remain in specific vicinities.
Naseem says that transgender persons were mostly living in major cities of the province, i.e. Peshawar and Mardan, instead of their native villages, pointing out that they had left their hometowns because of social norms and values.
"Transfer of vote facility is not provided by the ECP so transgender persons have to exercise the right to vote in their native areas," he says. "How can a transgender person take the risk of going to the areas which they have left, to cast their vote? Their families did not accept them and that is the reason they live in city areas to earn the livelihood."
He says that the issues faced by transgender persons in their daily life stopped them from participating in electoral process, adding that the government should transfer their vote to those areas where they were living. One separate polling station in each major city of the province would help them to cast their vote, he suggests.
On condition of anonymity, a public servant told Dawn that when she was taking a training course for the July 25 general elections, she did not hear even a single word about the facilities for transgender persons and PWDs in polling stations. She further said that the election manuals and guideline books provided to her also lacked materials on how physically-challenged and transgender persons could cast their votes on election day in crowded polling stations.
"The ECP has issued directives to the KP provincial government to provide basic facilities for PWDs in 2018 elections, including proper lighting, open doors and ramps in the polling stations at public buildings," says Sohail Ahmad, spokesperson of KP Election Commission.
He adds that about 14,655 polling stations have been established across the province in which 534 do not meet the accessibility criteria. He further says that the KP government is trying to make those accessible for special persons.
He says that for the forthcoming general elections, the ECP has mostly established polling stations on ground level where PWDs could cast their vote without any problem, adding that they could also exercise their right to vote via postal ballot.
Responding to a question, the spokesperson of the provincial election commission says that the transgender persons could cast their votes in both male and female polling stations, adding that a transgender could cast vote according to his/her gender mentioned during the voters' registration process.
The writer is a Peshawar-based freelance journalist
He tweets @TheAbdurRazzaq
Published in Dawn, EOS, July 22nd, 2018