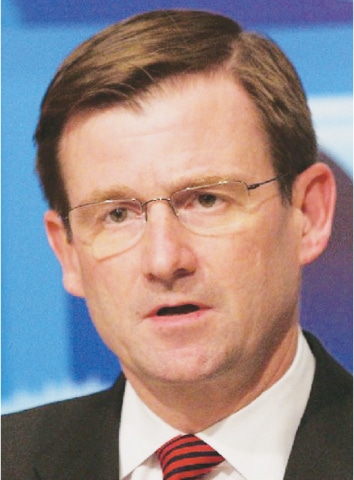 WASHINGTON: US President Donald Trump, who wants Pakistan to support his Afghan policy, is elevating his Islamabad envoy to a position that will give the diplomat a greater say in implementing his strategy for South Asia.
On Wednesday, Mr Trump nominated US Ambassador to Pakistan David Hale to be the Under Secretary of State for Political Affairs, the White House announced. It's the third ranking position in the Department of State after the Secretary of State and the Deputy Secretary. It is also the highest rank for a member of the foreign service.
Mr Hale, the US ambassador in Pakistan since 2015, is known in Washington's political circles as a diplomat who strongly supports normalisation of relations between India and Pakistan.
Improvement in India-Pakistan ties is also a key component of the Trump administration's South Asia strategy, which was annou­nced in August. The Trump administration wants both India and Pakistan to help create a situation in Afgha­nistan that would allow Washington to withdraw its troops without risking the collapse of the US-backed Afghan government.
Diplomat is known in Washington's political circles as one who supports normalisation of India-Pakistan ties
Earlier this week, US Secretary of State Michael Pompeo announced in Kabul that the US was "counting on all the actors in the region" to support its efforts to hold fair and free elections in Afghanistan later this year.
"The Pakist­anis, too, need to understand that we need to have a set of elections [in Afghanistan] that do not have violence," he said. "We're counting on all the actors in the region to support this process."
But policy makers in Washington believe that there could be no peace in Afghanistan unless both India and Pakistan support the effort and they cannot be on the same page until relations between South Asia's two nuclear neighbours improve.
Apparently, the Trump administration believes that Mr Hale, who has built a network of support in Islamabad, can be useful in achieving this target.
If confirmed by the United States Senate, Mr Hale would replace Thomas A. Shannon who retired on June 4. He has also served in Tunisia, Bahrain, Saudi Arabia and the United Nations.
In Washington, Mr Hale served as deputy assistant secretary of state for Israel, Egypt and the Levant; director for Israel-Palestinian Affairs and executive assistant to former Secretary of State Madeline Albright.
He speaks Arabic, is a graduate of Georgetown University's School of Foreign Service, and a native of New Jersey.
Published in Dawn, July 12th, 2018