The Election Commission of Pakistan (ECP) decided on Thursday that it would seek the army's help to provide security at polling booths.
This decision was taken at a meeting, led by the ECP, regarding security for the upcoming general elections.
Army personnel will be deployed at 'sensitive' and 'very sensitive' polling stations.
The commission also wants the army to oversee the printing process of ballot papers as well as their distribution.
The electoral watchdog has also decided to install closed-circuit television (CCTV) cameras at more than 20,000 polling stations throughout Pakistan.
Defaulters identified
The ECP has identified 383 election candidates as bank defaulters of hundreds of millions of rupees during the scrutiny of their nomination papers, DawnNewsTV reported on Thursday citing sources in the ECP.
Among the candidates who owe money to banks or have secured loan waivers is a certain Iftikhar Ahmed Khan, who owes a staggering Rs642 million.
Of the other poll hopefuls, Naveed Mukhtar owes Rs570m, of which over Rs13m was waived; Muhammad Yaqoob Sheikh owes Rs560m, of which over Rs14m has been waived; Rashid Yaqoob, who owes Rs528m, of which Rs13m has been waived; Muhammad Khan, a defaulter of Rs23m, and Malik Waheed Khan, a defaulter of Rs5m, with Rs38m waived.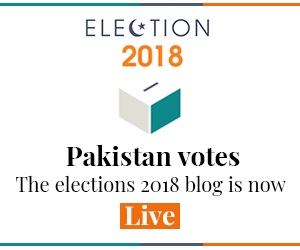 Earlier this week, the State Bank of Pakistan (SBP) had informed the ECP that more than 100 candidates were found to be bank defaulters in its scrutiny process. PPP's Hina Rabbani Khar and Mian Manzoor Ahmed Wattoo were among the prominent names that the central bank had red-flagged.
The scrutiny process was to be carried out by four federal bodies: the Federal Investigation Agency (FIA), the National Accountability Bureau, the State Bank of Pakistan and the Federal Board of Revenue.
The ECP says three of the four agencies have wrapped up their part of the process, with the FIA, which is responsible for checking the dual nationality status and Iqama papers of the candidates, yet to submit its report on the matter.
The ECP said that scrutiny of more than 20,000 applicants was conducted and the data of defaulters has been sent to the returning officer. The FIA has asked for 22 days to submit its report.
FIA sources told DawnNewsTV that most of the agency's record is on paper, which is why it will need more time.