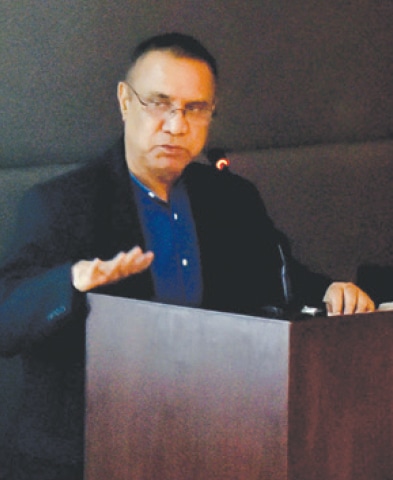 KARACHI: "Iqbal is an icon, a hero, but talking about Iqbal has become very sensitive," said scholar Dr Nomanul Haq, particularly referring to his article published on the 80th death anniversary of the poet which received a lot of backlash.
"My lecture is not about breaking the icon or insulting him. I am polishing the icon, and putting some historical flesh to what is considered an ideal."
He was speaking at the IBA to a gathering on the topic 'Iqbal as history, Iqbal as commodity', 80 years after the death of the great poet on Monday.
Using primary sources, including Iqbal's Urdu and Persian poetry, the lecture aimed to assess the literary, philosophical and political status of Dr Allama Iqbal.
"There was a time when everybody used to talk about Iqbal — journalists, scholars, writers, people who were secular or people who were religious. Iqbal was ubiquitous. Now Iqbal is still ubiquitous; he is all over the place however, he is nowhere," he said.
Who is Iqbal, asked Dr Noman; was he an Islamist who provided fuel to radical ideologies or a forward-looking modernist teaching critical thinking and scientific reason? Or was he an obscurantist? "How does one explain Iqbal? There is confusion and that confusion has led to indifference. This lecture is an effort to explain this phenomenon."
Dr Noman's main thrust was that there is a tendency to talk about Iqbal's message and philosophy to such a large extent that it conveniently excludes his poetic expression.
"This is why Iqbal as a poet is receding into darkness from the skies of contemporary culture."
Decline of languages
Different reasons given by Dr Noman included the separation from languages; not one specific language but all.
"We have moved far away from language and I see very few people who speak in complete sentences, whether they are speaking in Urdu, English or Punjabi. There has been a decline of language. When you lose languages, you lose the universe," he explained.
"When language becomes non-standardised then the language dies," he elaborated. In the question and answer session later on, Dr Noman elaborated his comment. "Language changes and is dynamic. But there has to be some kind of control such as linguistic and intellectual control."
Another explanation was the subject of turning Iqbal into an ideological commodity. "We have left Iqbal in a noisy bazaar of ideological vendors and these vendors recast him into their image."
Be it an image of being highly conservative or secular, Iqbal has been attributed multiple faces, and according to Dr Noman, because of this, we have lost Iqbal's poetry.
The irony of this is that evidence is always provided by these "ideological vendors" which in isolation seems authentic. So, are Iqbal's verses full of contradiction? According to Dr Noman, "Yes, Iqbal is full of contradiction, but the fundamental part of his identity is that he is a poet. Everything else about him is secondary and subservient to him being a poet. And thus contradictions are completely legitimate as they are poetic devices."
Dr Noman called the lecture a plea to reclaim Iqbal in an effort to recover and salvage our culture and language. We have to find hooks and cultural anchorage to know who we are and explain ourselves, and this is why we need to study Iqbal and not allow his verses to become obscure, he said.
Published in Dawn, May 9th, 2018